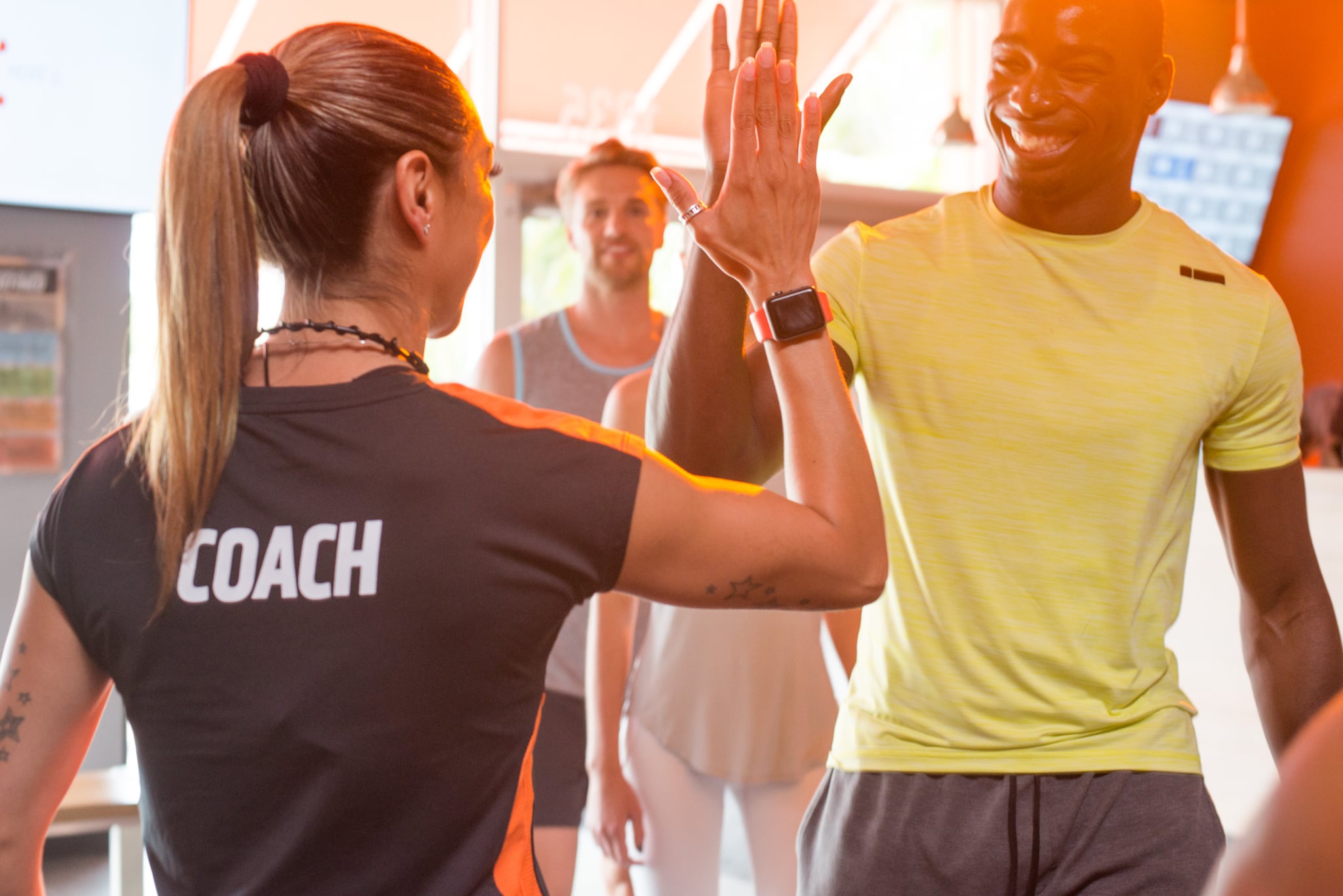 Eight years since its inception, Orangetheory Fitness is bringing back its beloved and demanding Halloween challenge, Hell Week. Themed as "Hell Week Has Been Hacked," a mysterious and intense eight-day challenge awaits Orangetheory Fitness members.
Within eight days, those who accept the challenge must complete at least five of the eight themed classes which will be held at participating locations from Oct. 24 through Oct. 31. Orangetheory Fitness told POPSUGAR "this challenge is designed to challenge members more than the normal workouts where members test their willpower, determination, discipline and endurance."
Ready to put yourself through a hell of a workout? Then keep reading to find out how you can sign up, what themes await, and a first-look at the T-shirt you could be sporting by this Halloween.
What Is Orangetheory Hell Week 2021?
Since 2013, Orangetheory Fitness has been raising hell every year in the week leading up to Halloween. What originally started as a challenge to complete four classes in five days, has now been made only slightly less hellish (since 2016) by expanding the challenge to completing five classes in eight days.
To participate, you just have to become a member of Orangetheory Fitness, and register at the front desk of your participating location. Cost to register is $15. Then complete five of the eight themed classes below and the T-shirt is yours!
What Are the Themes for Orangetheory Hell Week 2021?
While the specific exercises for each of the daily themes for Hell Week won't be unveiled before the eight-day event begins, Orangetheory mentioned to POPSUGAR that each day will focus on specific muscle groups. By the end of Hell Week we expect that all of our muscles will be on fire like we're burning in hell. Below check out the list of themes and try to guess what each day will entail.
Sunday October 24: Phishing For Rest
Monday October 25: The Burpee Breach
Tuesday October 26: Row For Ransom
Wednesday October 27: Decoding the Drop Set
Thursday October 28: Encrypted Elevation
Friday October 29: Meltdown
Saturday October 30: Pyramid Scheme
Sunday October 31: Ultimate Ultimatum
How to Prepare for Orangetheory Hell Week 2021?
Before you jump right into Hell Week, especially if you're new to Orangetheory Fitness, make sure to get familiar with the various types of rowing, strength training, and cardio workout classes already on the schedule. Whether you're a longtime member or brand new to Orangetheory Fitness, be sure to stay hydrated before, during, and after your workouts as well as stay well nourished before and after your workouts.
If you're ready to go through hell — week — you can sign up for a membership on the Orangetheory Fitness website or app. Then register at the front desk of your nearest participating studio for Hell Week.
Below is the exclusive first-look at the Orangetheory Fitness Hell Week T-shirt you can earn once you complete five or more workouts.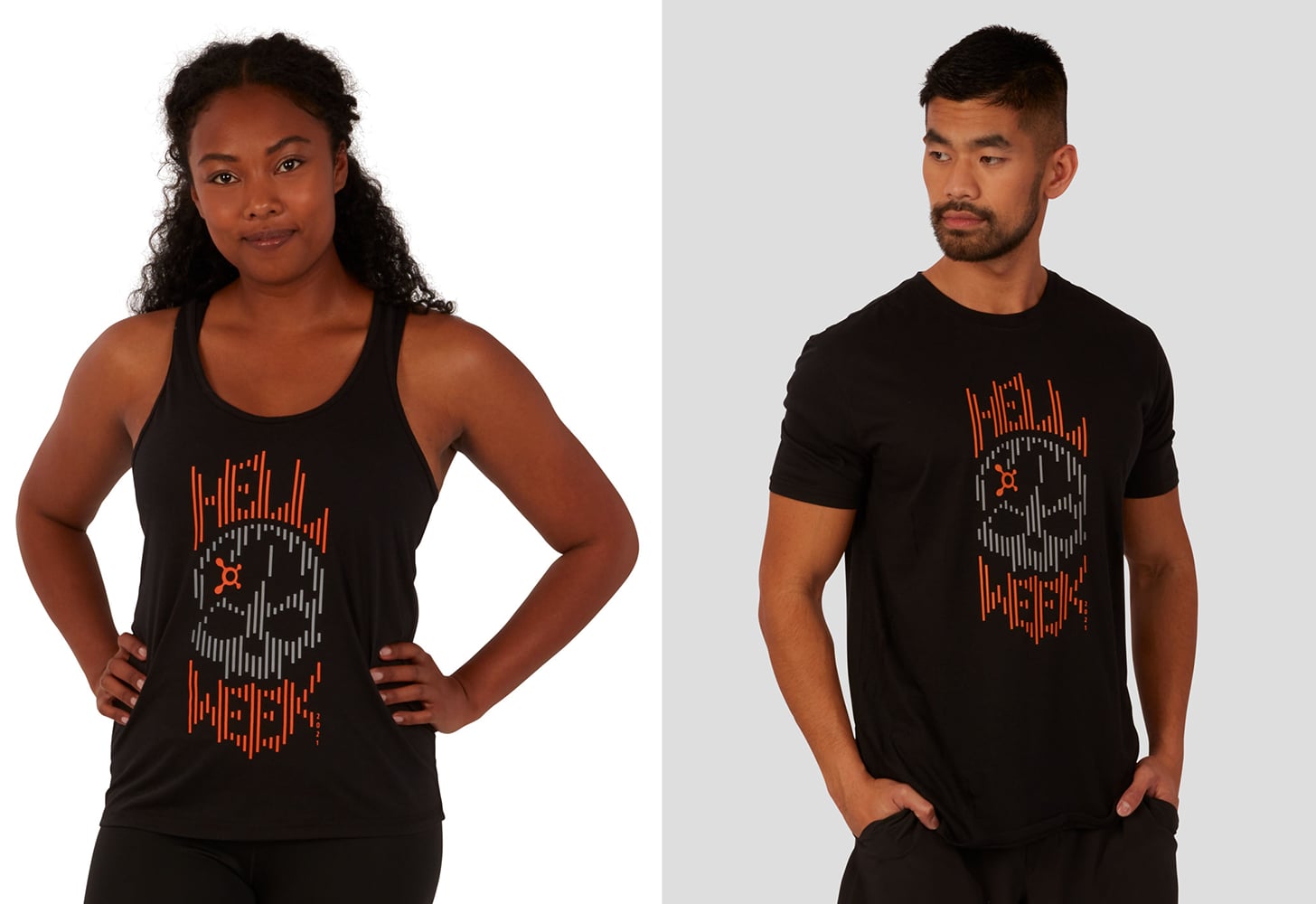 Image Sources: Courtesy of Orangetheory Fitness / Alexander Aguiar and Courtesy of Orangetheory Fitness