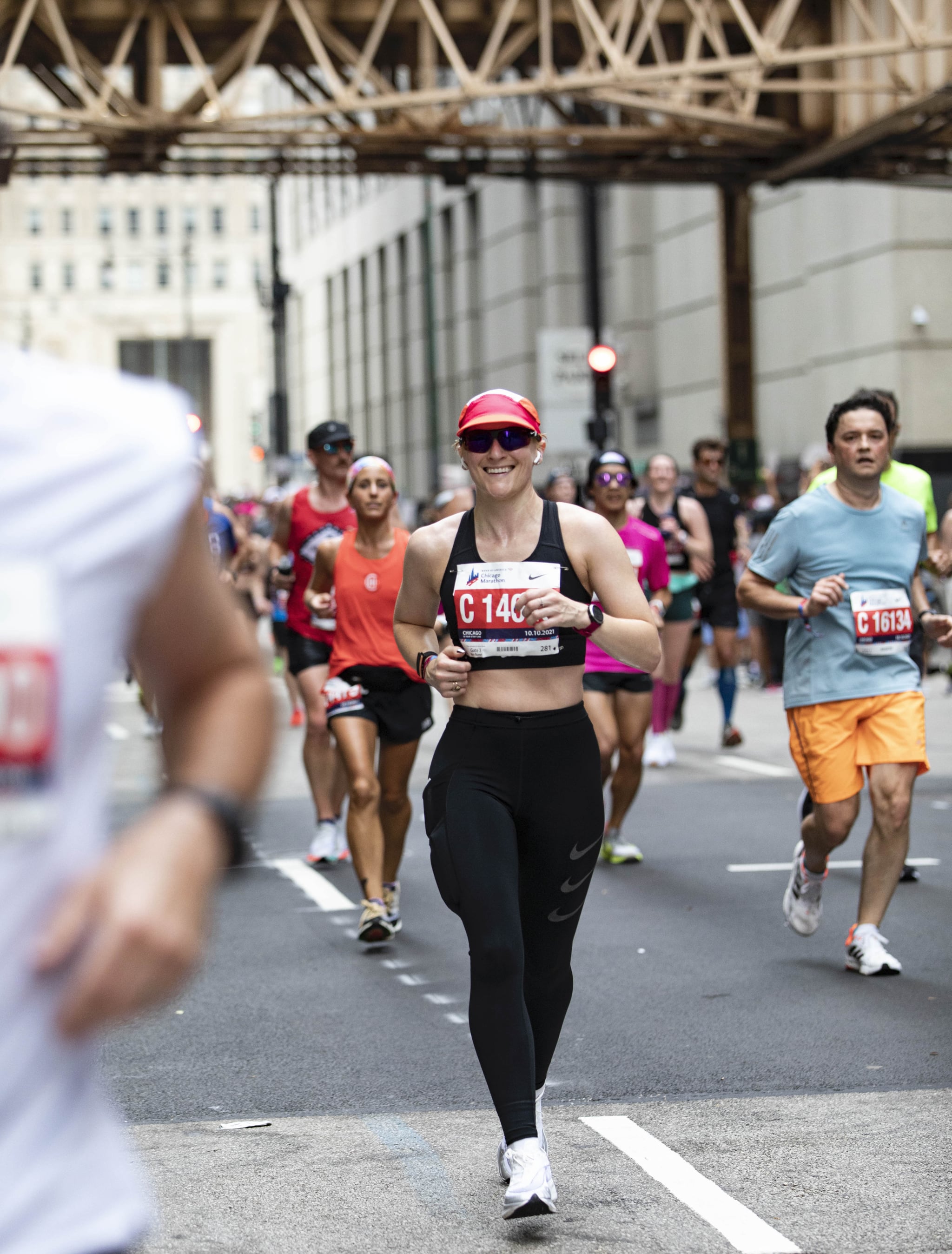 When I arrived in Chicago for the 2021 marathon last week, I had every reason to believe I would beat my previous marathon time: a 3:29 at the 2020 Los Angeles Marathon that put me minutes under the Boston Marathon qualifying threshold. Qualifying for Boston is a big achievement for most runners, one I was proud of, and one I wanted to surpass. But it wasn't to be.
Eighteen months ago, I probably would have been too ashamed or embarrassed to write this story. But today, I'm surprised to find that not only do I want to, but I feel proud to write it. The truth is, I've changed. I still want to chase big goals and push myself. But what happened last Sunday during the 26.2 miles of the race made me better — even if it was my worst marathon time yet.
Running was not just a thing I did, it was a place I went. Somewhere I could be alone and let my thoughts unspool, or barely think at all.
When I started running more seriously five years ago, I instantly applied my type-A ambition to the endeavor. Running meant getting faster with every race. And for years, I did just that. Then, just a few short days after my running pinnacle at the LA Marathon, the city shut down. The pandemic took hold. I kept running, pulling up my mask whenever I came within 12 feet of my neighbors, but I was adrift. Like so many of us, I was full of grief for all we had lost, and a wave of depression left me feeling physically sick. It was hard to wake up in the mornings. My stomach always hurt. I cried when I listened to the news, then felt guilty for the crashing waves of my emotions, knowing how privileged I was and how much worse so many other people had it. But I still ran. I needed to. Running was not just a thing I did, it was a place I went. Somewhere I could be alone and let my thoughts unspool, or barely think at all. On my early-pandemic runs, I would ruminate on the beauty of the jacaranda trees in my neighborhood, leaving behind the stress that awaited me when I returned home to my computer and my phone, taking deep breaths and feeling how precarious and wonderful it was to be able to do just that. Then, in the summer of 2020, I sprained my ankle. Badly. Being injured is always hard. This time it was harder.
It was a long road back to recovery from me, both physically and when it came to mental wellness. But I dedicated myself to focusing on both. Not to, I felt, would be to disrespect everyone who wasn't able to do just that. I had to get better, I thought, simply because I had the opportunity to do it. I started back slow. In June of this year, when Nike asked me if I wanted to train for another marathon, I knew I was ready. I started working with running coach Rebeka Stowe to get race ready for Chicago. It was a joyful training cycle. The world was cautiously reopening, and people were gathering together again. I ran with Koreatown Run Club and alongside my good friend Sheena as she prepared for the LA Marathon. I felt my speed returning, my belief in my running ability and my athletic determination trickling back into my body and brain.
Then it was race day. It wasn't long after I crossed the start line in Chicago that I realized I didn't feel right. I pride myself on my steel will, my ability to push through discomfort, and my dedication. I mean, marathons are supposed to be hard. But it also became clear that not only would reaching my goal time be nearly impossible after my rocky start, but to do it would require sacrificing something I didn't want to give: the joy of the run, the first of the American major marathons to take place since the pandemic began.
By mile eight, I knew that strange, elusive alchemy that creates the ideal race had not come together for me that day. And I changed my goal. As I looked around me at the tens of thousands of people running, I decided to let awe wash over me. All of us had survived, and here we were, back together, trying to do this impossible-seeming thing. Wow. How lucky was I to be sharing the asphalt with other runners again? To be able to be in my body, to smile, to laugh at the corny marathon signs people hoisted at us from the sidewalks? So lucky. My new focus was to lean into that feeling of elation, of gratitude, and turn my race into a fun run. To be honest, most of the miles were still not that that fun. I've lucked out in my running career; even in my previous marathons, I haven't really struggled. Of course, those races have been extremely hard, but I felt good — if challenged — throughout. This was different. My guts were twisted. My mouth felt made of cotton. It simply was not in me. Did I make some rookie mistakes that contributed to that? Yes. Did some things completely out of my control impact my performance? Yes. But do I feel the need to go into detail, make excuses, or offer to anyone an explanation? No.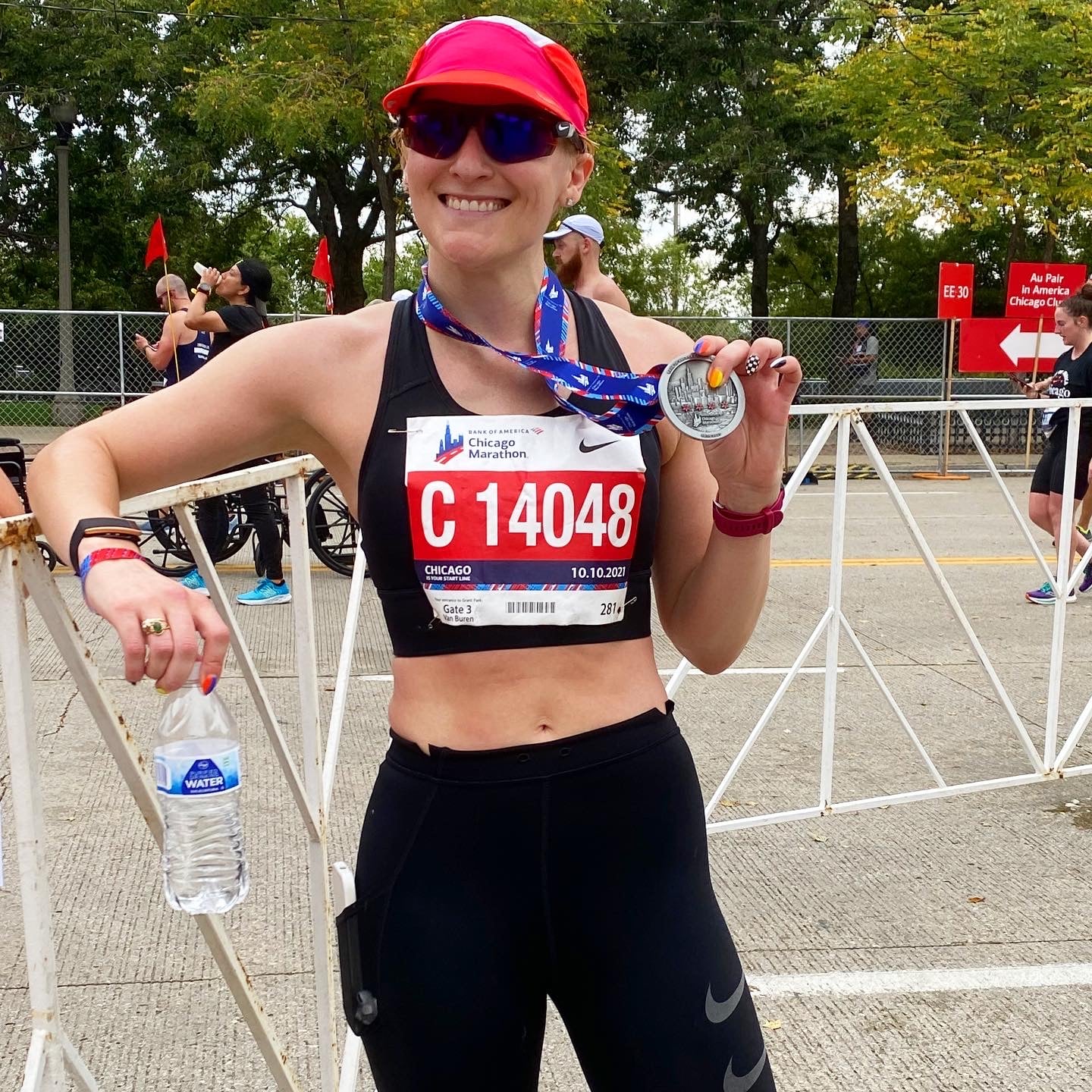 The last year and a half has changed me. I'm still driven to push myself and accomplish more as an athlete, a writer, a person in the world. But as I gave myself the grace and understanding I needed during those long 26.2 miles in Chicago, I realized I'd grown. I'd come to learn that being kind to yourself doesn't always mean giving up on yourself. Being gentle with yourself doesn't always equal letting yourself off the hook. Sometimes it just means allowing yourself the grace you'd give anyone else in that moment. And that's hard. But I did it. And for that, I'm proud.
Don't doubt it: I'm still going to get that personal record. I know my Boston qualifying time was no fluke and I absolutely believe I can do it again. But I don't feel like I have to do it in order to prove something to myself or anyone else this time, to post my finish time on Strava and Instagram and impress some people, to feel like I've earned the label "fast." So, while my time in the Chicago Marathon wasn't an achievement for me, the race no doubt was. I've become a better athlete, a better person, and a better friend to myself. How could that not be a win?
Image Source: Photos courtesy Nike