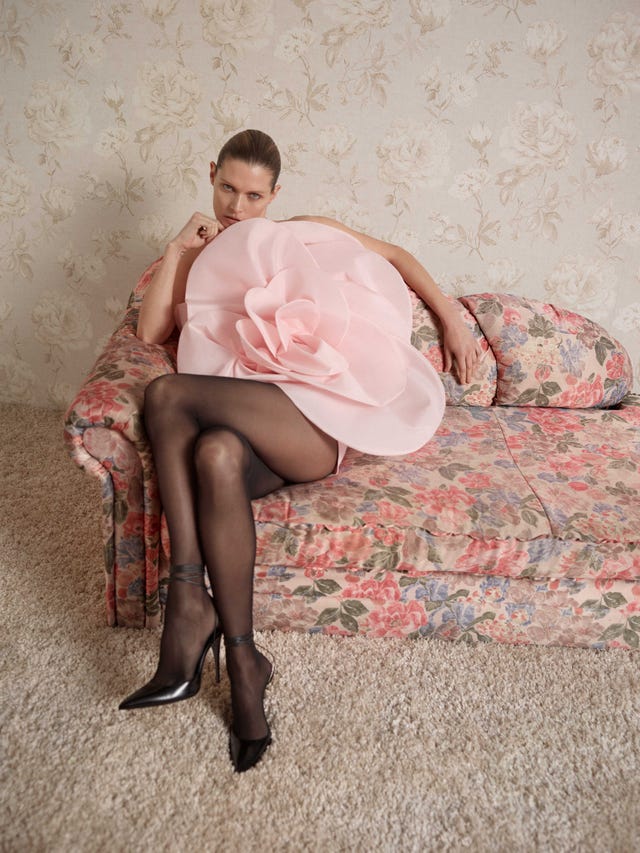 Sonia Szóstak/Courtesy of Magda Butrym
"I don't really believe in a red-carpet gown, per se," says designer Meryll Rogge, speaking of that peculiar artifact of late-20th-century popular culture that seemed destined for extinction even before the great social awakening and the pandemic put the final nails in its sequined-and-satin bodycon coffin. Remember when evening-wear trends were dictated by whatever princess-pouf or midriff or single-sleeve-metallic-tinsel-lace moment was happening in Hollywood? That hardly seems relevant to Rogge. "I hate to be tied up in some kind of really tight number," she says, speaking from a studio she built inside a barn on her parents' property in the Belgian countryside near Ghent.
Rogge, who worked for Marc Jacobs in New York City for nearly seven years, was the head of women's ready-to-wear for Dries Van Noten in Antwerp before starting her own collection in 2020. Like Jacobs and Van Noten, she specializes in sophisticated-looking clothes that are also relaxed in attitude about color and codes. Her idea of an evening look is a slipdress with big daisy embroideries along the neckline, worn over track pants—which might sound overly casual until you notice the beauty in the incredible details, such as fabrics that have been hand-cut with pinking shears and sewn so that each layer is visible. "My dresses usually have pockets in them, because I'm taking into consideration the realities women face today," Rogge says. "Everybody needs to put their phone somewhere."
There are many reasons why a more streetwear-influenced aesthetic for evening might be appealing to a younger generation that has grown conditioned to challenging the rigid, conventional thinking of the past, particularly the kind that has led the world into the political, environmental, and societal muck we find ourselves in now. It's not that formality has been canceled in a post-pandemic world, exactly, but more that priorities have changed. Younger, independent-leaning brands like Magda Butrym, Interior, Area, and The Attico each take different approaches, some more high-minded than others, but none read as fussy.
Del Core, a new label that stirred up enormous buzz with its February debut in Milan, is a good example: The designer Daniel Del Core, who had previously been dressing celebrities at Gucci, shares an affinity for the natural world with the late Alexander McQueen. He cited mushrooms and dewdrops as inspirations behind the pleats and crystal embellishments of his otherworldly gowns, some trimmed with faux plumage made from recycled materials and others covered in pleated fans—an idea described in his show notes as "mutant glamour." "Evolution and adaptability are survival strategies that lead to constant reinvention," he wrote of the collection, which may help explain why, even at an uncertain time for business prospects, we are seeing the emergence of a wide array of interesting new designer labels. High school friends Jack Miner, who once designed a collection called Hecho and previously worked in operations for Bode, and Lily Miesmer, who worked with her cousins Pookie and Louisa Burch at Trademark, started the New York–based label Interior in 2020 with a changing lifestyle in mind. One of their ideas for evening is a lovely oversize silk "dinner shirt" with hand-beading and embroidery that barely flicks at primness; another is a silk taffeta "pajama dress" that is self-explanatory in its rejection of the rules of after-five.
"Whatever desire people used to suppress because it broke with convention—that inhibition has lost its grip," say Miner and Miesmer, Interior's co–creative directors. "We think people feel so much freer to dress how they actually want to dress now. If their truth is cashmere sweatpants and a really beautiful silk shirt for evening, then so be it."
Miner and Miesmer are among the designers who explicitly believe that fashion is changing as a result of the pandemic, especially as comfort has become the new standard. Balancing that with the need for self-expression is something that could result in exciting new directions for design. "As cities wake up and come back to life, people are going to pick and choose their favorite aspects from both realities and ditch the rest," Miner and Miesmer say. But there will still be room for fantasy, which is why they also included an outrageous dress made of hundreds of silk strips knitted together in tiers, some of them chiffon and others satin, as an ode to glamour. ("We wanted to celebrate life and make something joyful.")
Retailers are also seeing a shift toward practicality in their customers' buying habits. "Multifunctional evening items are definitely a big trend," says Tiffany Hsu, fashion buying director at Mytheresa. "People want to dress up and have fun, but they don't want to buy something and wear it only once." She is keen on items that can be styled more casually and that evoke a sense of effortlessness, citing labels like Magda Butrym, Jacquemus, The Attico, and Alessandra Rich as evocative of the new attitude in eveningwear. Katherine Greenberg, Neiman Marcus's general merchandising manager and VP of women's apparel, notes that her customers have "developed an appreciation for a less classically formal and rule-based style of dressing, while remaining distinctively themselves," with new-school evening lines like 16 Arlington doing particularly well.
Looking at the bigger picture, the question for designers is whether changing consumer habits will become permanent. Rogge, for one, believes that any comparisons to a postwar boom for fashion are premature. "I'm a bit pessimistic in that I don't think this is going to lead to massive changes in behavior," she says. "I just hope that people are going to be more aware of the climate and racial issues." Working from home in the countryside, she notes, was a decision she made well before the pandemic, because she is self-financed and the rent in a big city would have been equal to her fabric budget. "The inspiration has not really changed," she says. "It's just about the way of life—it's much more simple and focused."
Likewise, Miner and Miesmer say that changes are coming from within—hence the name Interior, which they say reflects our shared inner emotional state. "It's not about a look being correct," they say. "It's about individuals listening to their intuition and realizing that fashion is a construct, that there are no rules. And if you're not enjoying it on a personal, emotional level, then why bother?"
This article appears in the October 2021 issue of ELLE.
This content is created and maintained by a third party, and imported onto this page to help users provide their email addresses. You may be able to find more information about this and similar content at piano.io