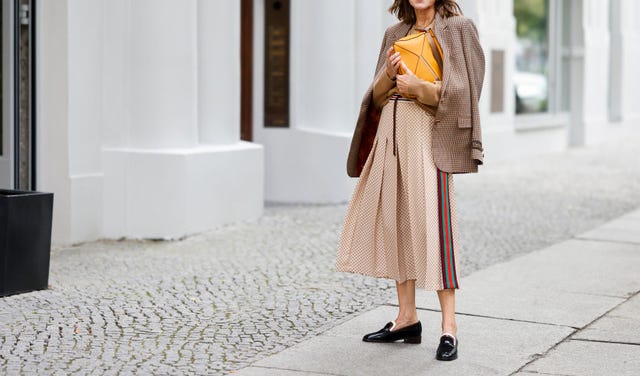 StreetstyleshootersGetty Images
Amazon has spent the last five years building their fashion platform exponentially. They've brought established and emerging brands on-board to Luxury Stores at Amazon and created in-house labels like Wild Meadow, Mae, Core 10, and more. But just like trying to search the massive platform for the best of what feels like three million different paper towel options, sometimes you just get, well, lost.
That's where Personal Shopper by Prime Wardrobe comes in. Don't know exactly what you're looking for, but sure that Amazon has it? You're not alone. The service was launched the summer before the pandemic, in July 2019, and the world has only become more muddled since—especially when it comes to the question of "What should I wear to work?"
With your Prime membership and a $4.99 fee, you'll be connected to a stylist who will curate a selection of items especially for you and let you pick what you want sent from the roundup. Nothing is charged to your card until you decide what you want to keep or return (you have seven days to give everything a whirl in the comfort of your own living room).
In the name of fashion, I logged on to Amazon to give it a try.
First up is a series of questions about your personal style, body type, fit preferences, and more.

Questions range from:
"How often do you like to wear the following styles?" (classic: often, retro: rarely)
"Are there any colors or patterns that you dislike?" (I'm definitely not a metallic girl and can't stand the color purple…)
"How do you like the following pieces to fit?" (I opt for a midi or mini length for skirts and dresses, while I will try on literally any style of jeans—at least once).
And the list goes on from there.
After you finish answering, you're given the option to chat with a stylist.

As a fashion editor, I work in one of the decidedly least buttoned-up workspaces—at least when it comes to wardrobe—but I thought I'd fib just a little to really put the stylist through their paces.
"I work in a fairly corporate environment," I typed, wanting to ask the problem so many non-fashion friends are facing post-lockdown. "I'm going to be back into the office part-time and working remote the rest of the week." I quickly added, "What should I wear that will easily transition and feels like a plug-in-and-go uniform?"
I immediately spoke to an actual human, which was unexpected and enjoyable since I could talk through my questions and concerns in real time (they volleyed back an answer to every random, this-couldn't-be-found-in-a-script question I asked). It took about two days for my stylist to curate selected pieces for me.
When I opened my recommendations, they were totally spot-on.
Even though I wasn't truly looking for a new work wardrobe, I was greeted by a wide selection of pieces that I'd definitely wear if I had to work in a traditional office setting. And, fake shopping conundrum aside, it was actually all stuff I'd like to wear in my real life.
There were some edgy-but-classic blazers from AG Adriano Goldschmied and Milly; a leather skirt from Lamarque; a classic striped button-down from Vince that they suggested pairing with a pair of pixie pants from Theory; and a pale pink blouse from Joie that I might not be wearing with a suit (per their notes), but would certainly wear with denim.
There were suggestions of how to style all of the separates together, and similar options if I liked the vibe but not the specific selection (if the faint metallic stripes in the AG blazer were too adventurous, for instance, I could easily have clicked on a few slightly tamer picks).
It's more than just easy shopping. It's a lifestyle.
Beyond the logistical bit of getting new clothes you need (or want), you'll also glean some wardrobe ideas or styling tips that you can put into practice with your existing closet. That's part of what a stylist does, so don't be afraid to ask what you should wear with the pieces they pulled ("I love this bright pink blouse—can I wear it with black pants?")
Even if you love, love, love shopping, the massive assortment on Amazon can be daunting. Having a Personal Shopper do the hunting for you is helpful beyond words (and doesn't take away from the joy of discovery: I was excited to receive the email with their recommendations and to open the package when it arrived). The platform is an interactive environment in which the stylist gets to the crux of what you like and need, picking out the really good stuff you might've missed. And because it's a real person, they're always down to help with any SOS fashion calls.
This content is created and maintained by a third party, and imported onto this page to help users provide their email addresses. You may be able to find more information about this and similar content at piano.io