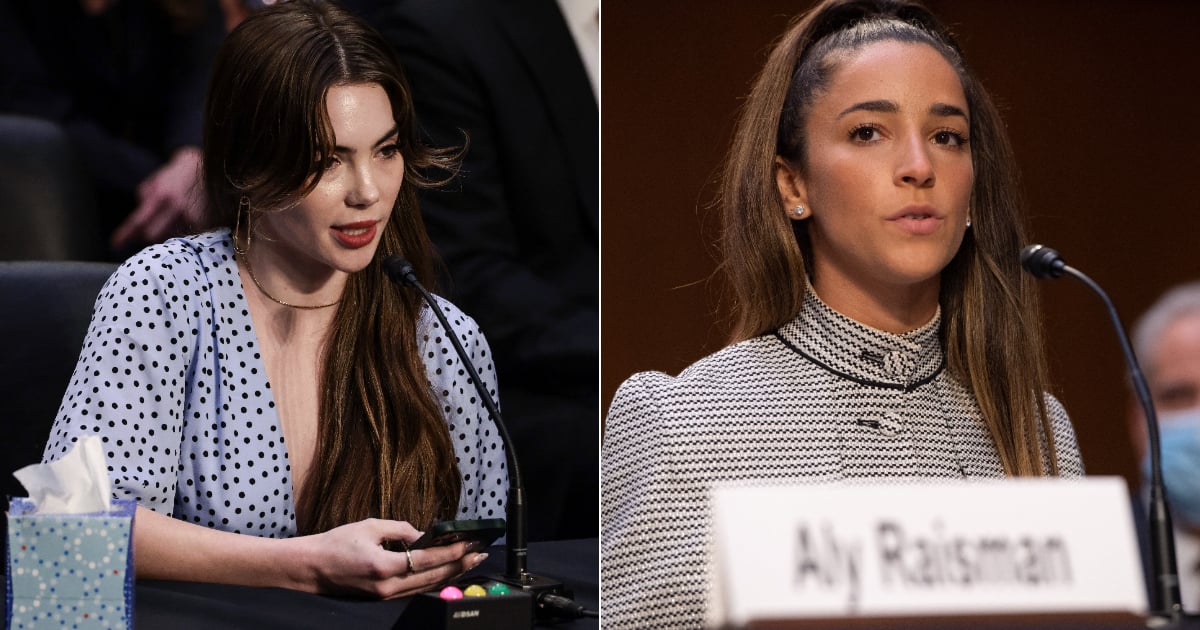 After Simone Biles, McKayla Maroney, Maggie Nichols, and Aly Raisman gave testimonies at a Sept. 15 Senate Judiciary Committee hearing on the FBI's mishandling of their investigation into Larry Nassar abuse allegations, the floor opened up for questioning. A powerful moment came when Chairman Dick Durbin asked the four survivors and gymnasts what they would say to other young athletes who may be suffering in silence, unsure of whether they should speak out. Raisman and Maroney, teammates on the Fierce Five 2012 Olympic squad, took this question in full stride with a crucial message: they believe survivors and they encourage them, if and when possible, to come forward.
"Just be patient with yourself, be kind to yourself, know that I'm struggling too. I'm still navigating how to heal from this," said Raisman, who has been open in the past about utilizing therapy. She stated that some days are better than others and that the stop-and-go feeling is OK. "We're all human, we're all doing the best that we can."
Raisman urged survivors "to tell someone whenever they feel comfortable." She stressed the importance of having a strong support system, though sometimes finding that community they trust can take time. "I encourage you to not give up until you find that support that you deserve, and just remember that I believe you, I support you, you are not alone, and I encourage you to ask for help."
"I believe you, I support you, you are not alone, and I encourage you to ask for help."
Maroney, who read an impassioned and painstakingly detailed statement off of her phone minutes before, also noted, "They need to know that their abuse is enough. I think for so long all of us questioned just because somebody else wasn't fully validating us, that we doubted what happened to us. And that is always going to make the healing process take longer. I think the second that I gave that to myself is when I really began to heal and when I really began to get my voice back." What aids Maroney, she said, is connecting with other survivors, and she recommended people struggling do the same.
Forty minutes later, Raisman, when responding to New Jersey senator Cory Booker's sentiments, said that, in her view, people aren't always aware of the long-lasting suffering that these survivors tend to endure, despite the fact that every aftermath is different. She continued, "I think it's important for people to start recognizing you may never know what someone else is going through, but for people who have been through trauma, it's really hard."
Raisman said the "fear of not being believed" makes speaking out terrifying, as does the physical and mental toll it takes on a person. She delved into her own experiences being devoid of energy amid simple tasks like washing hair or going for a quick walk. "And if someone's watching this that is feeling really tired that is a survivor and doesn't know why they're having certain issues that are new, just know that you're not alone, and I experience the same thing," she stated. "And hopefully, in time, we can feel better."