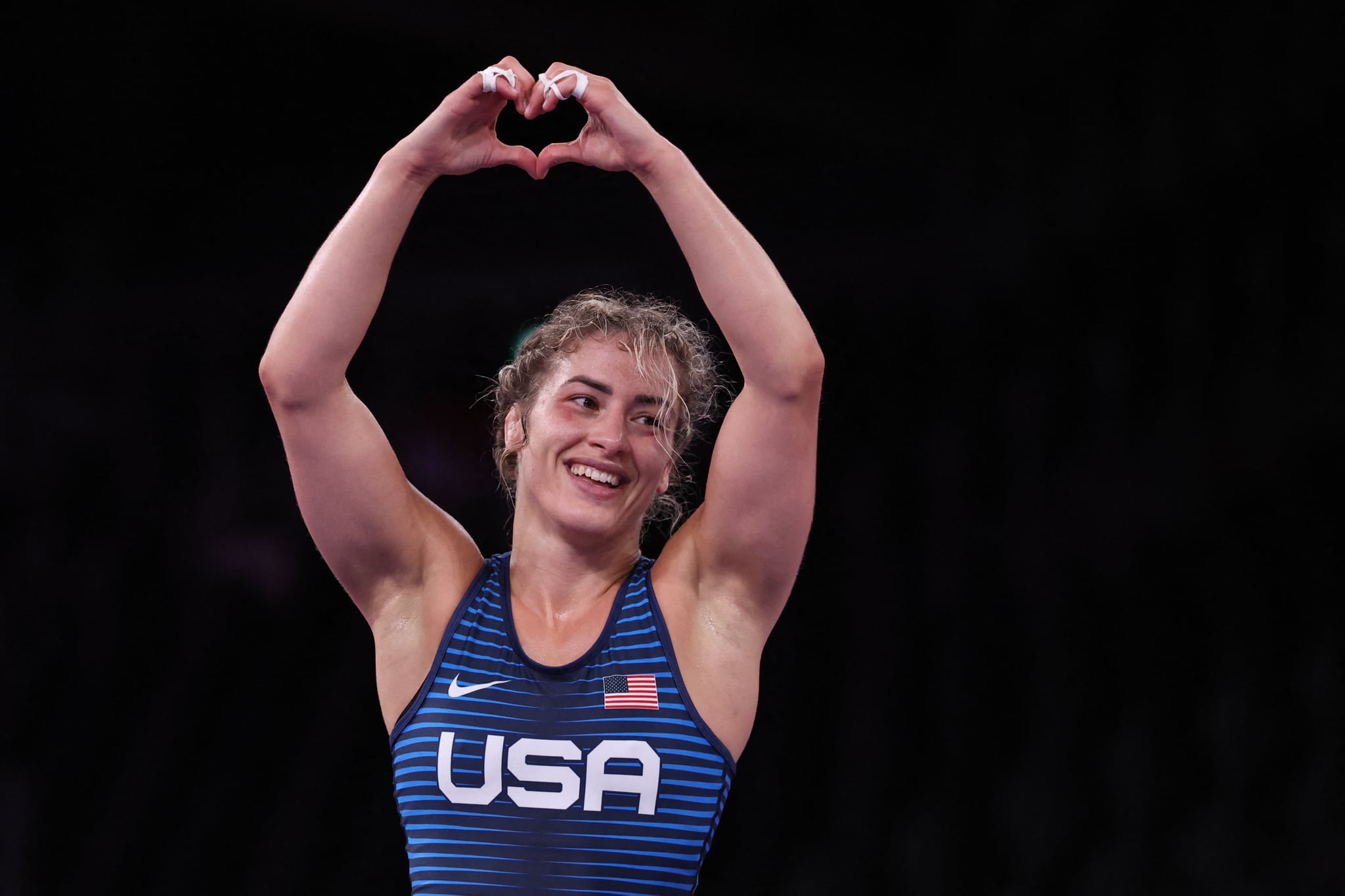 Helen Maroulis's road to the 2020 Olympics was a painful and uncertain one. Maroulis, who became the first American woman to win a gold medal in wrestling at Rio in 2016, has spent the last few years recovering from multiple concussions and learning to manage post-traumatic stress disorder (PTSD), which came as a result of her injuries. But on Aug. 5, the 29-year-old defeated Mongolia's Khongorzul Boldsaikhan in Tokyo and clinched a bronze medal in 57-kilogram freestyle wrestling, marking an amazing comeback for a woman who wasn't sure she'd ever even hit the mat again.
Maroulis, who was recently named a recipient of a P&G grant to support her work with When We All Band Together, reflected on the Games and what it took to get there. Read on for some of her most meaningful moments.
POPSUGAR: You have been through so much in the last few years, both physically and emotionally. Did you think you'd ever get back to the podium?
Helen Maroulis: With all the injuries –– physical, mental, emotional –– everything I went through in the last four years, I just wondered if I was ever going to be a healthy individual, and that was my main goal. I really never thought I would make it to the podium the way that I did in Tokyo and that I would be so healed on and off the mat, so that is a dream come true and it just highlights the importance of mental health. I would choose my health over anything every day.
PS: This Olympics forced a conversation around athletes' health and mental health. How do you prioritize your own mental health amid so much pressure to perform?
HM: Protecting your mental health is extremely important, and there's a variety of ways that I do that. I competed in a tournament in Poland seven weeks before [the Olympics]. People just didn't know my backstory. They didn't know the things I was struggling with, and so when I didn't perform well at the tournament, there were a lot of negative comments and I noticed it was really affecting me, so I just stopped social media completely, and I think that really helped a lot.
I was really inspired by the athletes who spoke out about [mental health], particularly Simone Biles. I think she's really paving the way and helping so many athletes with that conversation. Even when she came back and won the bronze medal . . . it was even more special in some ways than her gold medal because of everything she fought through. That's how I felt about this bronze. Maybe in the past I would've thought bronze was a slight failure or not as good as gold, but after everything I went through, this is so special to me and means so much.
PS: What were some of the highlights from your time in Tokyo?
HM: There have been so many beautiful moments, particularly with the women's wrestling team. We qualified for all six weights, that's never been done before. We've been on this journey together for many years. This trip particularly just brought us so much closer together. It's been so heartwarming to see someone like my roommate and teammate, Tamyra Mensah Stock, become the first Black female American to win a gold medal, and my other teammate Adeline Gray taking the silver medal. Sharing so many people's emotions and experiences has really helped me to grow a lot. I've learned so much on this trip. A lot of times people don't end their career on a positive note or there's a bitter end to it. I feel like there's such a positive, loving end to this journey for me.
Image Source: Getty / Jack Guez