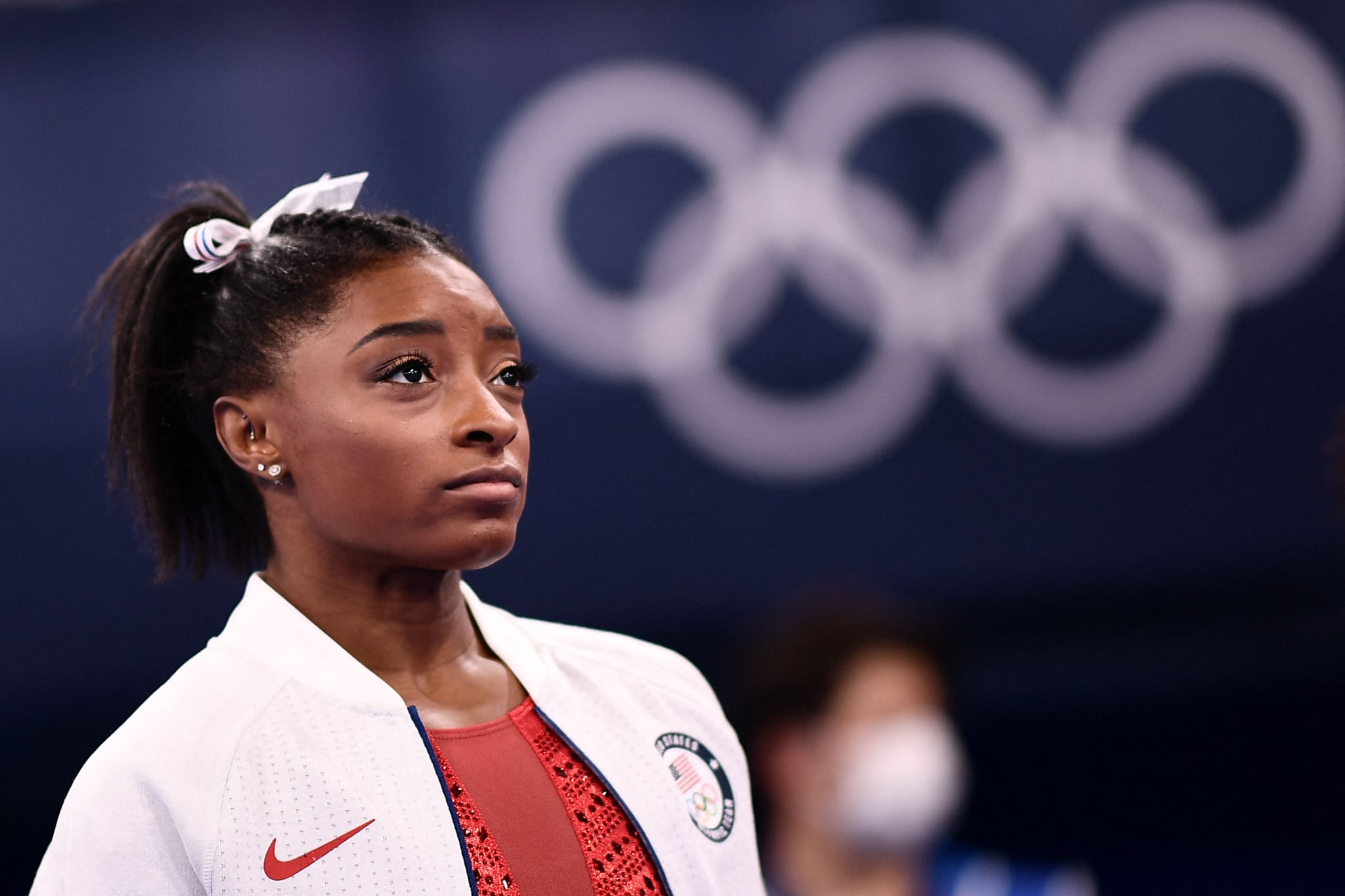 Gymnasts learn how to "bail" out of their skills when they're in danger of injuring themselves — or sometimes they do so out of fear. But who's going to bail them out when they need a mental break from a sport with a longstanding culture of abuse and an impossible standard of perfection?
On July 27, Simone Biles withdrew from the women's artistic gymnastics team final after competing a watered-down version of her planned Amanar vault. Though USA Gymnastics initially cited her exit as being caused by a medical issue, Biles later revealed it was due to her mental health. She said she wasn't in the right place mentally to compete and wanted to avoid injury.
It's hard to fathom the pressure that Biles puts on herself. This burden is only compounded by the mounting pressure from the rest of the world. Fellow 2016 Olympian Laurie Hernandez made a valid point when she stated that Biles should not be expected to carry the weight of the team. Yes, we praise her for being one of the sport's greatest, but, as Hernandez said on the Today show, "At the end of the day, having to put that much pressure on her to carry the team to gold . . . it's not fair. This is a team of four, not a team of one." Biles undoubtedly delivers high scores with skills that no other gymnasts execute in competition, but Jordan Chiles, Sunisa Lee, and Grace McCallum were chosen to represent the United States for a reason. They all have their strengths, and they fought until the end for their well-deserved silver medal.
Not only is Biles the face of gymnastics right now — as she has been for years — but she's also the face of the Tokyo Games after a trying pandemic that is not yet eradicated. "Coming here to the Olympics and being the head star isn't an easy feat," she told the Today show's Hoda Kotb. Even before she qualified for the Olympics, her name was associated with the 2021 Games, and she booked her own post-competition Gold Over America Tour with ticket sales starting for exclusive members as early as February. That's four months prior to the Olympic Trials.
Biles is also the sole known survivor of former USA Gymnastics and Michigan State University doctor Larry Nassar's abuse to be actively competing today. She told Kotb in an interview published earlier this year that she wished to stay in the sport so she could remain a voice for those survivors. Five years after Indianapolis Star published the story of Nassar's abuse that led to hundreds of women coming forward, new details about the way the FBI handled the investigation continue to emerge. And athletes still want answers.
Biles shared a tweet with her survivor story in January of 2018, and in it, she said that having to return to Karolyi Ranch, a place where so much of this abuse occurred, was "heartbreaking" for her to think about. Three days after Biles shared the tweet, the Ranch was permanently shut down, as documented in her Facebook Watch series. Even though Biles wouldn't go on to train for Tokyo 2020 at the Ranch, she still had to return to a sport under a national governing body that she felt did not, and could not, protect its athletes.
On top of all of this pressure and adversity, Biles is competing in a sport that is dangerous and, yes, extremely difficult. As someone who did gymnastics for over a decade, I know what it's like to be fearful of performing skills. During a high school gymnastics meet, I didn't let go for my bars dismount and, instead, crashed on top of the bar. The emotional scar from that competition lasted until the end of my gymnastics career. So if I, a probably-average, not-so-great gymnast could fall victim to mental blocks and bouts of uncertainty, one can only imagine what Biles, who does some of the most complicated, high-level skills in the sport, feels (she admitted in a different Facebook Watch docuseries episode, for instance, that every time she's preparing to do her Yurchenko double pike, she's at the end of the runway with nerves).
Biles's decision to forgo the rest of the team final was one that many gymnasts before her couldn't, or wouldn't, dare make. She is proving that sometimes strength is recognizing when you've reached your limit.
So what actually happened today? Biles chose to err on the side of caution and honor her mental health. According to the GymCastic podcast crew, Biles made the same type of mistake we saw in competition during the warmup where she opened up too soon and bailed out of the vault (she "balked," as the gymnastics community calls it).
Gymnasts, like many elite athletes, are told to power through the pain. To perform at all costs. For example, when Biles exited the team final, a conversation quickly took shape on Twitter about 1996 Olympian Kerri Strug performing a vault through injury to help secure the team's gold medal. On the surface, it was viewed as heroic; however, documentaries like Athlete A have since challenged that notion to unveil how problematic it really was. Being an athlete on the world stage means you have immense "mental toughness," but learning your limits both mentally and physically is not a practice often preached. And, as highlighted by tennis's Naomi Osaka this year, taking care of your mental and overall wellbeing needs to be prioritized.
Biles's decision to forgo the rest of the team final was one that many gymnasts before her couldn't, or wouldn't, dare make. She is proving that sometimes strength is recognizing when you've reached your limit. As Spencer Barnes accurately stated on the GymCastic podcast, he spent so long thinking mental blocks equated to failure growing up; I'm in the same boat.
"If it wasn't for [Biles], we wouldn't be here where we are right now," Chiles, Biles's club gym teammate and close friend who made her Olympic debut this summer, said via the Associated Press. "We wouldn't be a silver medalist because of who she is as a person."
Though Biles wrote on Instagram post-competition that her three teammates "stepped up when I couldn't" — which they absolutely rose to the occasion for — she did step up, all while cheering them on. She stepped up for herself.