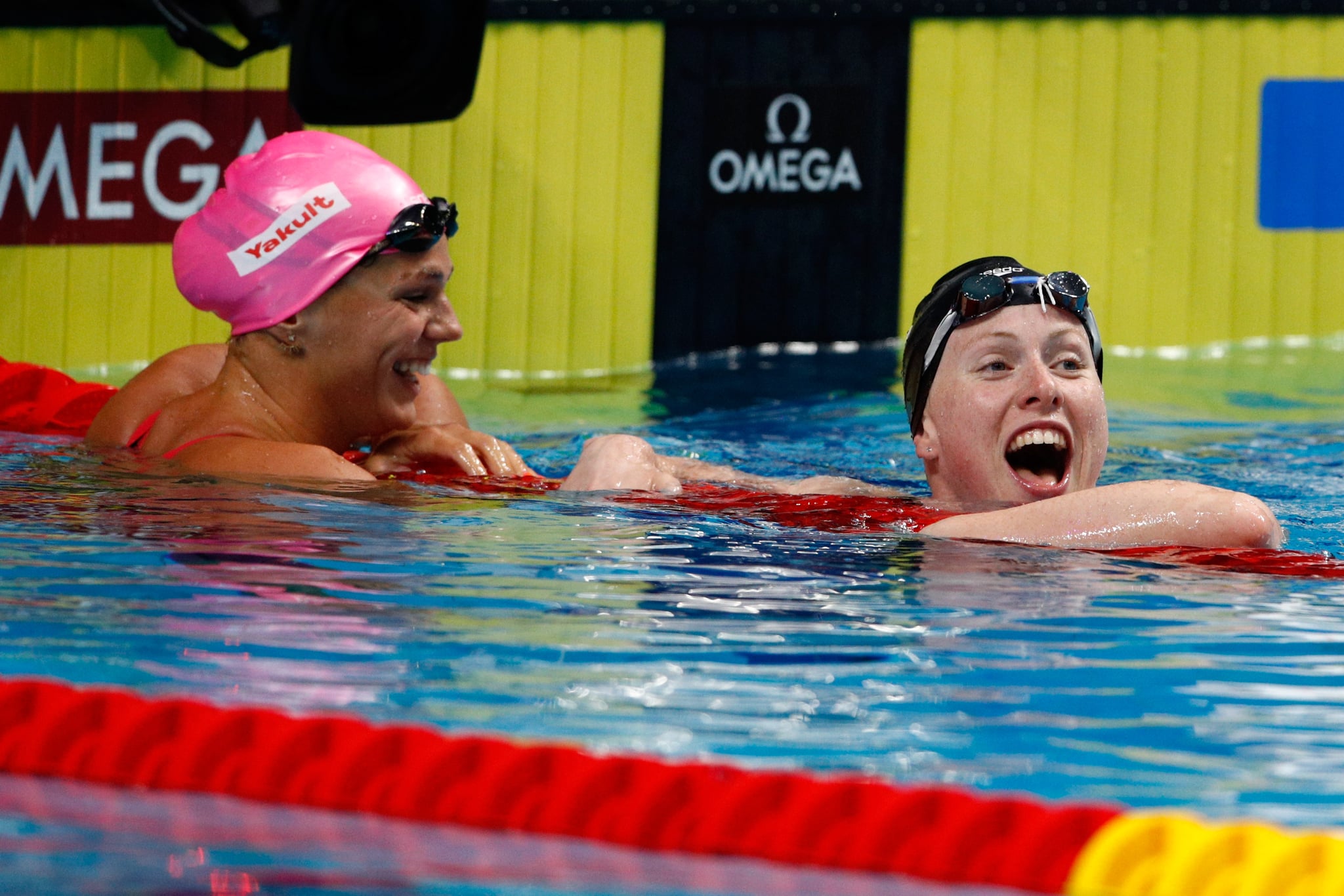 For international rivals, there's nothing sweeter than clinching Olympic gold, and no one knows that feeling better than American swimmer Lilly King. At the 2016 Rio Games, a then 19-year-old King not only out swam her rival, Russian swimmer Yulia Efimova, in the 100m breaststroke, but also set a new personal and Olympic record with a finish time of 1:04.93. Of course, as is often the case with rivalries, it wasn't just the swimming that made headlines. Here's what you need to know about these fierce competitors before they face off again in Tokyo.
When Did the Rivalry Between King and Efimova Begin?
The King-Efimova feud started back in Rio, during the semifinals of the 100m breaststroke. King, who has admitted to having "an alter ego" in the ready room, was psyching herself up before the race, when she spotted Efimova on the monitor, waving her index finger in celebration after finishing first in her semifinal. King wagged her finger right back, as if to taunt Efimova — or at least that's how it was interpreted by audiences. At the time, the Russian swimmer had just wrapped a 16-month doping suspension, only to fail another drug test just before the Games, and many athletes, like King, didn't believe she should have been allowed to compete.
After King won her own semifinal, securing her spot as the top seed in the final, she once again mimicked Efimova's finger wave, catapulting the two into one of the biggest rivalries in swimming history. We all know how the story goes from there: King went on to dominate the finals, earning a gold medal and an Olympic record.
Where Do King and Efimova Stand Now?
As the saying goes, time heals all wounds, and that seems to have been the case for King and Efimova. The American swimmer has gone on to beat her Russian counterpart in the 100m breaststroke three times since the Rio Games, including at the 2019 World Championships, where the two laughed and congratulated each other at the wall.
"I wouldn't say we have completely moved on, but we are definitely more cordial than we have been," King said, following the race against Efimova. "Again, that was three years ago. I was 19 and a half . . . I think it was blown out of proportion a little bit, the whole situation, but again we've both grown up since then. We've both moved on, and I think we take this rivalry in stride." Since Rio, King has set a new personal and world record in the 100m breaststroke at 1:04.13.
Should they both advance to the 100m breaststroke finals in Tokyo, King will be vying for her third Olympic gold medal, and you can bet Efimova will be doing everything in her power to make sure history doesn't repeat itself. Be sure to tune in for what will certainly be an epic showdown between two of the world's fastest breaststrokers.