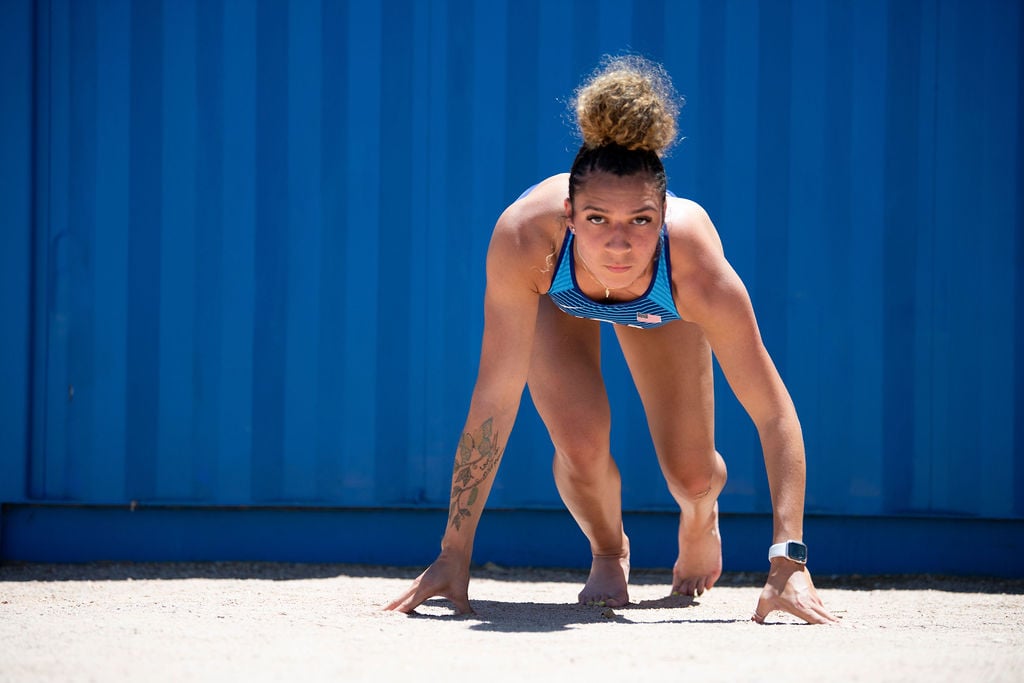 Trigger warning: This post discusses depression and suicide.
For four years, Jaleen Roberts shaped her life around one dream. A long jumper and 100- and 200-meter sprinter in the T37 division, track was Roberts's world, and making the Paralympic Games her ultimate goal. Training in Spokane, WA, everything Roberts did, every choice she made, came back to track. So in March 2020, when the Paralympic Games were postponed due to COVID-19, it felt like Roberts's dream was "ripped away." She took it hard, turning down interview requests, and avoiding her training. She didn't want to talk to anybody connected to the sport.
"I went through a period where I thought about whether I really even wanted to do track," Roberts told POPSUGAR. "I had lost all motivation. I felt like I was in it for nothing."
Athletes stared down unprecedented challenges in 2020. There was the physical wear and tear of training for an extra year, resulting in injuries and issues like Overtraining Syndrome, which forced swimmer Simone Manuel from the pool for three weeks before Olympic Trials. Mentally, since the COVID-19 postponement, "many athletes have spent more time than ever in their heads," said Sean McCann, PhD, senior Sports psychologist for the United States Olympic and Paralympic Committee (USOPC). "For some, moods have been down while stress levels have gone way up." The impact, of course, reaches far beyond the field.
Depression in the Pandemic
Roberts, 22, experienced wave after wave of challenges last year. The pandemic hit, school went online, and she went through a breakup. The Paralympics were postponed. She stopped taking her depression medication, no longer feeling like it worked.
"I knew that I didn't want to die. I just wanted what I was experiencing to go away."
That's when it got really bad. Roberts began having suicidal thoughts and realized she had to make a change, "because I knew that I wasn't going to make it if I didn't." After talking with her mom and track coach, Roberts checked herself into a psychiatric hospital. She was scared to be alone with her thoughts, needed a safe space, and knew that talking to friends, family, or even a therapist "wasn't going to be enough for me," she explained. "I knew that I didn't want to die. I just wanted what I was experiencing to go away."
Rediscovering Her Reason For Track
The Paralympics postponement was a "huge, huge contributor" to Roberts's mental health problems last year, she said. Her entire life revolved around track; when it was taken away, she lost her "sense of purpose."
Her coach, David Greg, encouraged Roberts to explore the real reason why she ran track. And when she thought about it, Roberts realized she wasn't just running because she loved the sport or craved the thrill of winning, but because she wanted to become a role model that little girls with a disability, like her, could look up to. And not just athletically; Roberts also wants to be an example and a confidante for people with disabilities who struggle with mental health.
That's one of the reasons why Roberts has been so open about her own journey on Instagram, where she shared part of her story last September. "It's important that girls with disabilities, especially, have a safe space or a safe person that they can come to when they feel like they don't have anyone," Roberts explained. "It's a scary feeling, when you feel like you have all these people around you, but you don't have anyone that you can confide in and trust."
Moving Forward
After her stay at the hospital, Roberts was diagnosed with and treated for bipolar II disorder. After a period of progress, Roberts experienced another downturn in December, along with return of suicidal ideation. She and her psychiatrist changed her medications, and despite the "ups and downs," Roberts said she's been feeling good since.
"If I have to be the first one to tell my story and be vulnerable with people that I don't even know, then that's a sacrifice I'm willing to make."
Mental health journeys aren't linear, and Roberts, who officially qualified for the 2021 Paralympic Games in June, said she's still trying to figure out her own routine. She's working on her sleep schedule and wants to try hot yoga and other meditative practices. She's also trying to avoid acting on impulse and for instant gratification, remembering that track is her number one priority, which includes making better decisions on nutrition and what she does during practice and her time off. Positive affirmations have been huge as well. "I've always wanted the voice in between my ears to be my friend, not my enemy," Roberts said.
Many Team USA athletes are counseled to do some of the same, Dr. McCann said. Over the last year especially, he's encouraged athletes to prioritize sleep, develop a structure for each day, accept their emotions, and take advantage of Team USA resources like a registry of mental health professionals and an around-the-clock support line. Athletes deal with a variety of challenges: relationship issues, family stress, managing the pressure of being a medal favorite. "All of our athletes are human beings first," Dr. McCann explained, and not every mental health issue has to do with sport.
Roberts agreed. "Sometimes people forget that as athletes, we're people too, and we face the exact same struggles," she said. Roberts puts pressure on herself to perform well on the track, but she also worries about being a good role model, ever aware of the platform that she has, which she wants to use to raise awareness for mental health. The topic couldn't be closer to her heart; beyond her own experience, Roberts shared that one of her best friends recently died by suicide. There are so many people that struggle with mental health, she said, "but people feel so alone because nobody talks about it."
Roberts hopes her own journey, and the way she got help when she needed it, can serve as an example to others. "I want people to look at that and say, 'Okay, I'm not the only one that struggles with this. There are other people that struggle with it,'" she said. "If I have to be the first one to tell my story and be vulnerable with people that I don't even know, then that's a sacrifice I'm willing to make, because it's worth it for me."
If you or a loved one are experiencing suicidal ideation or are at risk, the National Suicide Prevention Lifeline has several resources and a 24/7 lifeline at 1-800-273-8255
To learn more about all the Paralympic hopefuls, visit TeamUSA.org. The Tokyo Paralympics begin August 24 on NBC.
Image Source: Sandra Tenuto/USOPC