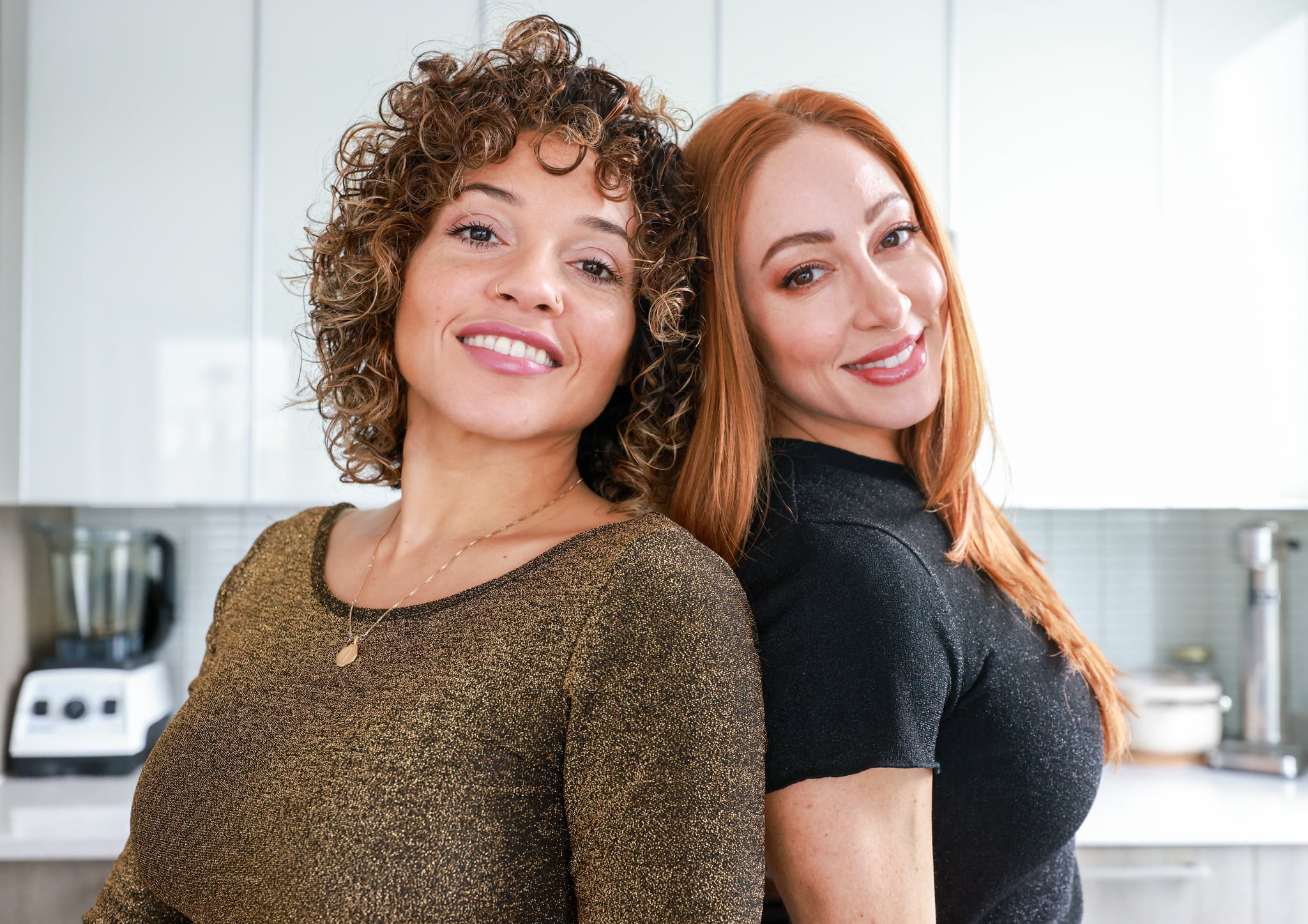 "I didn't know what to do with myself." Yes, Jess King — the exuberant Peloton instructor known for her hugely popular The Jess King Experience cycling class series that she refers to as an "immersive party" — was speechless when she first saw her now-fiancée, Sophia Urista. She was working at New York City cabaret nightclub The Box, and Urista, a singer-songwriter, also attended rehearsals. "I just felt overcome and overwhelmed by this pull and draw towards her," King, 36, told POPSUGAR. "And I walked up to her and said something totally ridiculous. Something like, 'Hey, do you want to hook up?'"
The two did not in fact hook up. King had recently gone through what she described as a "nasty breakup" and was open to being with a woman for the first time, but Urista was in a relationship. That's where things began, then paused, for the eventual couple. For about a year, King said she'd come to rehearsal and look longingly at Urista from across the room. Urista proceeded to give King a nickname: Crazy Eyes. Their relationship commenced after that year of tension; however, "it had never been on my radar that I would fall in love with her," King said. Spoiler alert: they did, and it's a love that consumed King (in a good way). One that allowed her step into herself fully.
This was in 2015, and King, who had only just started at Peloton, wondered how her relationship would impact her work. "Peloton was probably the first person that I told. Before I told my friends, before I told my parents, before I told anybody, I went to work, and I said, 'Hey, I'm dating a woman. Is this a problem?' And they kind of laughed at me. They're like, 'No, we want you for exactly who you are,'" King recalled, adding that the brand was supportive from the jump. That's when she told her loved ones.
"We're in this no matter what."
The only person who pushed back temporarily was King's mom. "I had made a mess of my romantic partnerships in the past, so there wasn't a lot of trust. There wasn't a lot of faith that I was making a good decision once and for all," King said. However, meeting Urista instantly changed that. Six years later, King's fiancée is extremely close with the family. "When you meet Sophia, you can't help but recognize and acknowledge how incredible she is, not as my partner, but just as a person in general," King noted.
Urista proposed to the star Peloton instructor in 2020 at a small gathering where she debuted the music video for a song she'd written in King's honor, titled, "Everything About You." As if that's not romantic enough, the footage was projected onto white bed sheets. There's no wedding date yet. Instead, they'll focus on family planning — King said they each want to carry, then potentially adopt at some point — as well as focus on projects separately and together.
One of those joint ventures is their hilariously entertaining cooking show, OOO, Mami!. But given that they're both creatives — King has a rich background in dance, and Urista, a former contestant on The Voice, will continue expanding her music career — King said she fully intends to help conceptualize and direct Urista's future tours. (And, if you were wondering, Urista does in fact take King's Peloton classes all the time!)
Finding Urista, embracing a connection unlike any she'd experienced, was eye-opening for King. "I would not be where I am, or who I am, if it wasn't for her. Her love has healed me in so many ways," she explained. When asked if Urista has led her into her true self, King said, "Yes, a thousand times, yes!" She added, "It was just the first time that I could explore and unravel without being judged or criticized. Without the stress of being tossed aside." With Urista, King is safe, and they're wholeheartedly committed to each other, she said. "We're in this no matter what."