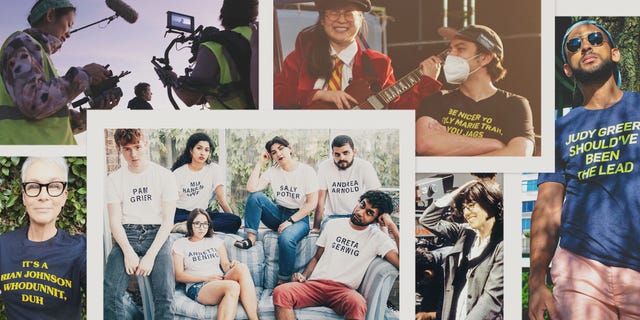 Zhao: Searchlight Pictures 20th Century Studios; Tran: @spenserharrison, @stayluckystudios; Ephron: Everett Collection
Style Points is a weekly column about how fashion intersects with the wider world.
A few weeks ago I did something highly uncharacteristic and set an alarm to buy a T-shirt. It wasn't your garden-variety Supreme or Vetements I was after, but a limited-edition tribute to Michael Mann's movie soundtracks by the label Andafterthat. At this point, I might as well put movie merch as a line item in my budget: I've also considered buying a Karyn Kusama shirt from Super Yaki and used to peruse the site of the now-defunct Tees En Scène in search of Ida Lupino-themed swag.
Music merch-as-fashion is a well-worn trope at this point, but other waves of merch have been flowering, from the public-sector variety that crested during the pandemic to pieces celebrating restaurants and even grocery stores (an Erewhon sweatsuit will set you back $300, or approximately 15 of their vegan coconut yogurts.) These days, perhaps influenced by a lockdown that turned many of us into perpetually streaming movie buffs, grails for the Letterboxd set are going strong, whether it's a dad hat from podcaster Karina Longworth's merch store, Andafterthat's After Hours-inspired cap, or A24's surprisingly fashion-forward offerings, which has included a collab with Online Ceramics. Not since the '60s and '70's auteur age has cinephilia been so chic. With people heading back into cinemas, Metrograph is now fashion's new stunting ground.
Designers, often known to simply skim movies for mood-board fodder, have been cashing in their cinephile cred, too. Jonathan Anderson recently gifted editors (including, full disclosure, this one) a subscription to the art-film streaming service Mubi, where Hedi Slimane has also curated a film playlist.
This content is imported from Instagram. You may be able to find the same content in another format, or you may be able to find more information, at their web site.
And smaller labels are offering a way for devotees to show off their personal onscreen obsessions. After watching 20th Century Women and admiring a minimalist Lou Reed shirt Greta Gerwig's character wears in the film, Louisa Maycock and her friends Daniella Verektenidi and Jake Cunningham decided to create shirts that proclaimed the names of female-identifying directors and actors in the stripped-down style of a rock T. The simple black type-on-white design lets the wearer "project their own feelings and thoughts about that person's work rather than having a specific aesthetic of a certain film or illustration style," she says. Soon, the line, Girls on Tops, snowballed into a cottage industry, with Tracy Letts sporting the Greta Gerwig tee on the Lady Bird red carpet. (The Lady Bird connection runs strong; Gerwig and Timothée Chalamet have also worn designs from the brand.) The line has also paid it forward, donating some proceeds to up-and-coming directors' projects.
When I speak to Andrew Ortiz of Super Yaki, he's just come out with a T-shirt celebrating Maria Menounos, who has become the patron saint of early-bird moviegoers with her pre-show clips. I tell Ortiz that I find myself missing the sensation of arriving at the multiplex early for "the 20," AKA the 20-minute period that precedes coming attractions, advertising fictitious-seeming Starz shows I will never see, and he says excitedly, "That's exactly who we are." (Menounos tweeted about the tribute, and the brand is sending her some shirts.) The label has become known for designs celebrating undersung actresses and directors, with slogans that, in some cases, call out Hollywood's entrenched sexism. They've also quickly caught on with Hollywood; Jamie Lee Curtis has worn their Rian Johnson shirt, and a design that reads "Be Nicer to Kelly Marie Tran, You Jags," referencing the online harassment the actress has received, was worn by Tran's boyfriend. Ortiz says that when coming up with these messages, he's mindful of the tone. "It has to come from an organic and very respectful place. The last thing I want to do is give anything that feels disingenuous." Overall, his line is about inclusion, not cinema-snob appeal. "Sometimes Film Twitter can be a little bit of a mess," he admits, "and I want us to embody a more communal and welcoming feeling."
That community has already coalesced around both brands. Says Maycock, "A T-shirt is a pretty clear way to broadcast your values and what you care about and champion. You can pinpoint your 'people.'" It's a handy conversation starter, and some of her customers have said it helps alleviate their social anxiety. (Even in a time of isolation; she gets sent screenshots of people wearing her shirts on Zoom calls.)
"It just seems so cool that we get to be a force for good, for community building," Ortiz adds. "That's probably my favorite part about this whole process, is that we're giving people the opportunity to have that conversation starter."
This content is created and maintained by a third party, and imported onto this page to help users provide their email addresses. You may be able to find more information about this and similar content at piano.io