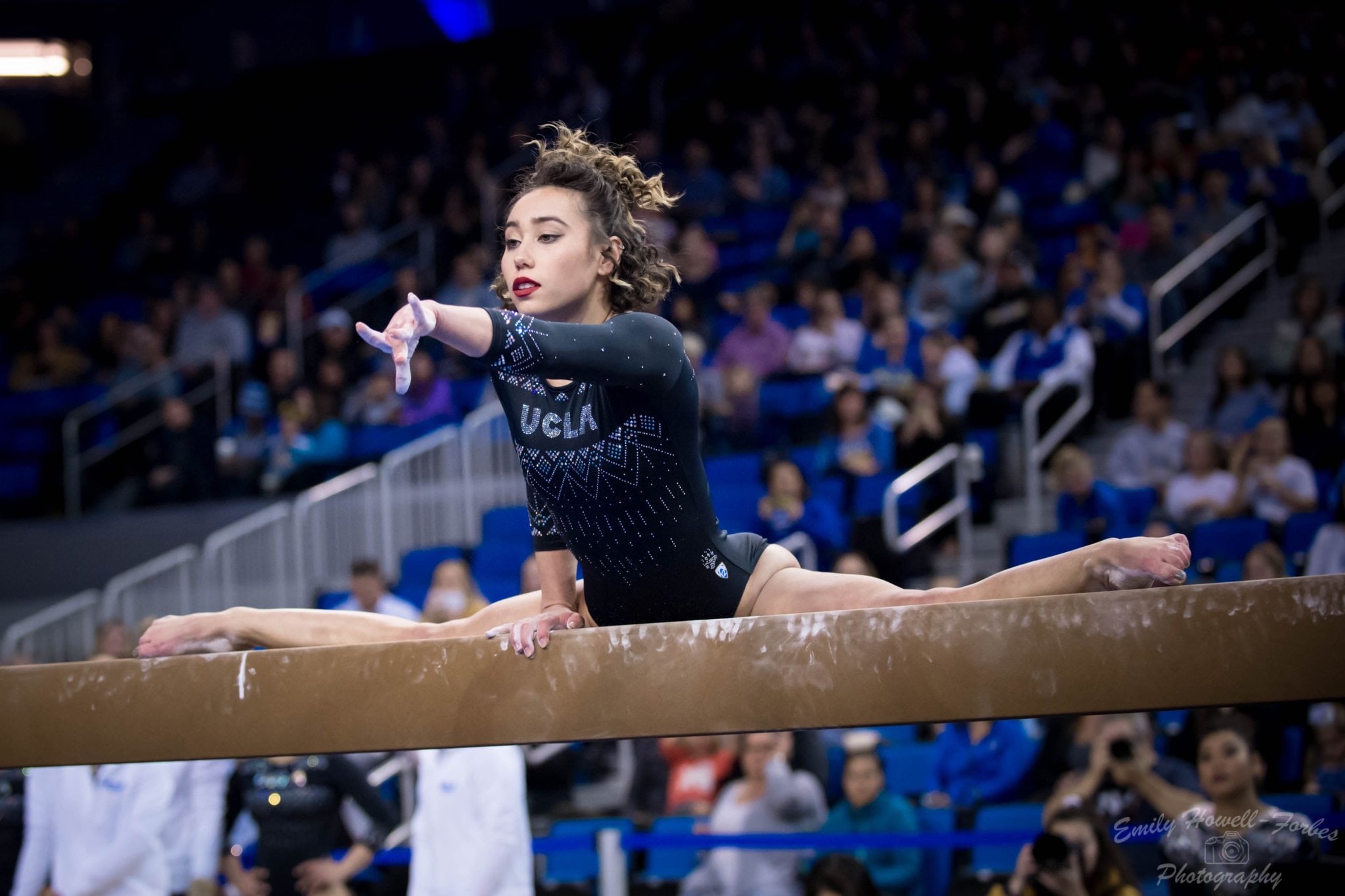 Where to begin? It's been two whole years since Katelyn Ohashi graduated from UCLA, and she's devoting her time to photography, writing, and brand partnerships she's proud of. "There's not one thing that I don't enjoy doing, and it's a really exciting life to live," Ohashi told POPSUGAR. After graduation, she didn't have the sort of "identity crisis" you'd expect entering young adulthood and leaving gymnastics, a sport that has historically caused her pain but also so much happiness, behind.
In fact, Ohashi never really felt too disconnected from gymnastics. Last year, for example, she shot a Toyota commercial where she flipped through the streets of Cape Town, South Africa. And, starting Sept. 21, she'll be starring in the Gold Over America Tour, a two-month, 35-stop performance featuring gymnasts like Simone Biles, Jordan Chiles, Laurie Hernandez, and Morgan Hurd. She is most excited to reconnect with Biles and Hernandez and to get to know Hurd, whom she admires due to her APIA activism, she said.
Ohashi is back in the gym working on her beam and floor skills to prepare for the tour, and she said the energy of the event will be just as engaging and fun as her viral UCLA routines. While she couldn't give out too much detail yet, she noted that the fast-paced and "high quality" tour, as she put it, will be heavily influenced by dance. "This is full circle because we all fell in love with the sport at such a young age, and now we get to do this tour and really show ourselves as more than athletes," Ohashi added.
Post-college, Ohashi is filled with passion and promise. "I'm a person that oozes joy and creative ideas. And I just want the best for everyone and myself," she said. She's continuing this journey of loving herself, and she wants to "keep creating and growing in spaces that I didn't always have the time for." That means working on a book of poems as well as a novel based on her life. That means diving into newfound interests like turf dancing, which originated in Oakland and she was recently introduced to when she moving to San Francisco.
In May, Ohashi released BEaUtifully Molded, her first video poetry piece that she wrote, directed, and produced, and she will continue devoting herself to these personal projects. "I just want to be in the entertainment space and performance space, so whatever opportunities come my way, I'm always intrigued and inspired by them," she said.
Expression was not encouraged when she was growing up in elite gymnastics — Ohashi called it being "suppressed emotionally." Collegiate gymnastics is notoriously less strict than the elite world, and it's not as focused on the individual as it is on the team. Ohashi said she felt more free upon joining the UCLA gymnastics program, though she still experienced pressure due to her performances and choices impacting her fellow gymnasts. For the first time, Ohashi stated, she's living her life for herself and herself alone. Now, she's truly in charge of her own path, and that path is full of possibilities.
Image Source: Emily Howell-Forbes