Periods are a natural, healthy part of our monthly cycles, yet we're often made to feel ashamed and embarrassed of them, even as grown adults. That's always disturbed Nadya Okamoto, who, since 2014, has fought to destigmatize periods and end period poverty through her nonprofit, Period, where she led young activists in increasing the accessibility of menstrual-care products. Now, she's working on a new venture, August, a lifestyle brand dedicated to reimagining periods.
"Periods can be a hassle, but they're powerful."
"Let's be real, periods can be a hassle, but they're powerful, and we should have a period community, culture, and product that reaffirms that," Okamoto told POPSUGAR. Cofounded by Okamoto and her friend Nick Jain in February 2020, August was born out of the gaps they identified in period care, thanks to the numerous Zoom conversations they had with young menstruators around the world.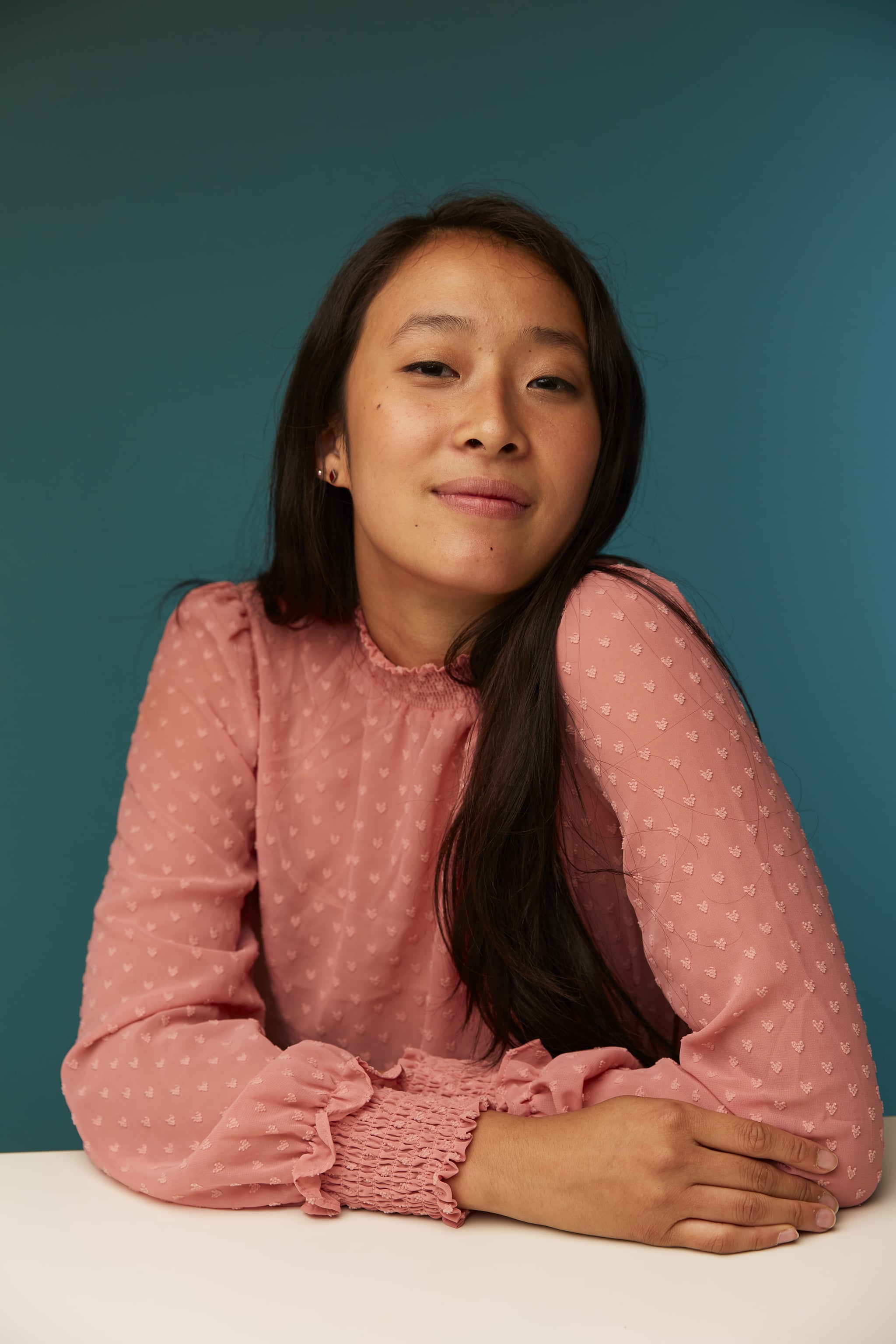 Image Source: Heather Hazzan
Many brands may label themselves as "for Gen Z," but in August's case, the descriptor is rooted in fact. "First and foremost, we're creating for our own community," the 23-year-old Harvard graduate explained. The team spent the past year and a half chatting with a diverse subset of Gen Zers about everything from the responsibility of businesses when it comes to period poverty and stigma to discovering what's missing from the market. "It's not like when you think about the relationship you have to a beauty brand, to a Glossier or a Fenty Beauty, where you're posting about it, you're excited for it, and there's this online community and brand exposure," she explained. "I don't think that these young menstruators feel any sort of connection to period brands. The period brands that they use and know of, they aren't connected to them."
What initially began as a group of people just "excited to talk about periods" turned into an online community that's now dubbed the #InnerCycle. The team also created Ask August, a database filled with answers (verified by doctors) to commonly asked questions about periods. And this week, August introduced period-care products individually and in the form of customizable monthly subscription boxes, allowing consumers to choose from tampons, pads, and liners of various absorbencies to create the perfect set that works for them. "By reimagining that culture around period stigma, we needed better products from a brand that stands for its values," Okamoto said. "We're not the first people to recognize that periods are a powerful thing, but I think we are a community who's really driven to take that to the next level."
Not only are the products 100 percent biodegradable (for context, most sanitary pads take five to eight centuries to decompose) and recyclable down to their packaging, but they're also carbon neutral, and you can trace every part of the supply chain on August's website to make sure of it. But most importantly, the brand is the first of its kind to cover the tampon tax — a sales tax imposed on feminine-hygiene products that still exists in 30 states — for every consumer; Okamoto has been fighting against the tax since she joined the period movement over six years ago.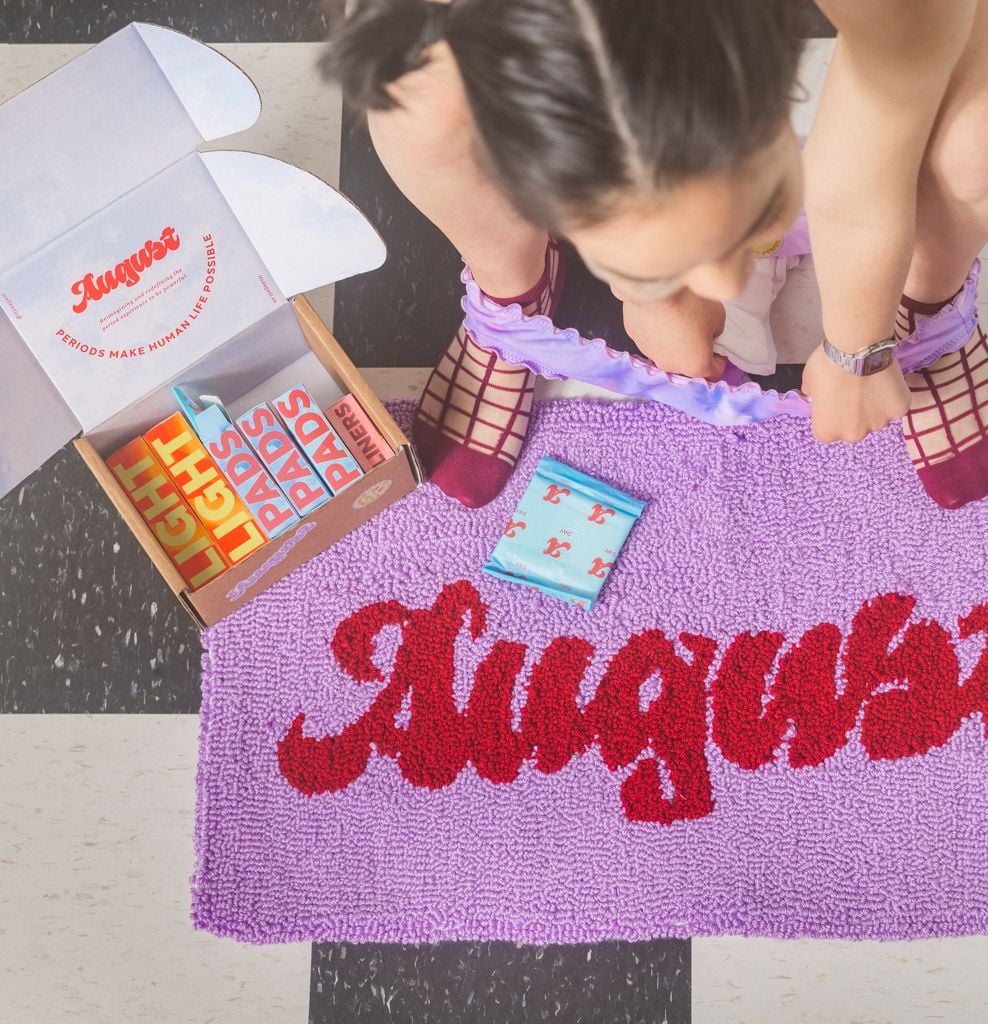 Image Source: August
"I fundamentally believe that businesses need to keep pushing the boundary of what it means to take a stand for something," she said. "For us, we were like, how do we not just say we hate the tampon tax, but take it to another level? If we're going to say that there should not be a tax on period products, then we shouldn't f*cking charge tax on period products. It's just inherently hypocritical. So when we found out that we could legally do this, well, it was a no-brainer."
"We're not the first people to recognize that periods are a powerful thing, but I think we are a community who's really driven to take that to the next level."
Okamoto has been on a mission to end period poverty since she was just 16 years old and founded Period, the nonprofit she led until January 2020. Last summer, Period severed ties with Okamoto after she was accused of monopolizing the period space and silencing other activists of color. She told POPSUGAR she was so hyperfocused on hustling, growing, and just continuing to get period products out the door that she wasn't "conscious or even educated enough" about the spaces she was in.
"You get into it because you're so passionate, but we're living in a time of commodified activism, where we really have to do the work, take the extra step to educate ourselves about the space that we're working in and the consequences of, not just the work we're doing, but the identity that we're working with," Okamoto said. "I think that was a huge learning experience."
After grappling with whether she could earn back the trust of the period community, she realized there was nothing she was more passionate about than menstruation and applied her learnings to bettering August, a company she sees as an evolution of her past work. "One of the biggest learning experiences was taking a step back and understanding what it means to thoughtfully and slowly grow, which has been a huge part of August," she explained, whether that meant setting up structures of accountability by surrounding herself with mentors, strategic investors, and team members or partnering with grassroots nonprofit organizations.
While Okamoto was previously focused on solving the issues of period poverty and stigma on the nonprofit side, she's now committed to tackling the problem at its root. "If you asked me why the stigma exists as it does today, I think it's because we live in a culture that has commodified period products to perpetuate negative stigmas around periods to sell products, convincing us that this is something to be ashamed of," she said. That's why with August, Okamoto and her team are working to reinvent the global supply chain and create that impact directly.
Get a closer look at August's new offerings — and that beautiful packaging — ahead.