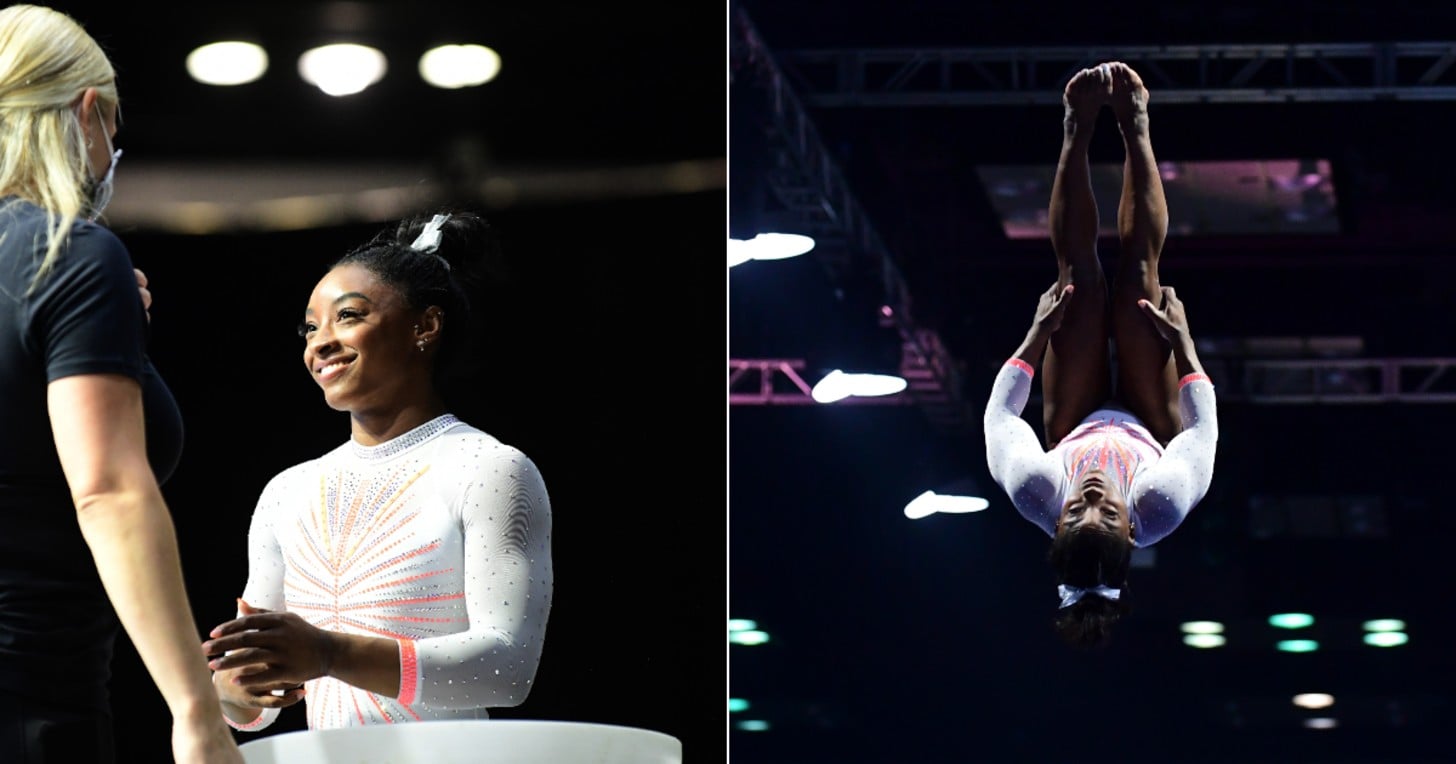 Image Source: Getty / Emilee Chinn / Stringer
In 2019 it was her amazing triple-double on floor and her double-twisting double backflip beam dismount — both now bearing her name — and in 2021, Simone Biles rocked the gymnastics world when debuting a new skill never before competed by a woman athlete: a Yurchenko double pike. You bet the skill is downright difficult!
What Is Simone Biles's New Yurchenko Double Pike Vault?
In gymnastics, a Yurchenko, named after former Soviet gymnast Natalia Yurchenko, consists of a roundoff onto the springboard followed by a back handspring onto the vault. Biles then does two backflips with straight legs (hence the "double pike"). Technically speaking, Biles's body is flipping through the air two and a half times if you count the fact that she has to push off of her hands from the vaulting table. If she successfully lands the vault at the Tokyo Olympics — she is basically guaranteed a spot on the four-person team — it will bear her name (likely the Biles 2), marking her fifth eponymous skill total and second on vault.
Emily Chan, a women's artistic gymnastics judge with the International Gymnastics Federation (FIG) and former gymnast, explained to POPSUGAR that from a physical perspective, many things make the skill difficult. "First of all, you need the speed of the run and the height to get those two and a half rotations," Chan said. "And it's also dangerous if you don't do it correctly. So for Simone, she does it very safely, so that's amazing."
When Biles debuted the vault for the first time in competition at the 2021 GK US Classic — wearing a leotard adorned with a goat for her "greatest of all time" title — she bounced out of it a bit, proving that she has even more power than necessary. Chan mentioned that, of the few men who perform it, you rarely see them execute the vault with that much power, and they don't over-rotate a Yurchenko double pike like Biles does. Watch her Yurchenko double pike in action ahead.
Why Does Simone Biles Do a Yurchenko Double Pike Vault?
Biles's Yurchenko double pike has the highest difficulty score (D-score that's added the execution score) for a women's vault in gymnastics. The judges at the GK US Classic gave Biles's Yurchenko double pike a provisional value of 6.6. While Chan said she believes between 6.6 and 6.8 is fair, both Biles and US women's national team coordinator Tom Forster argued that the D-score given was too low. Biles expressed the same sentiments over a score assigned to her double-twisting double backflip beam dismount after the FIG Women's Technical Committee said they took into consideration the risk associated with the dismount. "They had an open-ended code of points and now they're mad that people are too far ahead and excelling," Biles stated in May, according to The New York Times.
Biles will continue to challenge what is possible in her sport. She already has high-scoring routines — she fell on bars and put her hands down on floor during the GK US Classic and still won the all-around by over a full point — so she doesn't realistically need to up her game. However, that's exactly what she'll do, she told The New York Times, "because I can."