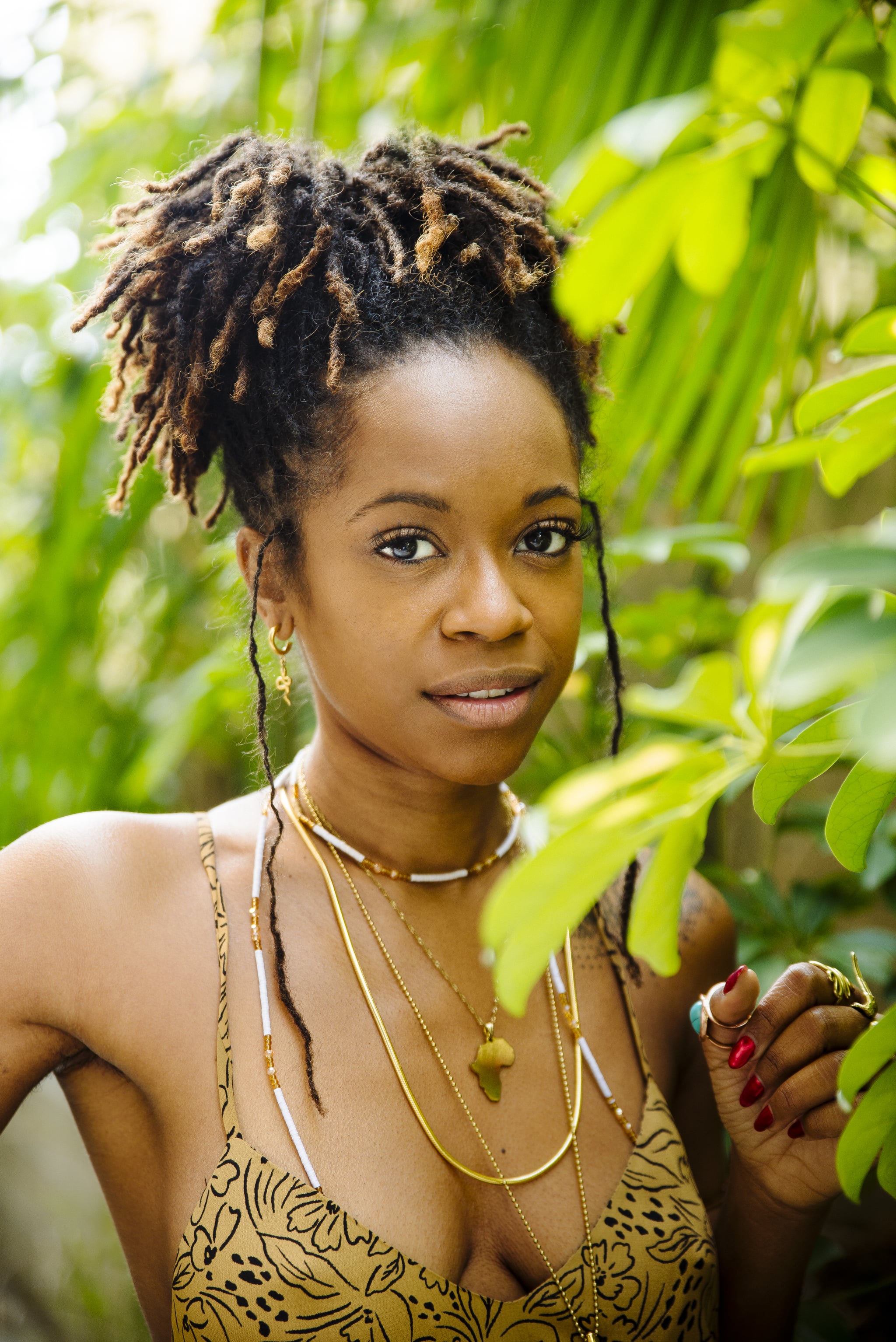 Chelsea VonChaz was on her period when she had an encounter that would one day lead her to dedicate her life to menstrual equity. At the time, VonChaz was working as a wardrobe stylist in Los Angeles for shows like Issa Rae's Insecure. She was traveling from one gig to the next in West Hollywood when she witnessed a woman experiencing homelessness free bleeding. It struck a chord.
"I just felt like nobody was taking her seriously, and then I was kind of having thoughts about how we don't really look at folks that we deem as unfavorable or unpleasant," VonChaz told POPSUGAR. "With her being so exposed, it just made me really mad."
After working in Hollywood for a few years, VonChaz was seeking greater purpose for her life. Naturally, this was the spark that led her to start reaching out to shelters. She soon learned that shelters aren't required to allocate any part of their budget to menstrual hygiene products, and they often run low on these essential items. That developed into monthly period-product distributions, which VonChaz organized with her mother, family, and friends, focusing on neighborhoods with high homeless populations and therefore high period poverty, like LA's Skid Row.
She soon learned that shelters aren't required to allocate any part of their budget to menstrual hygiene products, and they often run low on these essential items.
Eventually, almost a year after her initial aha moment — and many nights spent tossing and turning — VonChaz left styling and decided to make the nonprofit official. #HappyPeriod has grown exponentially over the past six years, partnering with corporations like Cora, The Honey Pot Company, and Thinx to get products to schools and shelters. However, during the pandemic, VonChaz had to pivot away from coordinating physical distribution, volunteering, and any educational programming, which forced her to think outside the box. She pioneered the first period protection equipment (PPE) machine, a digital kiosk dispensing boxes of pads, tampons, and even period underwear to replace often-defunct public restroom machines. Unlike most vending machines, the PPE machine is cashless. The products are free, and the machine is sustained by donations from people who stop by and give in order to keep it running.
After some fundraising, #HappyPeriod installed the first PPE machine at a Shields For Families community center in Compton, CA, in partnership with the city of Compton and Mayor Aja Brown. Mayor Brown's office recommended this particular location, as it's an area in great need of free products — but VonChaz stressed that she wants to branch out beyond community centers and shelters as well. She's hoping to expand the PPE machine program by gaining more corporate and individual sponsors, in order to put kiosks in places like LAX or middle school restrooms. "It's not just about serving houseless folks, but people who might not have access to a tampon in that moment," VonChaz said.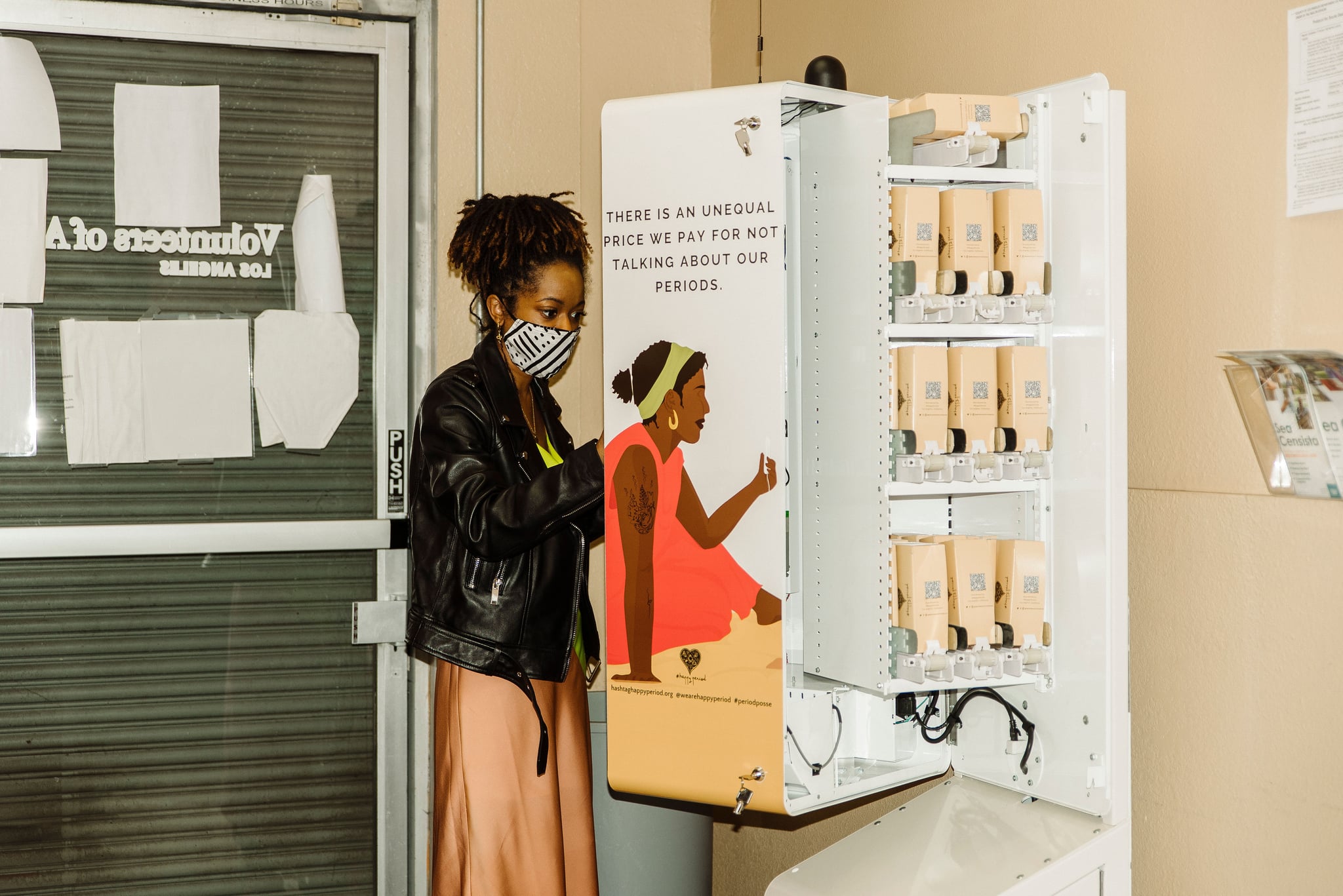 Just as important as getting the right products in people's hands is helping people learn about what products are best for their bodies, VonChaz explained. This past year, she focused further on developing the educational component of #HappyPeriod. Instead of visiting schools for programs about menstrual education, she's making those educational materials virtual, including a free, downloadable period-care and self-care ebook and workbook, which is available on the #HappyPeriod website. One long-term goal includes developing a menstrual health curriculum that school districts can adopt, which would involve students of all gender identities learning about periods, because everyone can benefit from comprehensive, culturally sensitive sexual health education.
"If [it were] mandatory for the schools to teach this, Black women would not be so far behind in our menstrual health," VonChaz said. Her theory is that increased knowledge around reproductive health could potentially help Black people who menstruate and give birth to better advocate for themselves in healthcare settings, where their concerns are repeatedly dismissed. She noted that Black women are three times more likely to suffer from uterine fibroids than white women, and the maternal mortality rate is more than three times higher for Black women giving birth.
Around the world, Black people and people of color are also the ones struggling most with period poverty, VonChaz explained — which is why #HappyPeriod's mission is to "reshape the discussion surrounding menstruation, while bridging access to education and safe products for Black people with periods." With that, she's working to disrupt the "white savior" narrative that exists in some areas of the nonprofit and menstrual-equity space, where organizations are often positioned to serve Black or marginalized people but are led by white people.
[#HappyPeriod's] work positively impacts one million periods across the country each year.
"You can't serve Black people without including them. No Black girl will be completely impacted by a white woman telling them to switch over to a menstrual cup," VonChaz said. For her, it's about giving Black people who menstruate the necessary period products, along with the tools and knowledge they need to better understand their menstrual cycle and the product options available to them — and that can't be fully accomplished without Black leadership within menstrual-equity organizations.
Several years after #HappyPeriod was founded, the nonprofit's work positively impacts one million periods across the country each year. One tampon, vending machine, or school program at a time, VonChaz is making periods a regular, integral part of conversation, and equipping people with whatever they need while they bleed. And she's just getting started.