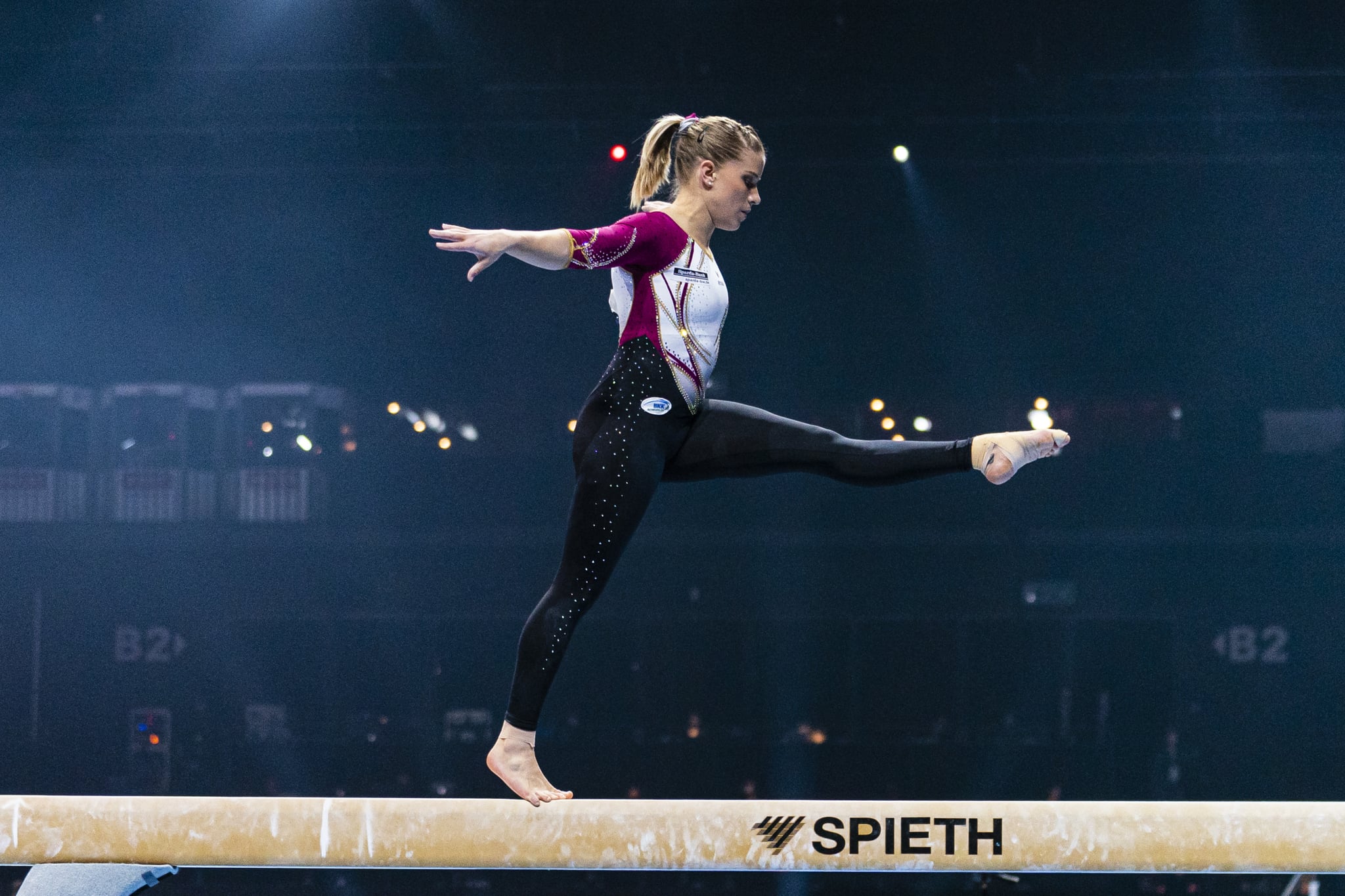 All gymnasts wear leotards. Right? That's just a fact, like how Simone Biles is the GOAT and Stick It is the most iconic gymnastics movie of our time. (Go ahead, argue me on this, I'll win.) Gymnasts wear leotards for safety reasons, because loose clothing might snag on the equipment, and to ensure judges can see every movement they execute during a routine. Sparkly and colorful, leotards make fashion statements that can even go beyond the gym, like UCLA's stunning Black Lives Matter leotards.
So when three German gymnasts showed up at the 2021 European Gymnastics Championships wearing full-body unitards — covering their legs, all the way to the ankles, and their arms down to the forearms — it caught fans' attention. The black-and-red unitards worn by Sarah Voss, Elisabeth Seitz, and Kim Bui had all the sparkles-and-spandex glory we've come to expect from gymnastics leotards, just longer.
Seitz later took to Instagram to explain the powerful reason why they opted for unitards over the traditional leotards. "We . . . set an example and wore a new type of suit," Seitz wrote on Instagram (translated from German), saying the unitards were a symbolic gesture of support for gymnasts "who may feel uncomfortable or even sexualized in normal suits. Because, in our opinion, every gymnast should be able to decide in which type of suit she feels most comfortable."
This conversation has come up in gymnastics before, specifically around leotards potentially sexualizing gymnasts. In 2018, after former USA Gymnastics doctor Larry Nassar was convicted of sexual abuse, Aly Raisman was asked whether gymnasts should continue wearing leotards, given how much they expose athletes' bodies. Her take on Twitter: leotards are not the problem, and saying so borders on victim-shaming. That said, Raisman said she believed leotards "are incredibly revealing and in bad taste. In fact, I think that uniforms in many sports and even children's clothing is incredibly sexualized." But that is not the athlete's fault, she noted.
I was recently asked if gymnasts should continue wearing leotards. Leotards r not the problem. The problem is the many pedophiles out there & the adults who enable them. By saying clothing is part of the issue, u are victim shaming/implying survivors should feel it's their fault.

— Alexandra Raisman (@Aly_Raisman) March 25, 2018
It's important to note that the German gymnasts weren't victim-shaming; they wore the longer unitards because they preferred them, and hoped to inspire other athletes to wear what made them feel comfortable, too. Bottom line: gymnasts should compete in whatever uniforms they want, whether it's for comfort, making a statement, or simply preferring a certain look. For what it's worth, unitards are allowed under USA Gymnastics' rules, so can we expect more of these long-sleeved, ankle-length unis in future? We'll have to wait and see, but we do know one thing: when you feel good, you perform even better, so we're all for gymnasts wearing whatever the heck they want.