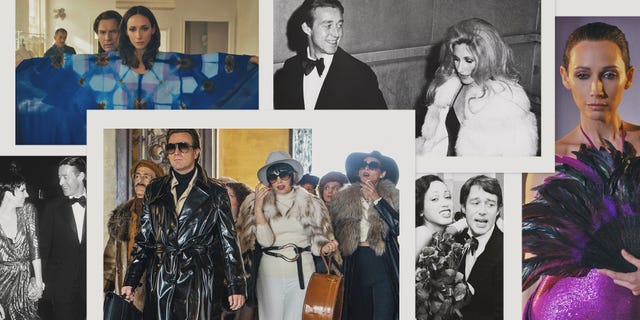 Getty Images/ATSUSHI NISHIJIMA/NETFLIX
Style Points is a weekly column about how fashion intersects with the wider world.
Roy Halston Frowick didn't take well to being alone. When he left his childhood home in Indiana, far from the mythical coasts, he dropped two of his names like last season's castoffs, adopted a chic mononym, and headed straight for more densely populated pastures: first Chicago, then New York City. It was in Manhattan that he reinvented himself as a fashion phenom and Studio 54 fixture, surrounded by a rotating Lazy Susan of beautiful people, speaking in a clipped, affected accent that became his signature. He didn't vertically climb the ranks of society so much as he horizontally insulated himself with people, including the model coterie that André Leon Talley christened "the Halstonettes."
Halston's story has spawned biographies (Steven Gaines's Simply Halston: The Untold Story), a self-titled documentary, and many a museum retrospective. But Netflix's new Ryan Murphy-helmed limited series Halston, based on Gaines's book, might be what introduces him to a younger generation, who will see some surprising parallels between his career and the standard 2021 roundelay of self-promotion, influencing, and brand-building. "It feels like, in this world of influencers, here are these people that really were the first to do it," says director and executive producer Daniel Minahan. "They documented everything they did," whether it was a night out at Studio 54 or a society gala. The designer formed what Minahan calls a "chosen family" that spanned everyone from high society dame Babe Paley to downtown Warhol superstar Pat Ast, all united by their affection for his designs. "Before Halston," Minahan notes, "people didn't want to be seen at a party wearing the same dress. That would have been sort of embarrassing. Then after Halston and Model #704, the Ultrasuede shirtdress, everybody wanted to be wearing the same thing. He created that idea of a status dress."
Ewan McGregor steps into the role of Halston, but the series also gives serious screen time to his muses and collaborators, from Liza Minnelli to Elsa Peretti. "It was fascinating how he courted those people," Minahan says, explaining that Halston provided Warhol with names from his Rolodex when the artist started doing portraits of notable people, and Warhol then gave him press in Interview magazine. "They sort of cross-pollinated." Anticipating the dawn of fashion designers as celebrities in their own right, Halston appeared in his own ad campaigns and in bold type in the society columns. While he became legendary for his nightlife exploits, they were also a corollary to his day job, an early form of nose candy-assisted networking. Costume designer Jeriana San Juan says, "This whole idea of surrounding himself with an entourage of gorgeous women that were all wearing Halston really shows his understanding of how photography and press was influencing [fashion], how he could use that to his advantage."
But, she's quick to add, it wasn't only status that propelled the Halston name to the top. It was the way he designed. "He understood women and listened to women; he was not trying to entirely enforce his voice on someone. He was trying to find what worked for the client and find a way to put his own artistry in tune with how they felt." When she spoke to model Chris Royer, one of the Halstonettes, "she told me that she really had a chance, as his fit model, to have a voice. He asked her often how things felt and how she could move in them. She spoke so highly of him and so affectionately about him because she really felt heard and a part of that process. And I think that's something that really translates to the final product."
Halston's modernity didn't just come across in his marketing, but in the clothes themselves, which felt refreshingly unfussy. Minahan points out that they didn't have closures or buttons. Everything was easy-on (and, perhaps more pertinent for the Studio 54 crowd, easy-off.) He didn't draft out his designs using muslin, but often applied fabric directly to the body almost as though he was sculpting, as shown in a scene where he makes over Minnelli from mod moppet to disco queen with just a few yards of silk and some decisive gestures. There's a brief, but illuminating, moment in the series where Halston walks down the street in New York City and sees women still dressed in the bohemian styles of the time, which helps foreground how tectonic plate-shifting his alternative would be. His designs may look simple, but, says San Juan, "that's the beauty in minimalism: making something that is perceivably very easy and simple, and then when you really unfold what that is, it's actually quite complicated. It takes true architecture to create that level of effortless ease."
During the initial research process, she "touched and picked apart Halston dresses as much as I could, because I wanted to understand not only the aesthetic pleasure of his clothes, but also the construction behind them and the enormous effort to create very easy lines," she says. "They allowed the women wearing them to shine through and look glamorous and elegant. And that's what's so powerful about these clothes. They don't wear the women; the women wear them."
San Juan applied that philosophy to her own designs for the series, for which she took what she calls "artistic license" with the originals. She set out to "work in Halston's voice more than recreate things exactly," but she took a Halston-like approach to the fittings. For example, when she dressed Krysta Rodriguez, who plays Minnelli, she wanted Rodriguez to be able to move and dance in her costumes, so she would actually film her doing so and send the videos to Minahan. For Elsa Peretti, played by Rebecca Dayan, she incorporated many of Peretti's own archival designs into the costumes so that her iconoclasm shone through. For example, a chain-mail bra gets an airing in a scene where Dayan daringly wears it under a suit jacket in a business meeting. "What a better way to subvert it than to wear it with a business suit?"
One recurring word that Ewan McGregor kept noticing in Halston's old interviews was "comfortable," San Juan tells me, to the point where he'd practice saying it in Halston's accent. It's a priority that still seems apropos today, she says, because his clothes "are body-conscious, but not body-confining." Now that many of us have spent a year-plus marinating in elasticated bliss, Halston's middle ground between restriction and ease feels of the moment again. No wonder the fall 2021 collections dripped with the designer's influence. "This idea of, 'I want to go out and celebrate. I want to look glamorous, I don't want to look like I'm trying too hard, and I want to be comfortable?'" she says. "I mean, that is what Halston is."
Halston premieres on Netflix on May 14th.

This content is created and maintained by a third party, and imported onto this page to help users provide their email addresses. You may be able to find more information about this and similar content at piano.io