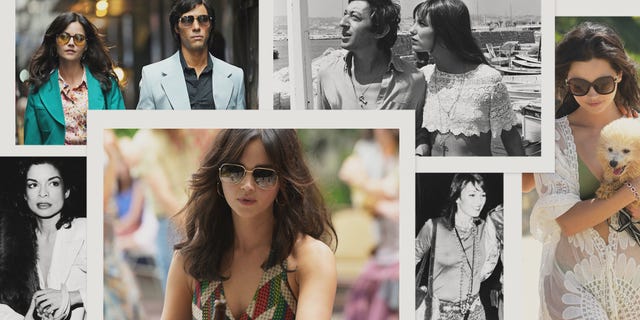 Roland Neveu/Courtesy of Netflix; Getty Images
Style Points is a weekly column about how fashion intersects with the wider world.
Rachel Walsh recently traveled thirty years back in time. After costuming (alongside Adam Howe) the BBC series-turned-Netflix-hit The Serpent—based on the real-life hunt for a serial killer in Southeast Asia in the '70s—she's now speaking to me from the set of a project that takes place in the '40s. But the Me Decade is still fresh in her mind—and in those of viewers, who have been particularly drawn to star Jenna Coleman's bohemian-meets-jet-set aesthetic. The series, says Walsh, "had a unique combination of that dark quality of the story of a serial killer, mixed with the high-end historic glamour fashion. And I think that sparked people's imaginations."
For Coleman's character, Marie-Andrée Leclerc (AKA Monique), who is serial killer Charles Sobhraj's girlfriend and accomplice, Walsh turned to eternal haute-bohemian references like Bianca Jagger, Jane Birkin, Françoise Hardy, and Joni Mitchell. The show arrived at the right time, because their doppelgängers also walked the runways for fall 2021. Whether it was Michael Kors's tribute to New York nightlife and Broadway, gushing with liquid sequins, or Chloé's world-traveler knits and ponchos, their influence was everywhere. And it never really abates. If you dressed up in full Mod gear or '80s attire in 2021, you might look costumey, but this particular slice of the '70s still feels easily translated to today. In fact, Walsh says that when the show originally aired on the BBC, and then again when it premiered on Netflix, she was inundated with messages asking where she sourced the clothes.
Often, costume design is about not drawing too much attention to the characters' wardrobes, for fear that it will distract from the story. But The Serpent is one of many series, from Bridgerton to Euphoria, that feels not only informed by fashion but one that has its own undeniable ripple effect on the runways. "Everyone's very fashion-aware now," Walsh explains, "and a lot of TV production companies want you to bring that element into the design now, which wasn't the case 10 years ago." That said, "You almost don't want people to notice the clothes, although people obviously have for this. We want them to watch the drama, get involved in the story, and then as a consequence go, 'Oh, actually, they look really good as well.' You don't want it to be a catwalk show on television, because [then] people aren't engaging with the story."
Throughout, the costume team wanted a very specific lens on the era; they set a rule early on that they would not use brown, the decade's conversation-pit color of choice but one that doesn't exactly pop onscreen. And Walsh says that she shied away from making the motifs too Austin Powers-literal. "I didn't want to go down the road of it looking brown and nylon and Crimplene and that quite dull '70s vibe." Instead, she thought, "Let's go for glamour because they were both escapists, Charles Sobhraj and Monique/Marie-Andrée." Their style "was all about creating a false identity, because of their underlying psychological problems."
Walsh had some designer reference points, noting that she looked at Pucci, Halston, Karl Lagerfeld, Biba, YSL, and Bill Gibb, though Coleman's pieces are re-creations of the era's looks, aside from some standout accessories like her Hermès scarves and Van Cleef & Arpels sunglasses. Walsh also referred to old photos from some of the real-life figures in the story, as well as her own family photos from growing up in the era.
Coleman's fashion also sets her apart from other characters in the story, like Ellie Bamber's Angela Knippenberg, a diplomat's wife who is much more likely to be seen in tennis gear and denim jumpers. When working on Coleman's wardrobe, Walsh says she was mindful of "creating a '70s-chic, slightly Studio 54, underground vibe to contrast really nicely with the very clean-cut expat lifestyle of the Knippenbergs and the embassy life." There was an intentional juxtaposition of the two characters: "They're the same age and yet [Angela's] a married woman, and she's not allowed to work because her husband works for an ambassador," Walsh explains. "Even though women were very free in the '70s, [with] women's lib and everything, there were lots of women who were still leading a very 1950's lifestyle." Coleman's glamour also throws the Western travelers on the so-called "hippie trail," some of whom became Sobhraj's victims, into high relief: those characters are styled in bohemian clothes meant to look like they're seen plenty of wear, which the costumers bought in vintage shops, at markets, and on eBay. "The idea of clothes that they had for years, with the ingrained grime of the traveling life, was what we were trying to achieve."
Walsh has definitely noticed the '70s trend trickling down from both the runways and projects like hers. "You see young girls walking around with headscarves and oversized sunglasses," she says. "I've definitely noticed a lot more flared high-waisted trousers and jeans around. The DVF wrap dress, that's coming back. Even in the high street, like in Zara and H&M, there's definitely a lot of that '70s print vibe around in the accessories." And you don't need Talitha Getty's budget to achieve this look, either. "I think it's quite accessible, because it doesn't take many pieces to reinvent your wardrobe. You've probably got a pair of jeans that might not be flared, but they might be straight-cut," she says. "All you need is a caftan and a headscarf and some oversized sunglasses."
This content is created and maintained by a third party, and imported onto this page to help users provide their email addresses. You may be able to find more information about this and similar content at piano.io