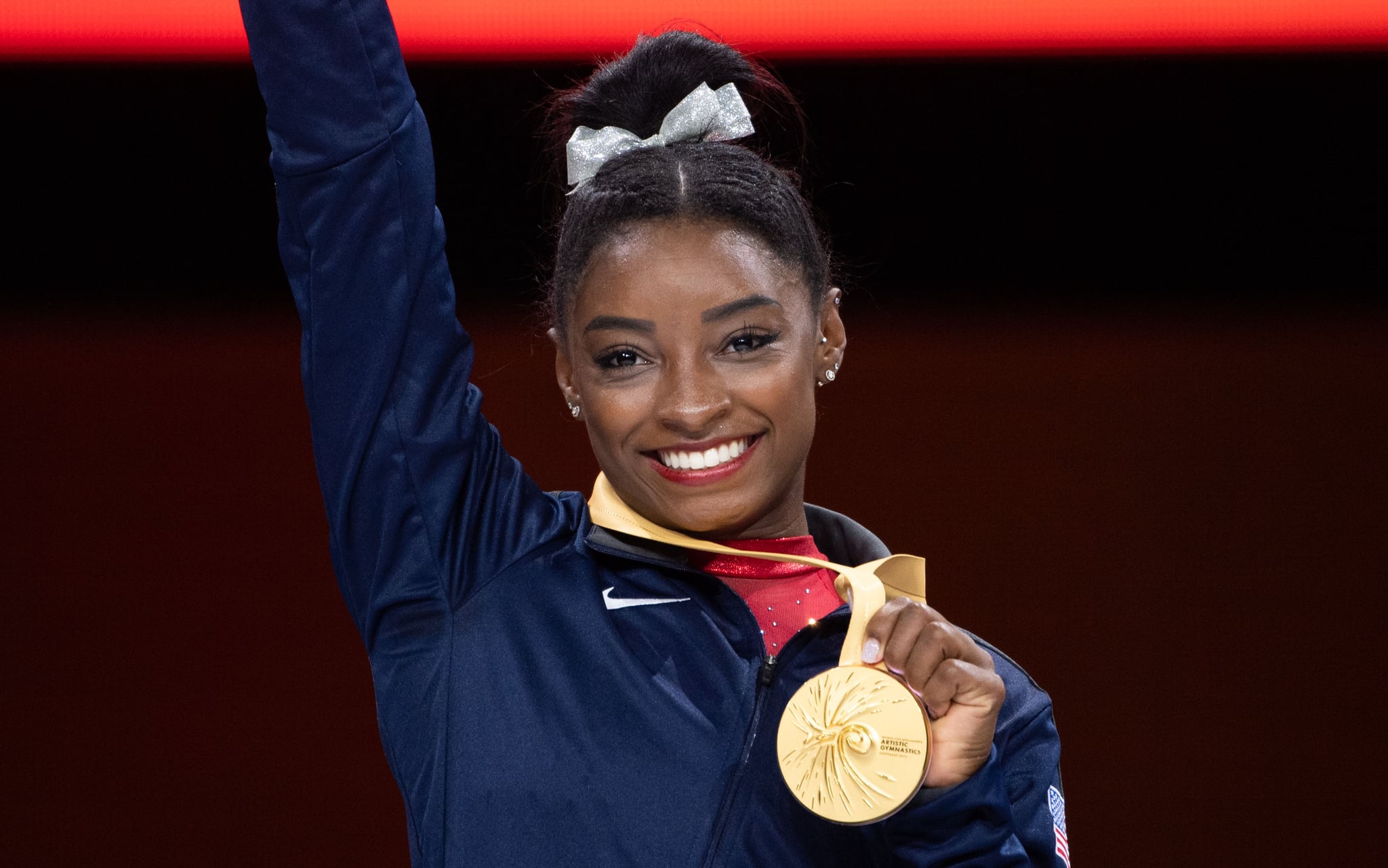 No matter what sport you're tuning into, you'll always see the best of the best break away from the pack to solidify themselves as truly great. Take Simone Biles: she's arguably the greatest gymnast of all time. She already has four skills named after her, meaning she was the first to land them successfully in a major competition (and she might have two more coming). She pushes the boundaries of what's possible in women's gymnastics, and the amplitude and difficulty of some of the flips she does is comparable to gymnasts on the men's side — remember that triple backflip?!
Her list of accolades? Downright impressive: Biles is the most decorated gymnast in World Championship history, has the most World all-around titles in women's gymnastics, and is the third most decorated gymnast in the entire world when counting World Championship and Olympic medals. The combined record of 33 set by Belarus's Vitaly Scherbo is well within reach, as her World and Olympic medals total to a massive 30 (23 of them are gold).
But in February, a now-deleted illustration reposted by SportsCenter naming some of sports' greatest athletes did not include Biles — nor did it seem to include the face of any other iconic woman athlete such as Serena Williams, Sue Bird, Abby Wambach, or Tatyana McFadden (who has won 17 Paralympic medals and is still going). Biles initially wrote on Twitter, "There are so many women I can think of that belong in this photo yet there are none."
Biles told TODAY that athletes she would have liked to see on that list were Williams and Bird, along with Katie Ledecky, the most decorated woman athlete of the Rio 2016 Games; two-time FIFA Women's World Cup winners Alex Morgan and Megan Rapinoe; Simone Manuel, the first Black woman to win an individual Olympic swimming medal; six-time Olympic gold medalist Allyson Felix; and Lindsey Vonn, the most decorated woman skier in World Cup history. Yeah, sounds about right!
At the US Olympic and Paralympic Committee's Team USA Media Summit held virtually on April 7, when Biles was asked by reporters if not getting included in the GOAT discussion affected her, she said, "Definitely doesn't bug me. I think the only thing that bugs me is when they don't include women, because then again, I feel like it's a little bit sexist because we worked so hard to put our marks in the sports that we've done, so that in itself is kind of irritating."
As for Biles's place in the conversation as a GOAT? "I feel like maybe for gymnastics I am kind of one of them, or at least everybody says so. So, it is nice to have that stamp for gymnastics and to have that out there." There's no denying she's stamped her name in the gymnastics record books.
Biles plans to compete in the GK US Classic on May 22, then the 2021 US Gymnastics Championships (Nationals), then the Olympic trials. Both Nationals and trials take place in June, the latter spanning four days from June 24 through 27. Biles is pretty much a shoo-in for the four-gymnast women's Olympic team, but we can't wait until it's official and she heads overseas to chase victory and more history-making medals.
To learn more about all the Olympic hopefuls, visit TeamUSA.org. Watch the Tokyo Olympics this summer on NBC.