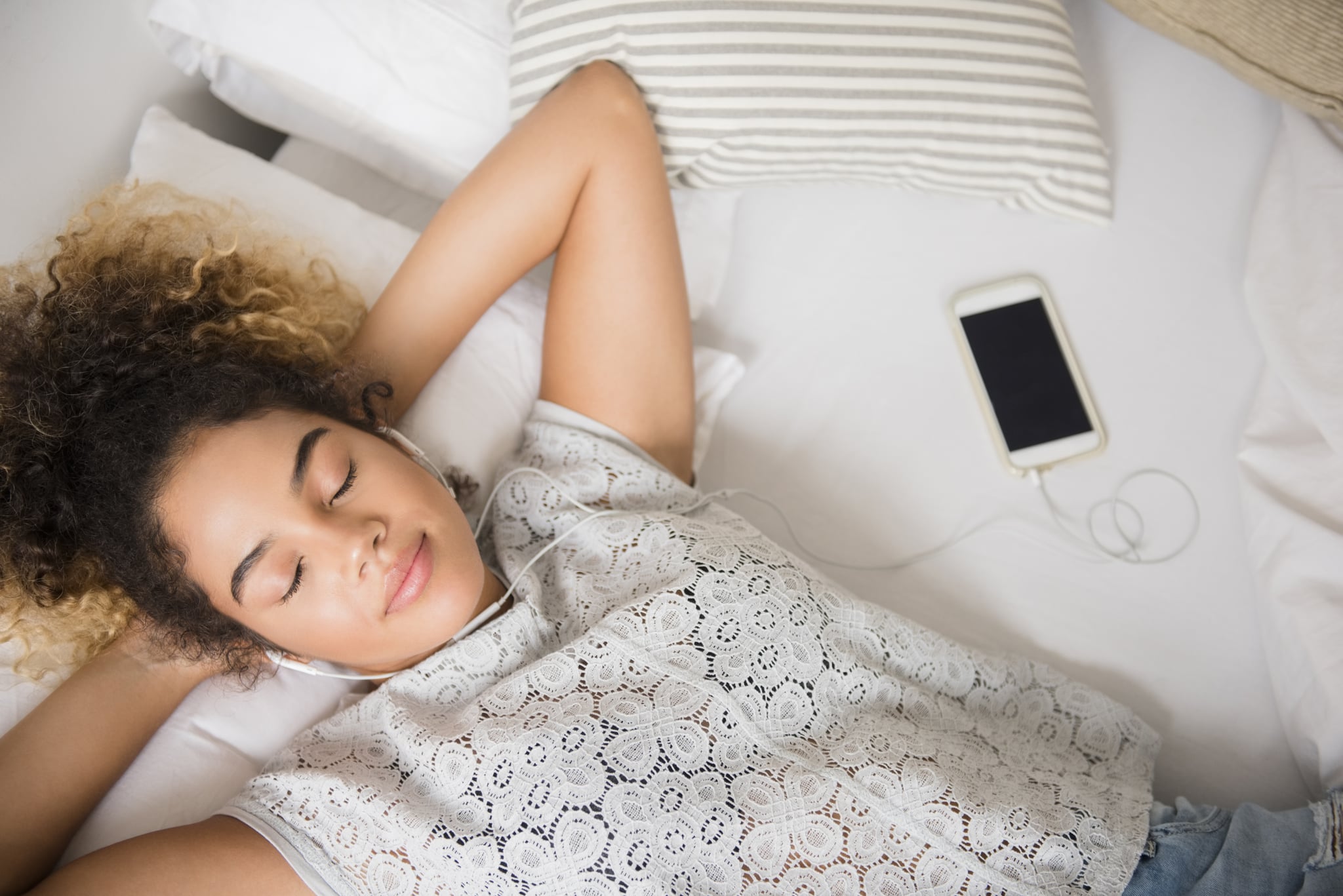 As someone who struggles with stress and anxiety, I've flirted with almost every coping strategy out there. I take hot showers to calm my nerves, light essential oil candles, pile on blankets for weighted comfort, and follow self-care accounts on social media — and to a certain degree, all of these things help. However, once my head hits the pillow at night, it can feel like a jungle gym of overwhelming thoughts up there. It's an anxiety overload that can leave me staring into the darkness of my bedroom for minutes or hours at a time. It's not a healthy bedtime routine, and as someone who needs at least eight hours of sleep — preferably nine and a half, if I'm being honest — I've found Spotify's horoscope podcasts to be my gateway to a good night's sleep.
I actually stumbled across Spotify's Scorpio Today podcast by accident while surfing my Made For You page. A Spotify original, the podcast is tailored to Scorpio's specific traits, characteristics, strengths, weaknesses, and classical elements. (Every Zodiac sign has their own personalized podcast, simply titled Pisces Today, for example.) Each episode is divided into segments on topics like relationships and career growth. There's a reason I don't meditate, and that problem is solved by these episodes, which are under three minutes. I love that they require very little focus and energy, yet give me so much in return.
Because the pod is centered around one Zodiac sign, every single minute is solely about the listener, and who doesn't want to listen to three free minutes of talk therapy? While the pod is intended to start your day, I personally find it helpful to listen to it in the evenings. Hearing why my day played out the way it did and why my thoughts or feelings were the way they were as I'm closing the chapter on another day is one of the most calming feelings in the world. It's like talking to a friend, only you don't have to do any of the talking, and at the end, you're left feeling justified.
Going to bed with my thoughts, worries, and questions addressed helps me fall asleep faster. I feel less tense, stressed, and anxious, and I'm able to comb through whatever's swirling around in my head, instead of just praying it'll be gone by morning.
If you struggle with anxiety before bed or falling asleep in general, I highly recommend subscribing to your Zodiac sign's podcast on Spotify. Even if you aren't all that interested in learning about how the moon and tides affect your overall mood, I still suggest you give it a listen, if for no other reason than the soothing narration. You (and your sleep) might be pleasantly surprised, I'm just saying.