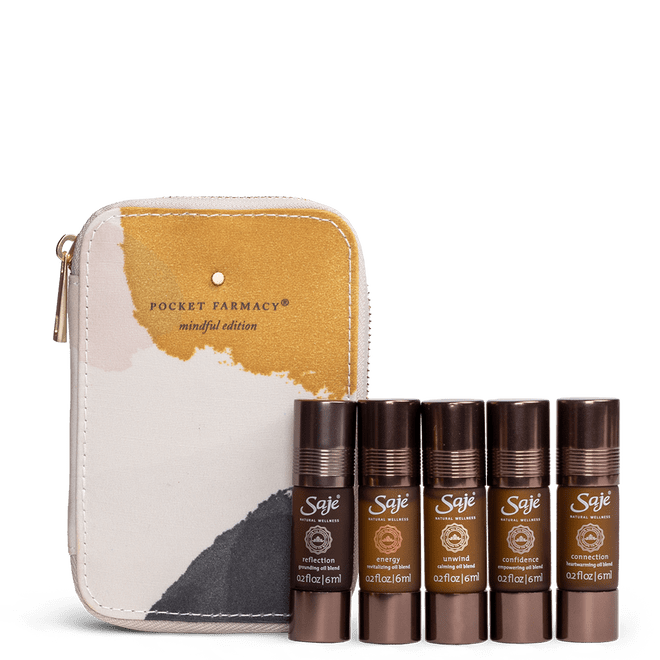 I've had an anxiety disorder since middle school and, like many people, the past year took a toll on my mental health and exacerbated my symptoms. I take medication to manage my depression, PTSD, and anxiety, and I found myself needing to increase my daily dose of Valium. I also became terrified of going anywhere without the bottle in my purse because I never knew when I'd need the fast-acting medication to aid me during a panic attack. With my newfound free time during COVID-19, I began to research and try some more natural approaches to managing my anxiety, like meditation and essential oils.
When it was time to try essential oils, I turned to Saje Wellness, the same company that makes an oil blend I've used to help soothe migraine pain. They've been in business for more than 25 years, their products are formulated using scientific research, and my psychiatrist did some digging and told me it would be safe to use their essential oils, in addition to staying on my prescription medications. So, I ordered the Saje Mindfulness Pocket Farmacy ($65). It comes neatly organized in a small, pretty case with five essential oils in roll-on form. The kit is the perfect size — small enough to stick in my purse and even take in my carry-on bag for flights.
The oils included are called Confidence, Connection, Reflection, Unwind, and Energy. I use all five, but the two that have made the biggest difference for me personally are Reflection and Unwind. Reflection has a grounding effect, which has helped a lot with my concentration and focus. My anxiety and PTSD make it extremely difficult for me to focus. I often work myself up so much that I'm too anxious and agitated to sit down at my desk and complete necessary tasks. I pace around my apartment for up to two hours sometimes and, in the past, the only thing that could get me to sit down and concentrate was taking medication. Thanks to the Reflection oil, I don't need to use Valium for this purpose as often as I used to.
The second oil that's helped me the most is Unwind. Its name is pretty self-explanatory — per the instructions, I roll this oil onto my neck at the end of the day when I've completed my work and chores and I have some "me time" to read a book, watch a movie, or paint. My anxiety often interferes with my ability to unwind because my mind will already be racing about what needs to be done tomorrow, next week, or even next year. Like Reflection, the Unwind oil has helped me cut back on using medication to cope with these racing thoughts. I feel more present in the moment and can enjoy the act of reading or painting.
Some days are harder than others. When I feel a panic attack coming on, I do still take Valium and propranolol, a beta-blocker that helps lower my heart rate so I don't experience that terrifying feeling like I'm having a heart attack. And on days when my anxiety or PTSD happen to be more severe than usual, I'm not ashamed to take a prescription medication. But on the average day, the Mindfulness Pocket Farmacy is now my first resort. I've been using it for a month and, thus far, it helps more often than not. For a long time, I had a conception that the only two choices were to solely rely on "all-natural" treatments or to only use prescription medications. But, as my psychiatrist and my personal experience confirmed, that's simply not true.
I'd recommend these essential oils to people who experience anxiety and concentration issues — just make sure to clear it with your doctor first, of course, especially if you're taking medication.