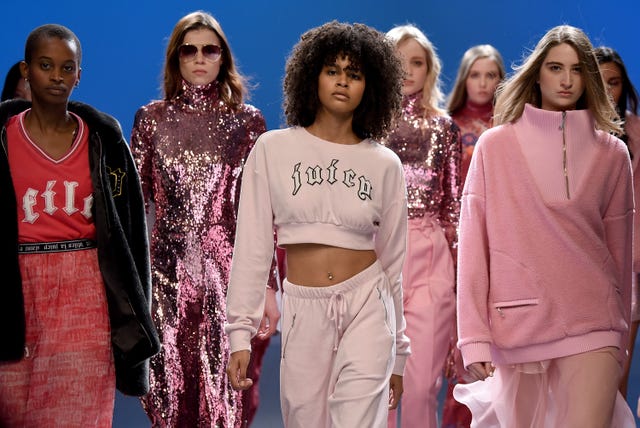 Joe Maher/BFCGetty Images
The Gilded Age. The Age of Enlightenment. The Industrial Revolution. And now, upon us, is the Basique Era.
This isn't a phenomenon due solely to our year-long quarantine, but a whole new lifestyle that urges you to embrace your every Basic desire in unprecedented ways. Go ahead: Slip on some Skims and watch a Kardashians marathon. Cook a recipe from a Chrissy Teigen cookbook. Buy butt-friendly leggings from Amazon (and then make a TikTok of your partner reacting to them). It's okay that you like beach waves and Skinny girl margs, babe. It's the Basique Era.
This content is imported from Instagram. You may be able to find the same content in another format, or you may be able to find more information, at their web site.
*The subject in pajamas she ordered from Instagram, a Wildflower phone case, pink UGG slippers, and the Juicy x Parade collaboration scarf. THE levels here.
The Basique Era is defined by the confluence of opportunity and action. As the pandemic was forcibly ushering us into our comfiest clothes, a slew of our most basic celebrities emerged to fill the vacuum with exactly what the moment called for. As someone who's always aspired to look like I could be boarding a yacht for a local Real Housewives episode, it's my turn to shine. It's never been a better time to be basic—not only because cozy clothing is suddenly the standard uniform, but because of who is supplying (or serving as the face of) this clothing.
The Shoe
I dipped my toe into the chic fuzzy slipper pond last March at the beginning of the pandemic. It was the height of the criss-cross fuzzy slipper boom popularized by Sunday Forever. Instantly, I was hooked. I've since dabbled in the same design by Chrissy Teigen's line as well as a cheaper design from the underground designer Jeff Bezos. What is not a fuzzy slipper, but high heels overlooked cousin?
Skims, and some more Skims
Skims are, like, real good. (Overusing "like"? Cooler than it's been since The Simple Life's heyday.) Trust me—I've bought everything Kardashian's line has to offer. My gateway into the brand was the Cozy collection. I'm wearing my discontinued teddy-bear brown robe. It's divine, I'm sorry you won't know its soft touch. I've branched out to expand my collection to the rose cozy sweats and matching tops, which I wear with a belly chain when I want to feel alive or am driving into Calabasas, and I can't tell you the levels of comfort I feel in these clothes.
Since Cozy, I've branched out to the pajama set and the soft lounge boxers and tanks from the Boyfriend and Cotton collection, which both feel like you're wearing nothing at all. I also bought not one, but two Waffle collection jumpsuits. The Basique Era is an indulgent one: I also have the velour set. And the recently released slip! Discomfort? I don't know her.
Cravings by Chrissy Teigen
I love my girl Chrissy Teigen. She's been a champion in the robe and basic community since day one. Remember when she wanted pizza? It's crazy because I also like pizza. But those who have identified with Teigen's relatable tweets finally have the opportunity to live like her, too. I have the robe, the slippers, and the headband. Teigen's own clothing line embraces its basicness: see the Basic Bitch scrunchies.
Barefoot Dreams
Influenced by the celebrity that is Malibu, California, this is the Tesla of Basic living. Barefoot dreams are loungewear and blankets for people who have fireplaces that overlook the ocean on the California coast. If you've ever put on an UGG boot and jean skirt and felt perfectly tempered (Hi, hello, yes, welcome) this is the brand for you. So rich you're never chilly, so rich you're always cold. What is not aspirational about the 90265 lifestyle?
Now, we're moving to the portion of the 'fit where you really get to let your basic flag fly. Personally, I like to tie my identity up in garbage TV shows. Summer House only grazes the surface of my depraved pleasures. Are you still watching Teen Mom OG? It's still good! Have you finished Love After Lock Up? Even the TLC Go supplemental footage? The commercials are longer than the actual segments, but it's worth it.
A full year into quarantine, I've completely lost sight of what being "cool" even looks like, which, I like to delude myself into believing, is actually very cool. I've never been more "Me" than I have been in the past year. I haven't "given up;" I've embraced my own dark passenger. Sure, my interests aren't traditionally high culture, but there is something powerful about being part of a crowd. Us members of the Basique Era are legion and at dawn we ride. Hey, it's always 5 o'clock somewhere.
This content is created and maintained by a third party, and imported onto this page to help users provide their email addresses. You may be able to find more information about this and similar content at piano.io