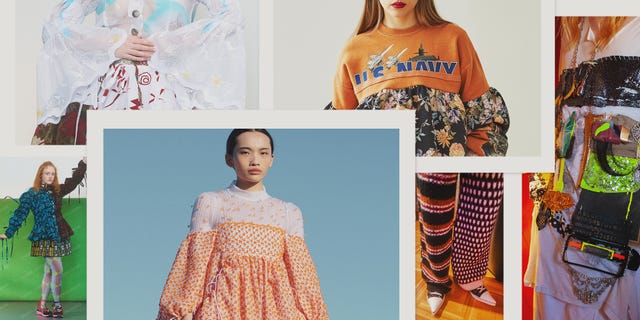 Courtesy of the brands; Bahnsen: LANA OHRIMENKO; Rentrayage: Kate Sears
Style Points is a weekly column about how fashion intersects with the wider world.
If your life feels like a never-ending parade of concentric Zoom windows, FaceTime squares, and a thousand open tabs, the fall 2021 collections suggest you're not alone. Perhaps inspired by our ragtag lockdown uniforms of corporate casual on top, sweatpants party on the bottom, designers in London and Milan went for unusual combinations that transcended the typical styling tricks to reflect our fractured, fragmented reality. Along the way, they ended up tapping into the strange, in-between mood of the present, where lockdowns alternate with abrupt re-openings and we wait for our vaccine shots but worry about the variants, constantly whipsawing between hesitation and hope.
At Marni, where "Franken-jackets" (to use Mary H.K. Choi's genius coinage) popped up for spring, designer Francesco Risso extended the metaphor this season, gleefully trotting out pants with mismatched legs and a leather coat with different-colored quadrants. He paired some looks with comically oversized handbags, a joke of scale, and even turned some pieces into mixed-media collages of found objects, a collaboration with the jeweler Tom Binns. Tactile and soft, the show felt like a nod to the magic of in-person experiences. Right now, "romanticism feels more powerful than any form of protest," Risso reflected in his show notes, "a way to delve into reality with another gaze and another touch, finding another meaning to the everyday. It also felt like a response to the growing pressure for clothes to "pop" onscreen, in our digital-only landscape—these looks felt linked to the physical world, which only made them more desirable.
Meanwhile, in London, Emma Chopova and Laura Lowena of Chopova Lowena opted for mesh tops and leggings made from dead stock material, and looks that incorporated equestrian uniforms mashed up with school uniforms, for the horse girl who's studying for the SATs in her spare time. A standout motif was the split-personality dresses, kilts, and blouses in contrasting prints.
And up-and-coming label HRH, known for its gigantic scrunchies, showed as a part of the Fashion East presentation, which spotlights the city's up-and-coming designers. The designer, who goes by Hannah HRH, drew from her past life as a gymnast, finding herself inspired by the interstitial lives of athletes (which aren't that different from an existence spent perpetually idling in a Zoom lobby.) "The moments when teams aren't on ice, or on the court, but are all boarding the plane together or waiting along the sidelines for results," influenced her, as she said in her show notes. The symphonies of sweatpants and mega-scrunchies and puffy scarves, equal parts workaday and showy, were intended to channel the feeling of triumph "when you watch Simone Biles win gold, or when you see Surya Bonaly spiral across the ice in her glistening lamé."
Danish designer Cecilie Bahnsen forwent the mood board this season, choosing instead to focus on fabrics. She gestured at the chaotic aeshetic of pandemic dressing, turning out all-in-one pieces that removed the need for layering and felt like they contained multitudes, like this sweater and off-the-shoulder dress combo, worn with leg warmers.
And Erin Beatty of Rentrayage has made slicing and dicing upcycled finds into a brand signature, but she went further this season and came up with "Zoom collars" meant to zhush up the sweatshirts we're trying to pass off as office wear. These days, she admitted in her show notes, "fashion continues to feel a touch irrelevant…Where getting dressed felt once a pleasure, a daily sense of opportunity in expression, right now it is hardly a note on the day. We are in an age of such seeming dysfunction, that the functionality of our clothing becomes top priority. One of the few things we can control in a day. One of the few places where we can find literal comfort." For her, pieces that were "a bit strange and perfectly off," including this sweatsuit bisected by cottagecore florals, felt the most suited to our time.

This content is created and maintained by a third party, and imported onto this page to help users provide their email addresses. You may be able to find more information about this and similar content at piano.io