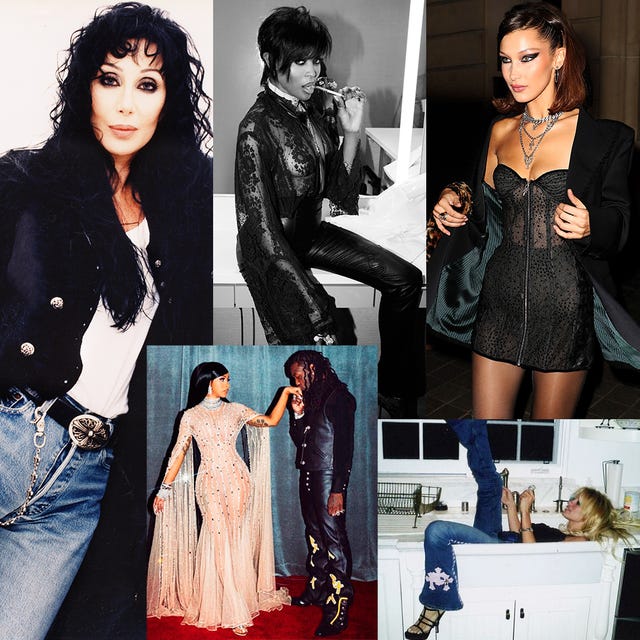 Cher and Anderson: Laurie Lynn Stark; Campbell and Cardi B with Offset: Tomás Herold; Hadid: Pierre Suu/Getty Images
Rihanna was in Japan a few years back, and she happened to be in the market for a designer meat cleaver. (Yes, you read that correctly.) Jahleel Weaver, the deputy creative director of Fenty and the star's stylist, recalls her stopping at a Chrome Hearts store to buy both a meat cleaver and a stapler from the outré brand, whose products—a mousetrap, a plunger, a dagger—regularly break a certain sector of the internet. A Chrome Hearts–besotted doctor once had them design a bespoke stethoscope.
What, you might reasonably ask, does this have to do with fashion? At first glance, not a lot. But Chrome Hearts is not like other fashion brands. Before Supreme was stamping its logo on bricks, Chrome Hearts had its own tongue-in-cheek take on everyday luxury. Its devotees are less a customer base than a family, and it helps that the brand is, itself, designed by a family. Dad Richard and mom Laurie Lynn Stark met cute in the '80s when Laurie Lynn, then the self-described "wild child of the swimsuit industry," was making leather bikinis (which she swears you could actually swim in). She ran into Richard, who was repping a leather brand. "He said, 'Where are you buying your leather from?' Which was a pickup line," she recalls. Soon, they were creating their own leather-heavy designs out of an Upper East Side studio and what Laurie Lynn calls a "shithole in Santa Monica." As at the Factory or Max's Kansas City, "there was a whole culture being developed," she says. "The photographers followed, and the supermodels with the photographers, and the rock stars." They dressed them all: Cindy Crawford, the Rolling Stones, Guns N' Roses, Pamela Anderson, and countless models in the pages of ELLE. "Then the supermodels married the rock stars and had kids."
Many of those kids are friends and contemporaries of the junior Starks: Jesse Jo, Frankie Belle, and Kristian. All three are involved in the family business; Jesse Jo is also a successful singer-songwriter. And they clearly think their parents are cool to the point where they don't just want to wear their '90s castoffs, they want to help redesign them for themselves and their friends. The trio has become the engine behind the brand's appeal to a new generation of supermodels and musicians: Bella Hadid, a close friend of Jesse Jo's, who's collaborated with Chrome Hearts; as well as Travis Scott, Drake, and Miley Cyrus. When I Zoom with Laurie Lynn and her daughters, it's like overhearing a kitchen-table conversation at a friend's house—the one with the cool parents who let you smoke weed but also made sure everyone did their homework. Imagine if Sons of Anarchy and The Partridge Family did a crossover episode: Echoes of a tough, biker-chic bravado are subsumed into a kind of all-American wholesomeness. Everyone speaks in wind-chime Malibu cadences, sprinkled with "like" and "literally," excitedly talking over one another at times.
With zero signage on its stores, Chrome Hearts is willfully mysterious. But those who are in the know speak about it reverently, to the point where it inspires fan pages on Instagram and the worship of fellow designers, from Rick Owens to Virgil Abloh. "It's so much more than a jewelry brand, or T-shirts, or patchwork denim," Weaver says. "It's a true lifestyle. You become part of a family in a way." Jesse Jo calls it "the coolest art project ever." And there's a strange universality to their wares, she says. "A baby could wear it; my grandma could wear it; Travis Scott could wear it." (In fact, Laurie Lynn says one of her favorite things is to pore over pictures people send her of their babies in the gear.) The logo pieces get the most attention, but, says Chris Black, founder of the creative agency Done to Death Projects, "once you get past that stuff, you discover this whole world of things that are more interesting. It's like a little Easter egg. You find something else that you maybe didn't expect."
For a brand that is so firmly rooted in the analog, it's also found an unlikely identity as a topic of online conversation. "It's sort of a meme, if that makes sense; it's a funny thing to talk about," Black says. "The internet is constantly discovering the things they've made, and the more outlandish they seem, the more that keeps people engaged with it. It's just going to go through phases," he predicts, "of being embraced by a wider swath of people." Jesse Jo runs the official Instagram account. When she gets comments asking, for example, why Chrome Hearts is making jeans now, she wants to remind them, "My mom shot Pamela Anderson in a sink pretending to hose herself down, wearing patchwork jeans, when I was, like, two. On the internet, everything is so in-your-face now, so people think they know about a brand, or people are like, 'They just started doing that because it's cool.' " In fact, she says, they veer in the opposite direction. "We're either so early to the party of the bucket hat that it's not cool yet, or we literally are sitting around a table at dinner, and Frankie walks in with a leopard bucket hat, and we're like, 'That's sick, should we make that?' and it takes us a year."
In fact, in a world of instant gratification, Chrome Hearts' painstaking timelines—it can take years just to perfect a door for one of the stores—have become a selling point. "Bella called me the other day like, 'Where are my boots?' I'm like, 'Bella, they literally are handmade. I need another two months,' " Jesse Jo says, adding that Miley's sporting the samples on a Times Square billboard as we speak. Laurie Lynn, ever mindful of the archive, asks quickly, "And did she give them back?" "Of course."
This article appears in the March 2021 issue of ELLE.
This content is created and maintained by a third party, and imported onto this page to help users provide their email addresses. You may be able to find more information about this and similar content at piano.io