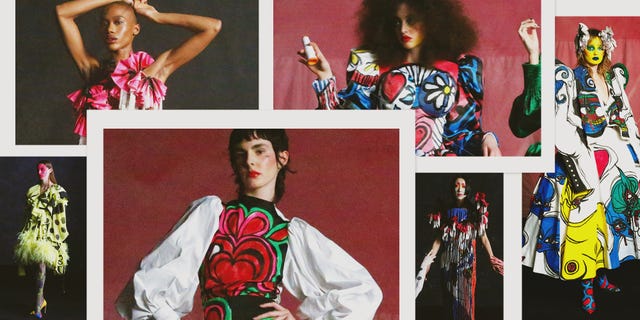 Courtesy of the designer.
Style Points is a weekly column about how fashion intersects with the wider world.
You might not expect an haute couture presentation to begin with a closeup of the designer himself, his face and body daubed with Day-Glo paint, wielding an aerosol can. But Charles de Vilmorin, the 24-year-old French phenom who was the talk of this past couture week, thinks it's a sign of how the ages-old art is changing. "The fact that my young brand was on the couture calendar," he says, "is proof that couture wants and needs to change, and be more open and [current]. I think it's a really good thing."
Remote shows can make it hard to convey the minute detailing and intricate embellishments that make the medium what it is. And that may be why the most maximalist, jump-off-the-screen collections succeeded so notably. Quiet expressions of quality and tradition were not enough: to stand out, one's work had to have a 3-D, pop-up book quality. Those constraints made for one of the most playful couture seasons in recent memory, which took the perpetual "what is couture for?" question and turned it on its head, indulging in flights of beautifully futile fancy. There were Iris van Herpen's otherworldly pieces made from ocean plastic. Area's debut couture collection starring Precious Lee and Yasmin Wijnaldum wearing outsize accordion dresses and dripping in deco metallics. And de Vilmorin's show, also a couture debut. His prior collection of ready-to-wear, unveiled on Instagram and on his website, drew fans including Alessandro Michele, who tapped him to be featured in GucciFest, and Jean Paul Gaultier, who went on to sponsor his entry into the couture lineup. "It's because of him that I was on the calendar," de Vilmorin says.
Gaultier, as well as another mentor, Jean-Charles de Castelbajac, are clear inspirations for de Vilmorin, whose work, despite its wild daubs of paint and anarchic aura, harks back to the '80s and early '90s era of Paris fashion, before grunge descended like a dark cloud on the proceedings. "I love that period," he says. The spring 2021 couture collection drew from the work of Niki de Saint Phalle, the late French artist. In the video showcasing the season made with Studio L'Etiquette, his models a cast of close friends and Instagram acquaintances, are clad in his hand-painted creations, their faces and bodies painted with neon makeup (MAC Cosmetics sponsored the collection). In the beginning, the designer tells me, he started experimenting with body painting because he didn't have enough fabrics, and then continued with it as a part of his creative process. Now it's become a signature of sorts.
This content is imported from YouTube. You may be able to find the same content in another format, or you may be able to find more information, at their web site.
Designers are often content to not be seen, to peek their heads out for a bashful bow at the end of a show. But de Vilmorin has put his face in front and center in his work. He doesn't just appear in his spring couture video, he steals the show. Playing a hunter—a direct reference to shooting performances by de Saint Phalle's Tirs séances, de Vilmorin aims a rifle at balloons bursting with paint, a choice that was meant to represent creation as opposed to destruction. "I am someone who is quite shy, actually," he insists, "but it's true that I love to be in front of a camera." His creations feel made for performers: Tierra Whack has worn them, and he says he aspires to dress Lady Gaga and Miley Cyrus.
Conventional wisdom would hold that starting a fashion label in 2020 was a long shot, but, he says, "when I launched my brand, I didn't really think about the fact that the world was on lockdown. It was a risk, but it was not calculated." The risk paid off for him, not just via the Gaultier and Michele support, but also because of his latest headline-making moment: he's been freshly named the creative director of Rochas, and will show his first collection next season, for spring 2022. Post-COVID, he says he expects to see "a return to sincerity" in design, and "a re-discovery of purity."
As for his own career, "a lot of beautiful things are coming," he promises.
This content is created and maintained by a third party, and imported onto this page to help users provide their email addresses. You may be able to find more information about this and similar content at piano.io