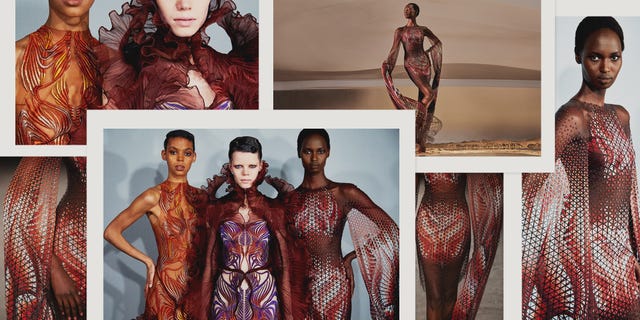 MOLLY SJ LOWE; GIO STAIANO; MYRTHE GIESBERS
Style Points is a weekly column about how fashion intersects with the wider world.
The designer Iris van Herpen recently became fascinated by what scientists call the "wood wide web," the communication network used by fungi to send messages between plants—think of it as nature's answer to the Internet. After stumbling across Entangled Life, a book by the plant scientist Merlin Sheldrake, she decided to turn this vast underground array of information-delivering filaments—which she describes as "a huge communication system, like the brain of the earth"—into fodder for her latest couture collection, titled Roots of Rebirth.
The fusing of nature with technology—and the revelation that the two have more in common than we typically think—is the foundation of van Herpen's work. The designer has harnessed everything from iron filings to "dragon skin," a type of silicone used by the military as body armor, to create her stunning, otherworldly designs. She maintains a scientific detachment from the Sturm und Drang of the fashion world, collaborating with biologists and programmers rather than influencers, and refers to her couture atelier as a "laboratory" for experimentation. "She draws a lot of inspiration from the natural world," says her friend Cyrill Gutsch, founder and CEO of Parley for the Oceans, and regards it "in a way that others don't see nature—the construction and the ingenuity behind it."
You might associate couture with all things Luddite, built as it is on painstaking embroideries and delicate lace, but van Herpen finds her futuristic techniques to be just as viable. "Craftsmanship and couture has always been about innovation," she says. "We tend to forget about it sometimes. But if we think of very traditional techniques, like early lacemaking, or even the sewing machine—at the time, they were highly innovative."
Van Herpen tells me her goal is to eventually make her collections from 100% recycled materials. The theme of this show, she says, "connects really beautifully to the sustainability focus that I've been diving into, because fungi are now being harvested to clean up nuclear fallout, but also plastic waste." (Not to mention that for fashion designers, mushrooms "are probably going to be very important collaborators in our near future," in the form of biodegradable fabrics grown from mushroom spores.) This season, she incorporated fabric made from recycled ocean plastic, part of a collaboration with Parley for the Oceans. Van Herpen met Gutsch years ago at a dinner in Paris, where they fell into a two-hour conversation about the environment and the role of designers in driving change. Later, she visited their offices in New York to learn more about their work. Parley for the Oceans has collaborated with a wide array of brands, including Adidas and Stella McCartney, but couture is a new avenue for them, and brings with it a new audience for sustainability. (Gutsch tells me he prefers the term "eco-innovation.")
"I've always loved [Iris] for being so free and independent and actually strange in what she does," Gutsch tells me. "It feels like she's protecting creative innocence, in a way. And on the other hand, there is ingenuity and enormous craftsmanship."
The "Is couture relevant?" question comes up every season, though young designers are doing a lot to keep it feeling exciting, from Area's disco-fabulous, size-inclusive couture debut to Daniel Roseberry's witty reimagining of Schiaparelli's codes. Yes, Van Herpen's clothes, many of which are destined for museums rather than the average person's closet, might feel abstract. But including recycled ocean waste on a couture runway seems like a re-thinking of what luxury means, not to mention a harbinger of what's to come. Fashion's most exalted realm might not initially seem like the venue for conservation: in its Platonic form, it's come to represent a flaunting-it attitude of ostentatious waste. But that is changing. "I really believe that couture can be the frontier for fashion, innovation, and sustainability," the designer tells me, and that its influence can change people's thinking. She makes an analogy with fine art: you might not ever be able to have a Picasso hanging in your living room, but its existence shapes the way you see nonetheless.
This content is imported from Instagram. You may be able to find the same content in another format, or you may be able to find more information, at their web site.
And for those who are customers, not awed spectators, awareness has become aspirational. (Just think about one of the most talked-about looks from last week's inauguration: Bernie Sanders' much-worn parka and mittens made from upcycled materials.) "It's becoming more and more important to know where the materials come from, to know how the garment was made," van Herpen says. "And I think it's only accelerated through the pandemic, that people feel the fragility of where we are and who we are."
"I see way more interest and way more commitment," from fashion companies now when it comes to sustainability, Gutsch concurs. Young designers like van Herpen believe in it implicitly, while the bigger names have taken more coaxing but are coming on board. "With more established maisons, they feel under pressure now," he says. "They're scared that they are missing out."

This content is created and maintained by a third party, and imported onto this page to help users provide their email addresses. You may be able to find more information about this and similar content at piano.io