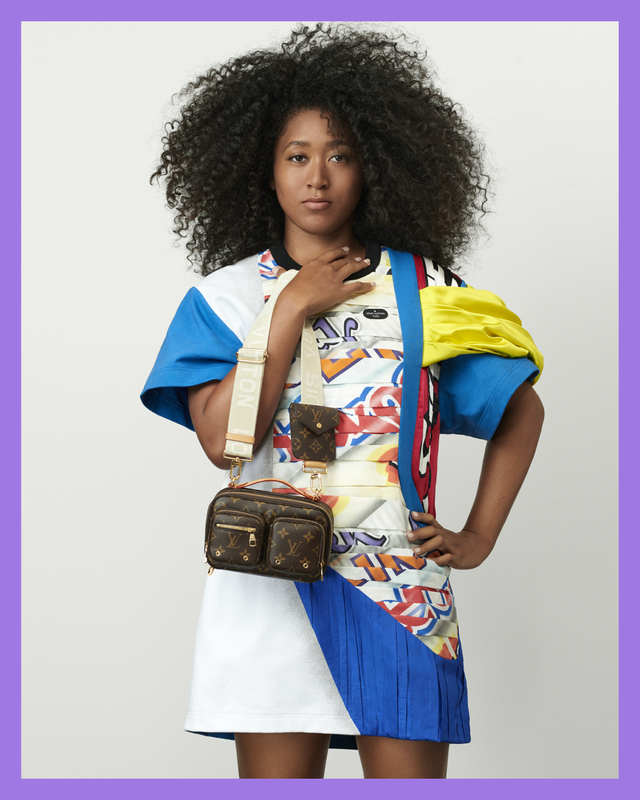 Courtesy of Louis Vuitton
No one had a 2020 like Naomi Osaka. Last September, she represented Japan at the U.S. Open and won her second title and third major at only 22 years old. Osaka also advocated for the Black Lives Matter movement throughout the tournament, wearing the names of seven Black Americans who had been unjustly killed by police. Did we mention the 23-year-old is now the highest-paid female athlete in history? In her next step toward world domination, Osaka joins the Louis Vuitton family as the brand's newest ambassador.
As she awaits the postponed 2021 Tokyo Olympics, Osaka is lending her star power to Louis Vuitton's spring-summer 2021 campaign, which was photographed by Nicholas Ghesquière, LV's Artistic Director of Women's Collections. Osaka posted about the news on Instagram and revealed a personal connection to the fashion house. "Wow this is actually crazy," she wrote. "Honored to be @louisvuitton newest House Ambassador. Funny story: I first bought my mom a LV bag when I was 16 as a birthday present and it's kinda been a tradition since. Do I call this a full circle moment? Yes."
Osaka further expressed her excitement about the Louis Vuitton partnership in a statement that paid homage to her Japanese heritage. "Aside from tennis, my most treasured passion is fashion; and there is no brand more iconic than Louis Vuitton," she explained. "It is such an honor to work with Nicolas— he's a designer I admire so much and we share a mutual love of Japanese culture and style. To become global brand ambassador is truly a dream come true for me."
Ghesquière, who has been creative director of Louis Vuitton since 2013, also spoke about Osaka's influence on the fashion world and beyond. "Naomi is an exceptional woman who represents her generation and is also a role model for everyone," he said in a statement. "Her career and convictions are inspiring. I am in awe of Naomi, she stays true to herself and doesn't compromise on her values."
As Osaka prepares for an equally astonishing 2021, only one question remains: when does she sleep?
This content is created and maintained by a third party, and imported onto this page to help users provide their email addresses. You may be able to find more information about this and similar content at piano.io