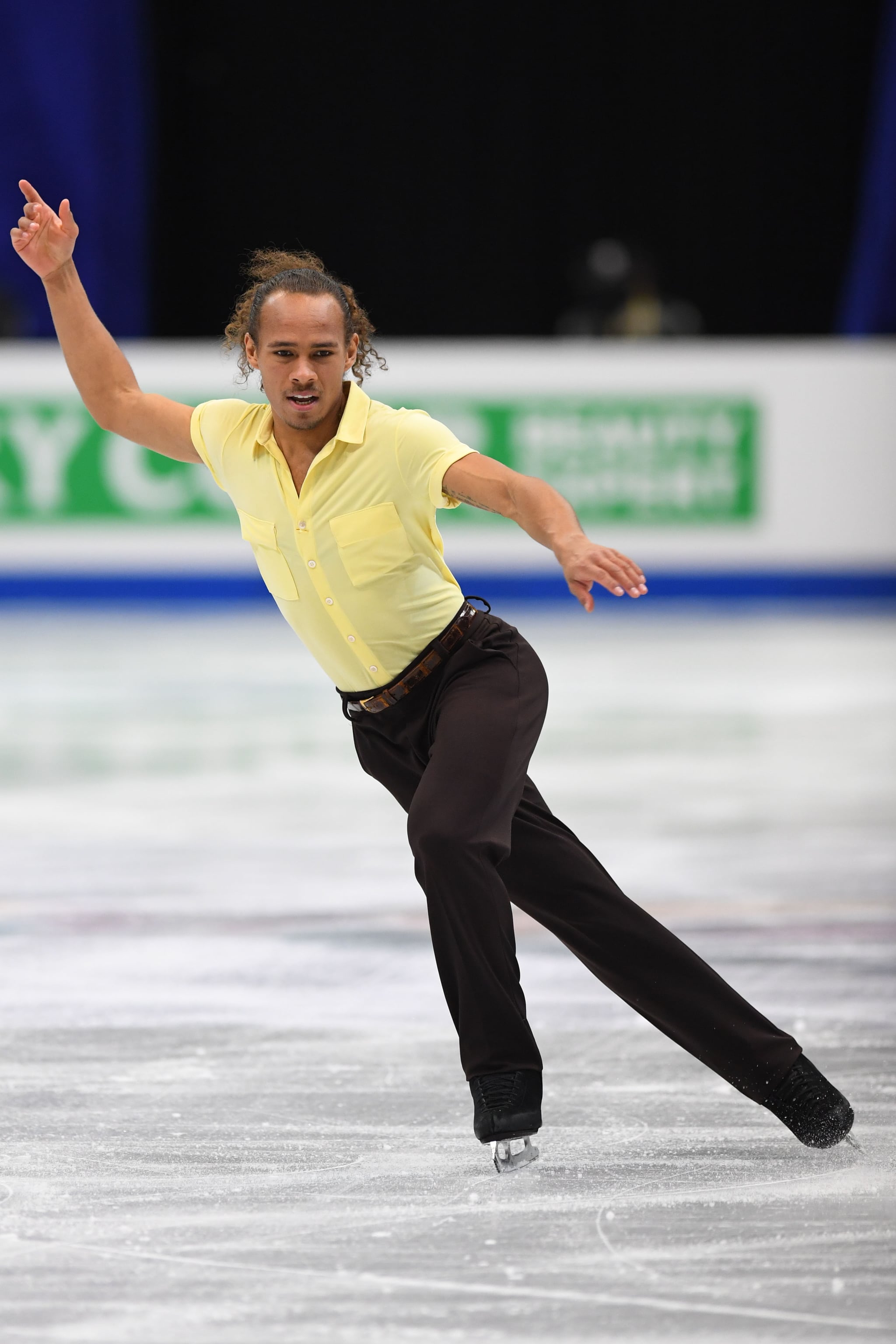 Systemic racism has embedded itself deeply in the sports world, and figure skating is no exception. In a sport where the vast majority of participants are white, Canadian figure skater Elladj Baldé is using his voice as a Black athlete — and impressive skills on the ice — to encourage fellow BIPOC to follow their dreams. "I want to inspire young Black boys, young Black girls, and Indigenous people and people of color to not be afraid to be different, to be unique, and to embrace that uniqueness, because there's magic that happens once uniqueness is embraced in that way," he told POPSUGAR.
"I want to inspire young boys to not be afraid to get into figure skating and not be afraid to express themselves, not be afraid to emote."
Growing up with an African father and a Russian mother, Baldé was surrounded by different cultures, which inspired him early on to challenge the idea that figure skaters must fit into a predetermined mold. "It's a very tight box where, in order to succeed in the sport on the Olympic level and on the world level, you have to fit this mold and follow certain rules and follow certain ways of skating and choices of music and all that stuff," he explained, making it clear that the figure-skating world has historically been unwelcoming to people of color.
As Black athletes continue to break discriminatory boundaries put in place by an exclusionary system, Baldé has made it his mission to dismantle the status quo and make room for young BIPOC seeking to make a name for themselves as athletes. "One of my main missions in the last few years has been to really change the way people perceive skating, that it's not one direction," he said. "It's not this one mold that we have to fit in. You can actually be different, look different, do different things, and be extremely successful at it, and that's kind of where my purpose lies in everything that I do."
Taking this goal a step further, Baldé cofounded the Figure Skating Diversity and Inclusion Alliance, a nonprofit organization committed to combating racial inequality in the figure-skating world by addressing the racial wealth gap and racial bias prevalent in the sport. In doing so, Baldé and the members of the FSDIA hope to make figure skating more accessible for the BIPOC community. "We want to help them through mentorship programs and doing events and scholarships and helping them with equipment, helping them with their finances, whatever it is," he said. "We want to make the sport more diverse, more inclusive, and work with big federations and national sport organizations like US Figure Skating and Skate Canada and be part of changing certain policies that are not helpful, potentially, to a specific community."
Beyond the barriers of racial discrimination, Baldé also hopes to break down society's preconceived ideals of masculinity by serving as a role model for young boys. Through his work as a figure skater, he hopes to inspire young BIPOC to get in touch with their emotions and allow those emotions to foster creativity. "I want to inspire young boys to not be afraid to get into figure skating and not be afraid to express themselves, not be afraid to emote," he said. "We have this conception that society has put on us and on men that men are supposed to be a certain way, or boys are supposed to be a certain way or have to be tough — that vulnerability is something that's bad. And I want to change that. I want to tell young boys that it is OK to be vulnerable; it is OK to be emotional; it is OK to show that side of yourself."
Find out more about the FSDIA's upcoming fundraisers on its website, and read more about how Black athletes are championing diversity in other sports.