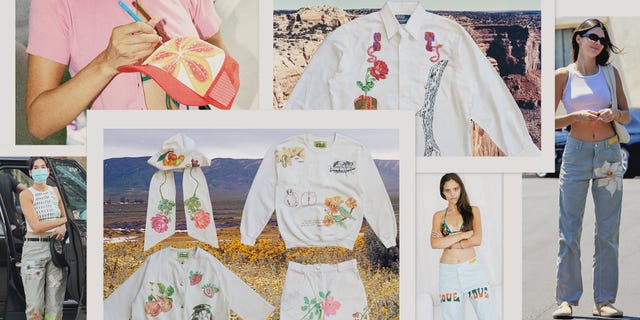 Dua and Kendall: Backgrid; Johnstone: Brittney Christie; Small Talk: Courtesy of the designer; Center image: Michons Marigot
Style Points is a weekly column about how fashion intersects with the wider world.
Some of this couture season's best moments referenced the glory days of models gliding through ateliers, each carrying individual look numbers and wearing skyline-obscuring hats. But as inspiring as the medium is, a custom-made Paris studio creation is still out of the reach of most of us mere mortals. Something that might be more feasible? Netting a custom or one-of-a-kind illustrated, embroidered or painted piece from one of several new labels that have cropped up in recent years. Juliet Johnstone's painted pants have been worn by the power street-style trio of Dua Lipa, Bella Hadid, and Kendall Jenner, while Small Talk Studio's Nicholas Williams has done commissions for fashion insiders like Virgil Abloh and Mister Mort that feature personalized illustrations and embroideries. (The latter design included drawings of a box of Fujifilm and a container of mustard.)
The small-batch, craft-meets-couture feeling of these pieces, combined with the trend for all things handmade that has been cresting since well before the pandemic, has made them "It" items for a select group of those in the know. Think of them as the DIY zines to couture's glossies. In circles where an embellished pair of Bode pants or a paint-spattered S.R. Studio jacket is more sought-after than a designer logo, Williams's and Johnstone's work is the equivalent of having your own numbered look from a master creator.
Brooklyn-based Williams started his label in 2017 after learning the fundamentals of hand embroidery from his grandmother. Working with his friend Phil Ayers, he now has a thriving business; his pieces typically take 2-4 days each to produce, and Williams and Ayers work on 3 or 4 designs at once, collaboratively. "We pass them back and forth, continually adding new layers of imagery, until we reach what feels like a good stopping point," he says.
The L.A.-based Johnstone was trained as an artist and doesn't have a fashion background, but after she started painting on the Carhartts and Dickies she wore in her studio, people would stop her on the street to ask about them. Right before the pandemic, she began posting her work on Instagram and soon began receiving requests for commissions. When Bella Hadid unexpectedly "liked" a string of her photos ("I feel like she was just bored in quarantine and like, 'Let's just blow this girl up.' I don't even know!") Johnstone got her a pair of pants through a mutual acquaintance, thinking the supermodel might wear them in a paparazzi photo. Instead, Hadid did her one better and posted them to her grid. "That really jump-started everything, because from there, people started reaching out: other models, other celebrities, stylists," Johnstone recalls. The interest spurred her to start her own website. Now her audience, she says, is "anyone between a rapper and a mom. I do customs for people's moms and grandmothers, and then I've also done them for Travis Scott."
Her hand-painted pieces, which often feature psychedelic flora and fauna and words like "love" and "earth," take days to complete. In addition to the small-batch feel, their Summer of Love nostalgia is part of the appeal: "In a time where the world is really dark and scary, it's nice to just look at a pair of pants that has butterflies and lilies on it."
Both designers draw a direct line between their success and our changing views on consumption. Says Johnstone, "I think especially during COVID times and this crazy traumatic transition and weird year everybody's had, people are really starting to be super interested in buying brands and products that are sustainable and small, and thoughtful. People want to feel special." Labels like hers have flourished "because people are moving away from this mass-produced culture that we've become so addicted to. In the age of Amazon Prime and fast fashion, I think people are really craving something that's a little bit more special and has a story behind it."
Adds Williams: "These personalized 1/1 pieces are also an alternative to bigger brands that make dubious claims to sustainability and fair labor practices because the line from customer to maker is even more direct and transparent with an operation like ours. I don't necessarily think what we're doing represents any kind of actual solution to the problems that fast fashion presents because what we do is by design not really scalable, but I think it is a good transitional option while the larger fashion industry gets sorted out."
Both seem content to keep their operations relatively small and homegrown for the time being, which is refreshing in an age of constant pushes for expansion. While Johnstone says she's been "approached by a lot of different brands" about collaborations, she hasn't yet waded in, as she's still waiting for the right opportunity. She also gets hundreds of DM's and emails a week from "people asking me to paint on weird shit: their shoes, their Ugg boots, their purses," but "I try to keep everything pretty streamlined to my brand." While she first began working with upcycled items, she now produces her own cut-and-sew pieces and plans on branching into hand-painted silk styles soon.
"Surprisingly, doing the pieces for Virgil did not in itself bring my work to a much larger audience," Williams says, "but it did definitely lend some serious credibility to the operation…It was also obviously a huge honor for me and made me reconsider the possibilities of what Small Talk could be," he says. "There was some talk about working together on a few Off-White pieces for their upcoming collection at the time, but I think that Virgil stays so busy that we weren't quite able to make that happen."
"He knows where to find me if there's ever another opportunity to join forces," he adds.
This content is created and maintained by a third party, and imported onto this page to help users provide their email addresses. You may be able to find more information about this and similar content at piano.io