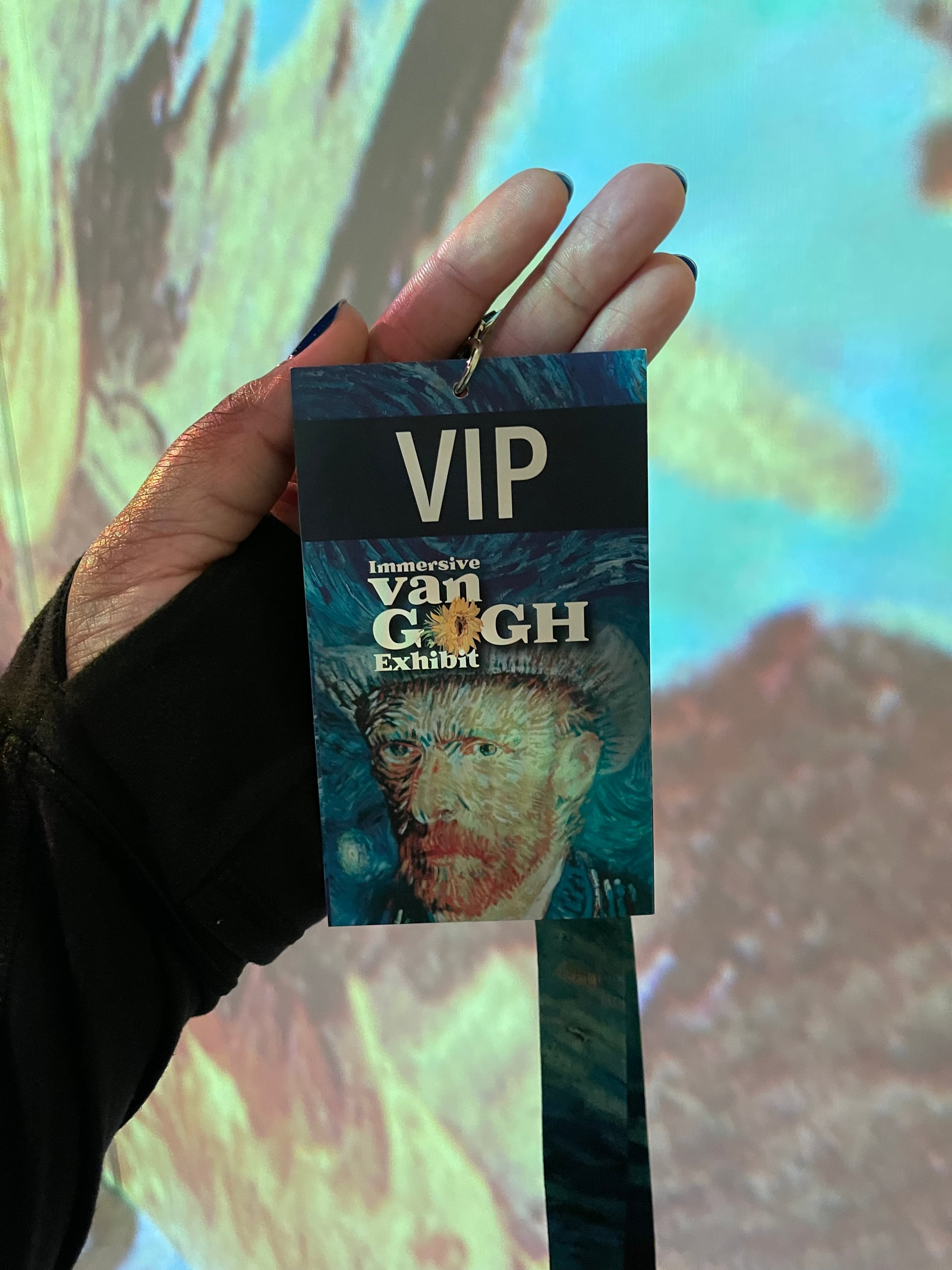 Everyone on social media seems to have the Immersive Van Gogh Exhibit on their must-see list, but did you know that it hosts yoga classes too? I was invited to take a press-only yoga class to try out the 35-minute wall-to-wall cinematic experience.
While I took the yoga class in New York City, the Immersive Van Gogh Exhibit hosts yoga classes in all 20 of the locations in 20 cities across the US and Canada. To find details about classes in your city, be sure to click on the "choose your city" dropdown menu located at the top of the webpage, then search "yoga class" before you buy your tickets so that you get tickets for the correct location. The ticket price includes the 35-minute yoga class and a 25-minute pass to explore the exhibit once class is done.
The entire yoga program is sponsored by Lifeway foods (a wellness food brand), which works with local studios in each city — in New York City, the class is taught by NoMad-based studio, Sputnik Yoga — to provide yoga for the Immersive Van Gogh Exhibit and anyone that takes the yoga class will get a Lifeway snack on the house. Keep reading for an overview of this unique yoga experience.
Van Gogh Yoga Class Experience in New York City
Walking into the room for class, I noticed that the walls and floor were lined in Van Gogh's 'Sunflowers'. Honestly, I was expecting to see a slide show of each of Gogh's pieces during the class, however, once class began I quickly realized that I was in for a cinematic experience. We began in a seat with our eyes open. Our instructor and founder of Sputnik Yoga, Dasha, told us that we were keeping our eyes open to take in the visual elements of the space — usually in the beginning of a yoga class, we begin with a soft visual focus or closed eyes. With my eyes open I saw how the walls transitioned from 'Sunflowers' to black then to a black, white, and grey pixel pattern as the cinematic music faded in.
Moving through the 35-minute class, I'd say it was interesting to do an intrapersonal asana practice with an abundance of external stimuli. Going from pose to pose with orchestral and classical music in the background felt like I was trying to view each of Van Gogh's pieces from every angle possible. Don't worry, we didn't look at Gogh's pieces from a handstand; the poses during our class hand us viewing the art with at least one foot on the ground (think: Tree Pose).
At the end of class, we still finished in a Savasana (like you normally would during a vinyasa class), only our eyes were open. Since we were asked to keep our eyes open, I chose to turn my head to the left slightly so I could stare at the art on the walls one last time. Once class came to a close, each participant was given a complimentary Lifeway Kefir snack which, after looking the Immersive Van Gogh Exhibit website, is something all yoga class participants get to try out — I got a functional shot. After enjoying my snack, I walked around the exhibit for a bit until it was time to get back to work.
Overall, this art meets yoga experience was a great way to start the day. Even though we practiced in the morning, I was convinced that we were actually practicing during a 'Starry Night'.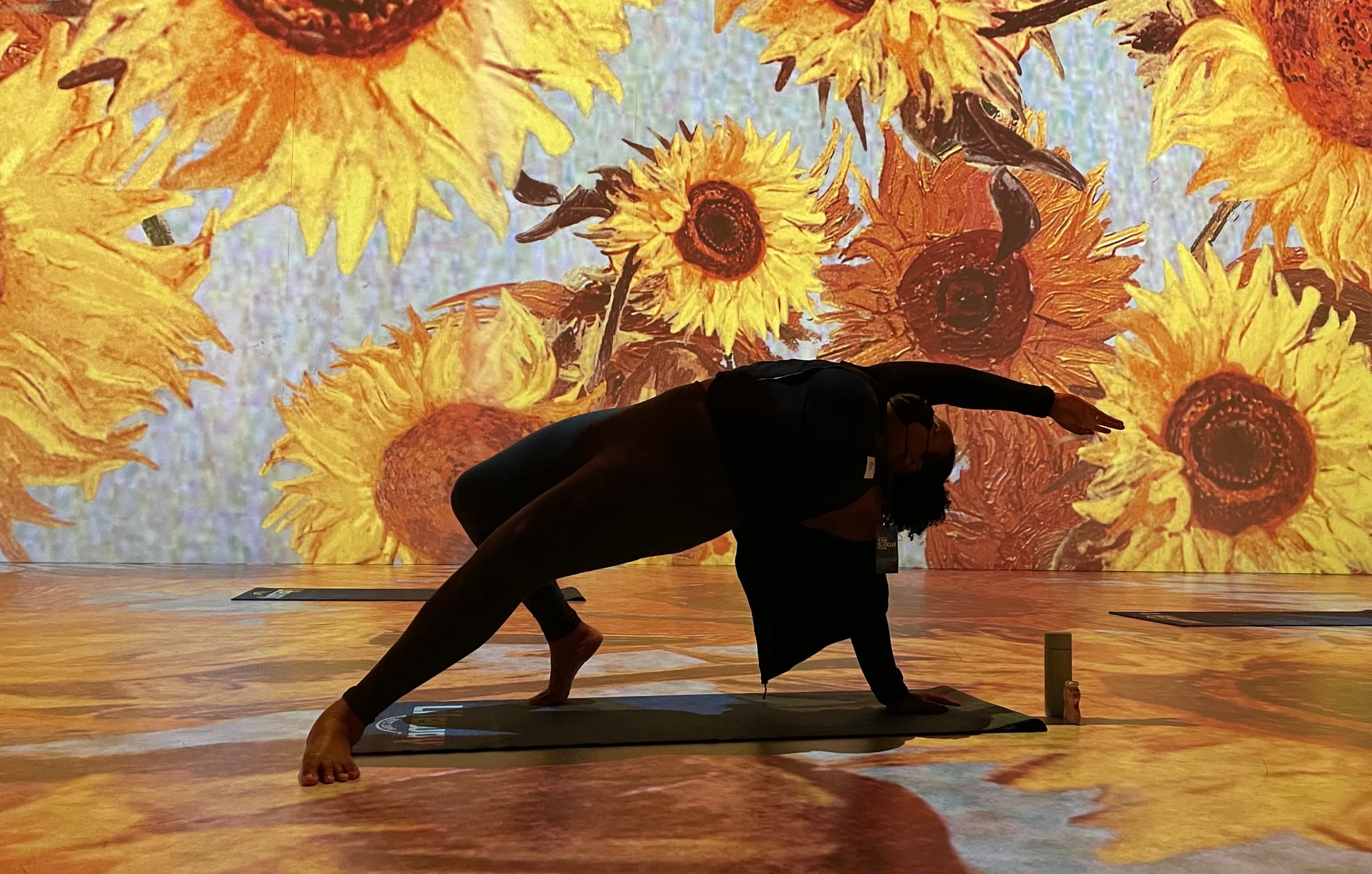 Image Source: POPSUGAR Photography / Angelica Wilson