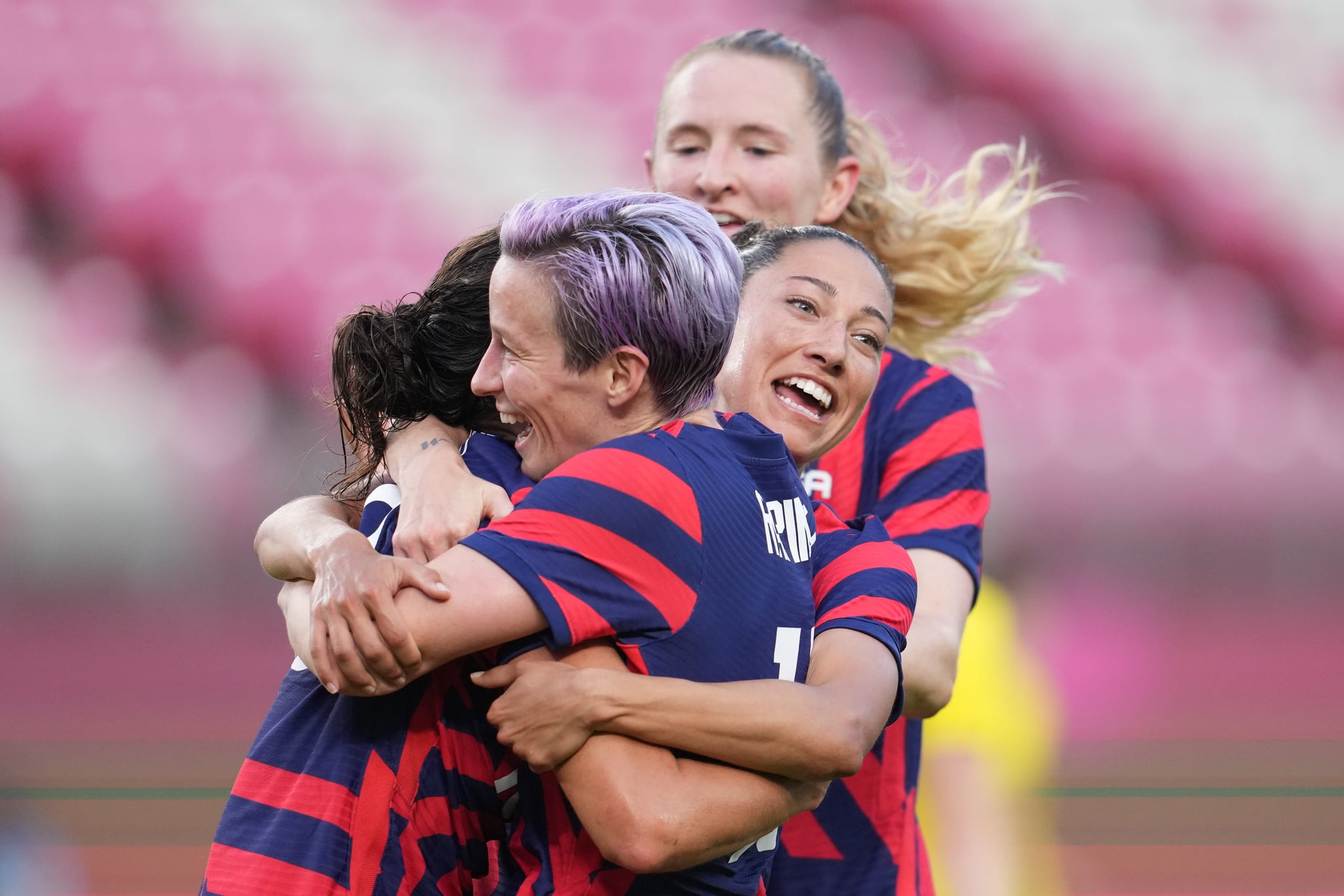 After an uncharacteristically low-scoring tournament, the US Women's National Team (USWNT) came back with a vengeance in their final match of the Tokyo Olympics, trading shots with their Australian opponents throughout the 90 minutes, and ultimately outscoring them 4-3 to secure the bronze medal. It's the first Olympic bronze in the team's history and their sixth medal overall.
The US got on the board early with forward Megan Rapinoe bending a rare corner kick into the goal in the eighth minute. Several minutes later, Australia's Sam Kerr scored the equalizer — but Rapinoe quickly mounted a response, floating a side volley just under the crossbar to put her team up by one.
By the end of the first half, veteran Carli Lloyd had also found the goal, sailing the ball straight into the corner off an assist from midfielder Lindsey Horan. It was her ninth career Olympic goal, tying the all-time US record set by Abby Wambach in 2012. Lloyd would go on to shatter that record in the 51st minute, putting the ball through the legs of goalkeeper Teagan Micah to give the USWNT a three-point lead.
Australia's Caitlin Foord retaliated moments later, heading the ball past goalie Adrianna Franch, who got her first Olympic start with this match after Alyssa Naeher was injured in the semifinals. Foord's teammate, Emily Gielnik, scored Australia's third goal in the 90th minute, but as the additional time added by the officials ticked by, the USWNT's lead proved to be insurmountable.
This bronze medal comes as the four-time World Cup champions continue their fight for equal pay. During the USWNT's quarterfinal match, the players of the US men's team — which did not make the Olympic tournament — filed an amicus brief arguing that the American women deserve equal, if not better, pay than the men. "A woman's rate of pay is not equal to a man's if the woman must consistently achieve better outcomes merely to get to the same place," the brief read.