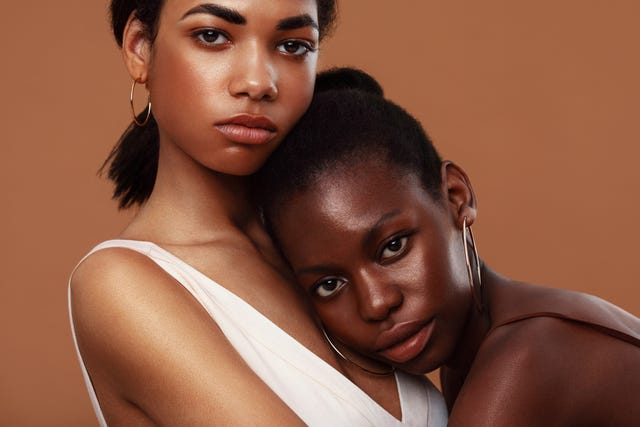 Artem Varnitsin / EyeEmGetty Images
I've made my fair share of uh-oh buys on Amazon (see: that fantastic deal on a nightstand that ended up being doll furniture), but when it comes to finding top-notch, no-mistakes-here beauty purchases, it has the best of the best. Whether you're trying to find the latest and greatest in haircare, a sustainable beauty brand that won't do you wrong, or a new mascara for fluttery lashes, there's an option on Amazon that will not let you down. But who has the time to scroll mindlessly for that long, only to end up with a shopping cart that's full to the brim of "maybes"? I live to serve, so I compiled the best of the best, from tried-and-true products to a couple of hidden gems I'll graciously share with you. Below, find the 10 best beauty brands on Amazon you need to know about.
Olaplex
What it is: Haircare for chemically and heat damaged hair
So you've damaged your hair, either by dousing it with bleach or by cranking up your flat iron to 450 degrees. What now? The answer is Olaplex. With a slew of beloved hair treatments and essential go-to's, Olaplex repairs damage and will leave your hair feeling baby-soft and new again.
Maybelline
What it is: Go-to beauty staples for the beauty-obsessed
You've probably already swiped on a Maybelline mascara and fallen in love, but the entire line is made up of must-haves. Beloved by beauty professionals and everyday humans alike, Maybelline is the drugstore brand you should be shopping.
Tula
What it is: Skincare you can't go wrong with
If you're trying to get into skincare but don't want to make a misstep, everything from Tula is ideal for beginners and experts alike. Whether you're looking to cure some acne or give your face a sip of hydration, the entire line is easy to use.
Beauty Bakerie
What it is: Makeup for your inner chef
Beauty Bakerie created a line that's inspired by sweets and bakeries and will give you the glam you're seeking for the playful fashionista. Plus, all the names are adorable and fun.
Lanolips
What it is: Products to make your lips kissable.
If your lips are as dry and flakey as mine are, you're in desperate need for Lanolips. Whether you opt for a traditional tube balm, or something tinted, or a gloss (oh, my!), they're the brand you need if you're hoping to get in a smooch this year.
Olay
What it is: Skincare essentials for aging skin
One of the most trusted skincare lines, Olay is the go-to for anyone who wants their fine lines to just go away already. But, even if you're still a few years away from crow's feet, their skincare is effective and luxurious for all skin types.
Alaffia
What it is: A one-stop-shop for everyday necessities
For your hair, body, and skin needs, Alaffia is the place to shop if you need some hydration and expert care. The company is built on the principles of giving back and sustainability so that you can feel good about every single purchase.
ILIA
What it is: Makeup for the clean beauty enthusiast
If you're trying to avoid harsh chemicals, ILIA is the clean beauty brand that combines ethical beauty with chic packaging. Not to mention, all the products apply beautifully and will increase your gorgeousness factor by at least 10%.
Shea Moisture
What it is: A curly girl's dream collection
Curly girls know that Shea Moisture is the place to shop for products that will never let you down. From their protein treatments to curl creams, you know you're in good hands when you buy from Shea Moisture.
Youth to the People
What it is: Holistic products for the skincare obsessed
Any skincare obsessor will tell you that this brand has it all: unique products, great morals, and an eye on sustainability that can't be missed. From their moisturizers to their masks to their cleansers, you can't go wrong with any product this brand creates.
This content is created and maintained by a third party, and imported onto this page to help users provide their email addresses. You may be able to find more information about this and similar content at piano.io