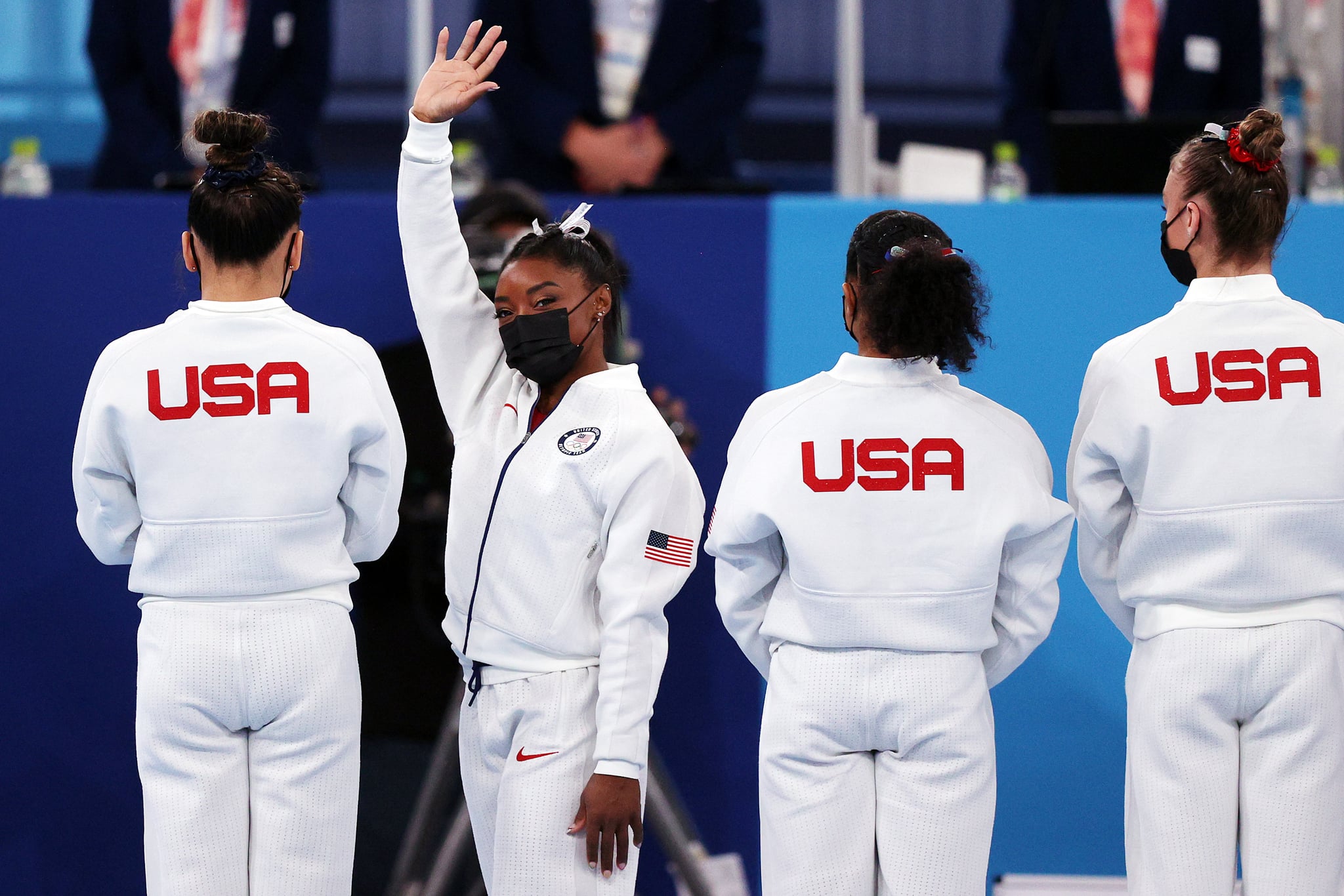 Picture this: You're flipping with your heels above your head, gravity fighting against you, trying not to break form. You're twisting, too, all the while making sure you land right side up. That's just what gymnasts do, and they do it oftentimes on command without blinking. Elite gymnasts specifically perform unthinkable skills that, with one wrong move — one slight miscalculation of speed, air-awareness, or body positioning — could result in serious injury. When Simone Biles bailed out of (aka, backed out of) her Amanar vault in the women's artistic gymnastics team final on July 27, she executed just one and a half twists instead of the planned two and a half, opening up mid-air prematurely and later calling what she experienced the "twisties." She subsequently withdrew from the rest of the competition to protect her mental health and to not risk her team's chances at a medal; then, the next day, she pulled out of the July 29 all-around final.
The "twisties" means that you got lost in the air and the control you always had — or thought you always had — went out the window. "I had no idea where I was in the air," Biles said when recalling her vault, according to The Washington Post. "I could have hurt myself." It happens to gymnasts on every level, not just elite athletes, and ask anyone in the sport: it's terrifying.
Missy Marlowe, a retired American gymnast who took part in the 1988 Olympics, wrote on Twitter, "It's hard to explain the twisties to someone who doesn't do gymnastics, but it's a mental block and it's real. I had it happen twice, when I was 12 and 20. You cannot fix it quickly — can take months, if at all. It's like a non-serious stroke, you're [SIC] brain and body disconnect."
That's not to say that Biles can't bounce back from her case of the "twisties" — every gymnast is different. The point is, experiencing this can not only injure an athlete, but it can also take an exhausting mental toll on said athlete. I personally quit the sport right before college, though I can tell you that, in my decade-plus competing, you rely heavily on muscle memory. And when you rely on muscle memory, you don't really think about the skills you're doing.
The concept sounds impossible: execute complex, dizzying moves without actually allowing your brain to realize you're doing them. Sure, when you're learning them in practice, you have to focus on the correct technique, but for most gymnasts, once you've done the skills enough times, you're not over-analyzing them. You're simply performing, and it's second nature. For instance, in an interview I had with Morgan Hurd earlier this year, the world champion told me, "Unless I had a fall or a major wobble, I don't remember my beam routine."
So, when gymnasts suddenly have to think about their skills, it can feel as though reality is crashing in alerting you just how complicated and dangerous those skills are. It's an out-of-body experience but, at the same time, you are present in your fear. It's the worst feeling in the world to suddenly not have control, and it can lead to bailing out of a skill, like we saw with Biles's team final vault.
Mental blocks happen across all sports, and prioritizing the safety and health of athletes often gets lost in the swelling hype of competition. But it should be exactly that: a priority — because even if performing for an audience is in the pro athlete job description, so to speak, they should not be pushing through mental struggles at the cost of their own safety, for the sake of a performance. For the sake of a medal.