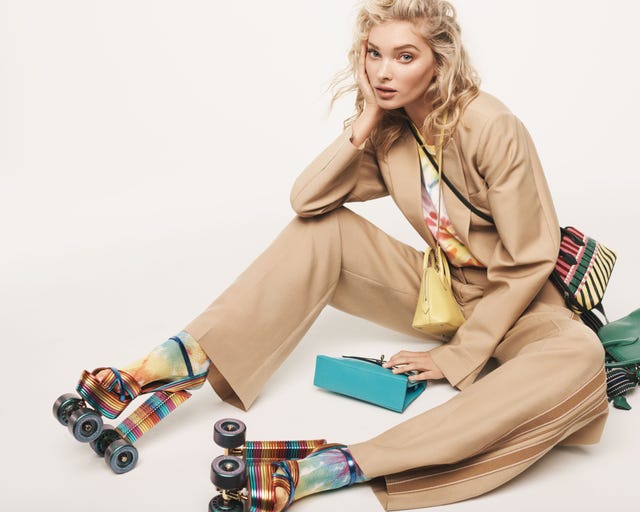 TOM SCHIRMACHER/TRUNK ARCHIVE
Dorothy Parker pinch-hit writing lingerie captions, and Joan Didion tried her hand at fashion-magazine display copy, but few literary heavyweights have ever found themselves moved to weigh in on a handbag. Colette might be the exception. In 1942, Hermès's creations inspired her to write that "the beauty of the material calls for the perfection of the work, even if it can't be seen. The bottom must be worthy of the top, and the inside the outside."
Now, nearly 80 years later, Catherine Fulconis, the executive vice president of Hermès's leather goods–saddlery and "Petit h" divisions, is demonstrating that inside-and-out perfection as we speak, showing me the interior of one of the house's prized carryalls. That attention to even the unseen details is part of Hermès's pragmatic approach. "We don't consider a bag as an accessory," Fulconis says, "but as an object made to last." Among their over 50 styles, you're likely most familiar with the Birkin and the Kelly, which have certainly gotten the most pop-culture airtime, whether it's Rory Gilmore receiving a birthday Birkin or Grace Kelly modeling what would later become her name- sake bag against the Riviera backdrop of Hitchcock's To Catch a Thief. But there is a formidable, equally beloved entourage waiting in the wings, from the Garden Party, a sturdy tote originally designed to carry gardeners' tools, to the Constance, named for the designer's daughter. "They are all different stories," Fulconis says, "but they all breathe Hermès."
Among the tales she regales me with is that of the Bolide, which, she says, demonstrates the house's ability to shift with the times. In 1923, after the automobile had whizzed into the popular imagination, Émile Hermès created a curved-top carry- all—originally called the sac pour auto—that was perfectly shaped to fit in the trunk of an early-model car. ("Look at the [side] profile; it's like a statue," Fulconis notes proudly.) It was also one of the first bags to sport a zipper instead of a clasp. (Hermès brought the zipper design over from Canada and patented it.) He created a smaller version for his wife Julie, one of the first women to take driving lessons. But while the style may have been made with the horseless carriage in mind, it still had an equestrian echo: its handles, which resemble bridles.
The Evelyne is more straightforwardly a callback to Hermès's equestrian roots, with its signature H perforation, a touch more functional than decorative. Fulconis explains that it was meant to be worn against the body, allowing a rider's grooming equipment to dry out. Gradually, as it became popular off the racing circuit, wearers sported it with the logo facing out instead.
Yet another form of transportation inspired the Roulis, whose sobriquet refers to the rolling motion of a ship. The nautical theme extends to its clasp, modeled after the house's iconic Chaîne d'Ancre (anchor chain) bracelet. Fulconis shows off the embroidery on the bag, which takes over 100 hours of painstaking work to complete.
"There is no recipe," says Fulconis when I ask her what makes an Hermès bag an Hermès bag, but they all have one thing in common. "They are the fruit of an alchemy of elegance and purity and functionality of conception." She explains that when the brand began in 1837 as a harness maker, it eschewed the ornamental pieces common at the time in favor of a purity of line. "This idea is still really encoded in our creative style." As another great thinker she quotes, Le Corbusier, once put it, "luxury is well-made, neat and clean, pure and healthy, and its bareness reveals the quality of its manufacture."
This article appears in the August 2021 issue of ELLE.
This content is created and maintained by a third party, and imported onto this page to help users provide their email addresses. You may be able to find more information about this and similar content at piano.io