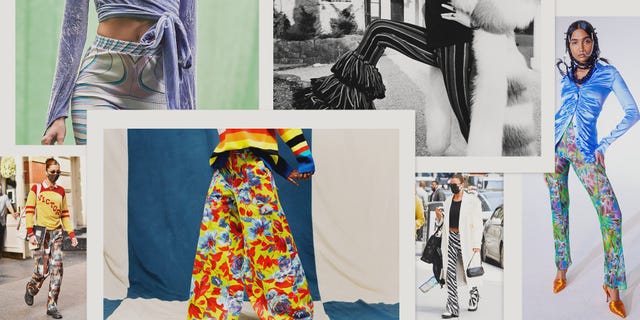 Courtesy of the subjects; Getty Images
Style Points is a weekly column about how fashion intersects with the wider world.
What I know about the sport of golf would fit on…something very small. The tip of a golf tee? But I do know that if the pastime has an Agassi- or Rodman-esque fashion rebel, it would be John Daly, who's known for wearing aggressively printed pants from the brand Loudmouth (accessorized with an ever-present cigarette.) His fits, which include paisley prints, psychedelic swirls, Zubaz-style baggies, and a cash-printed pair which has to be seen to be believed, have gone mainstream enough that they've been catalogued by USA Today.
It's hard to imagine that Daly has any crossover with runway habitués and It girls, but nevertheless, those are the very people who've been (unintentionally) channeling his on-course aesthetic. After months of focus on "Zoom tops" that promise to be a virtual conversation starter, loud pants are the ultimate re-entry look. The best ones channel the attention-getting style of the late '90's and early aughts. Bella Hadid has worn a Playboy cover-printed pair by Soulland, and Irina Shayk recently donned a zebra-printed design from newly viral Blumarine for a New York outing.
Daly, Hadid, and Shayk, who have probably never all been mentioned in the same sentence before, are all working in the proud tradition of, as preppies would say, "go-to-hell pants." Writing about Martha's Vineyard vacationers in Esquire, Tom Wolfe once observed that while the male members of the WASP species kept things conservative up top, "the pants had a go-to-hell air: checks and plaids of the loudest possible sort, madras plaids, yellow-on-orange windowpane checks, crazy-quilt plaids, giant houndstooth checks, or else they were a solid airmail red or taxi yellow or some other implausible go-to-hell color." Go-to-hell pants are the wild-card in the preppy arsenal, and their flagrant ugliness is a thrown-down gauntlet, signaling "I have the status to get away with wearing this."
Attention-grabbing pants, from shagadelic Pucci capris to Gaultier's Y2K-era trompe l'oeil styles, have of course popped up throughout fashion history. But Bode, whose colorful quilted pants have been worn by Harry Styles and Jay Z, deserves some credit for helping bring wacky trousers back into our current focus. Designers' offerings for fall 2021 are legion: Christopher John Rogers' voluminous floral pair; Kim Shui's Technicolor dream flares, and Maisie Wilen's vaguely '70's swirls. The message: I'm back out in the world, and if you don't like what I'm wearing, you can, well, you know.
This content is created and maintained by a third party, and imported onto this page to help users provide their email addresses. You may be able to find more information about this and similar content at piano.io